Clay
Utilize this relationship management tool powered by AI to uncover, organize, and improve your relationships.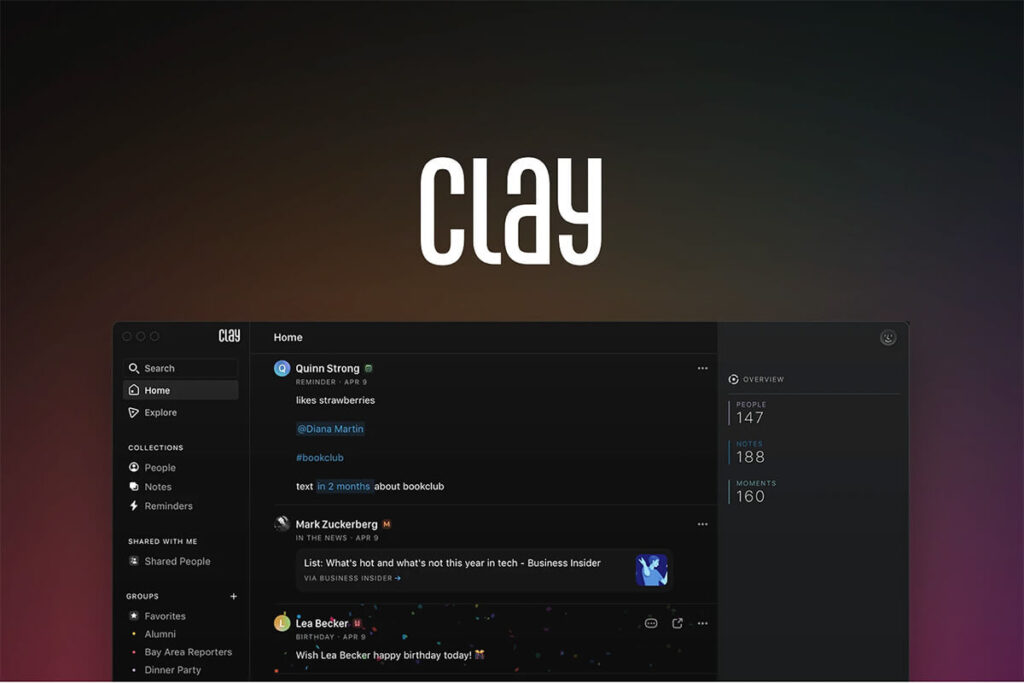 Clay is an AI-driven relationship management platform that helps you to uncover, organize, and strengthen your connections across various platforms. It simplifies the process by offering one-click import functionality from multiple platforms.
This tool also automatically enriches your contacts with information sourced from the internet. By compiling data from multiple online channels, it creates comprehensive profiles that provide a wealth of information about each individual.
With Clay, you can personalize your contact profiles by adding notes and additional relevant information. Whether recording where you met someone, noting their family details, or highlighting their interests, Clay allows you to maintain a comprehensive and personalized database of your connections.
The integration capabilities of Clay go beyond simple contact details. From email, calendar events, and even LinkedIn profiles, you can quickly find new connections using this tool. It makes sure that you may connect with the appropriate people at the right time by capturing these interactions in real time, enhancing the potential for cooperation and growth.
In addition, with this software, you have the freedom to personalize your contact profiles by adding notes and additional relevant information. Managing recurring events and important milestones becomes a breeze with this tool. It also empowers you to organize your connections efficiently. The grouping feature makes it easier to locate and engage with the right individuals at any given moment.
Moreover, the Review tab in Clay provides daily suggestions for reconnecting with people in your network, ensuring you stay connected with your entire contact list. Additionally, Clay provides reminders and calendar events daily, ensuring you never miss an opportunity to engage with important contacts.
Take control of your network and unlock the full potential of your relationship with Clay. Acquire lifetime access to this powerful AI relationship manager on Appsumo. Experience a new level of connection management and growth by purchasing it for just $49 today.
Meet Clay
TL;DR
Easily update your contact information by importing contacts from various platforms such as LinkedIn, Facebook, email, calendar, and more.
Alternatives to:HubSpot, Pipedrive
Effortlessly capture notes while receiving intelligent suggestions on potential connections
Best for: Freelancers, Small businesses, Solopreneurs.
Key Features of Clay
Consolidate information from various sources to create comprehensive profiles for all your contacts.
Enhance your contact profiles by adding important notes to ensure you remember crucial details.
Easily search your entire network using filters such as job title, location, keywords in your notes, and more.
Connect with people on significant occasions or simply to catch up with them.
Features included in All Plans
5,000 viewable contacts
1 user
Unlimited search
Unlimited notes
Shareable profiles and groups
Easily import people from your email, calendar, LinkedIn, Facebook, iMessage, and future integrations
Get organized with search and groups
Stay in touch with reconnect, reminders, and birthday notifications
See unlimited life updates: job changes, location changes, news mentions, and more