Take control of your social media presence with a single platform that handles publishing, engagement, analytics, and more.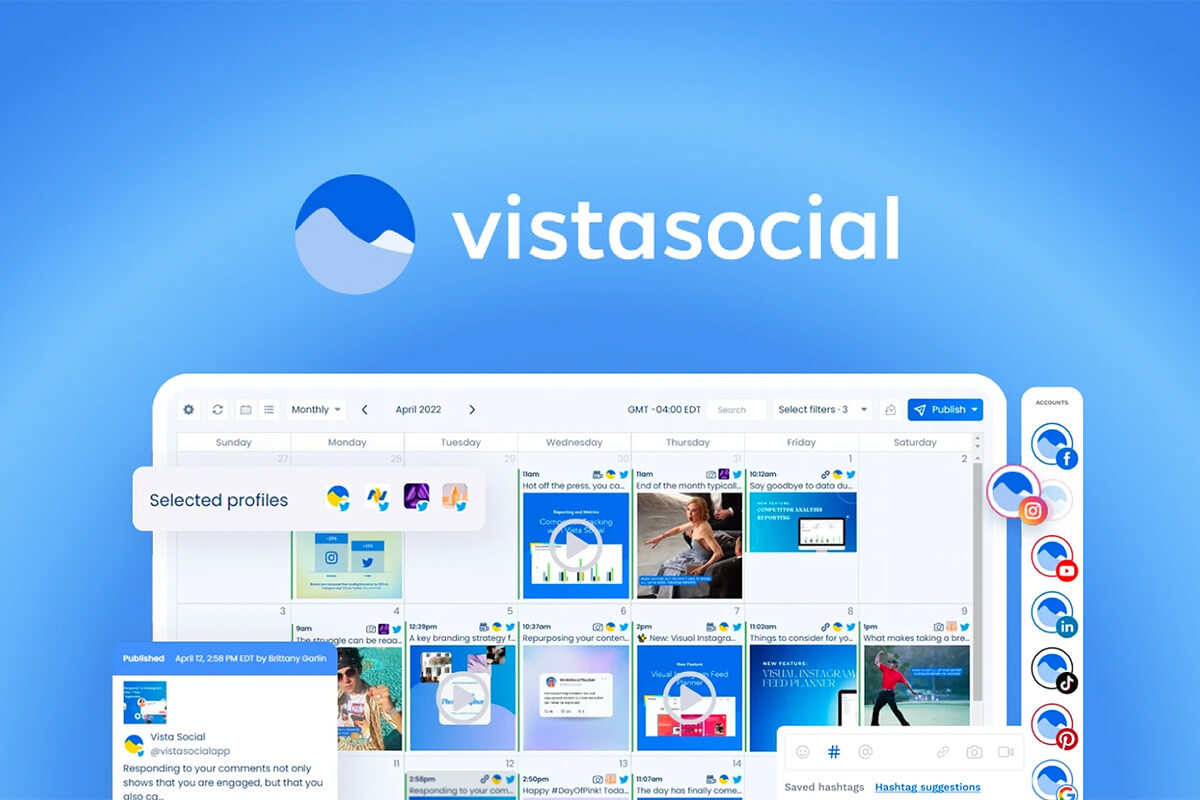 Vista Social is an all-in-one platform that streamlines and enhances social media management. With its integrated AI assistant powered by ChatGPT, you can instantly generate captivating social media copy.
By enabling you to include fact-checked stats in your social media posts, Vista Social makes it simpler than ever to gain credibility and trust from your audience. You can establish yourself as a reliable source and encourage deep connections with your followers.
Also, engaging with your international audience becomes effortless with this platform. This platform offers a range of features to manage and respond to comments, messages, and mentions across various social media channels. By effectively managing user interactions, you can nurture your online community and build strong relationships with your followers.
Moreover, regarding planning and publishing content, Vista Social supports all major social media platforms. Whether you want to schedule posts for optimal times to maximize visibility or post directly in real-time, it offers the flexibility and control you need to execute your social media strategy seamlessly.
Furthermore, creating visually stunning content is made simple with Vista Social's integration with Canva. The platform allows you to design graphics and visuals directly within the interface or upload existing media in bulk. The media library feature such as images, videos, audios enables efficient organization and tagging of assets, making it easy to find and utilize your content effectively.
Plus, the unified inbox in Vista Social brings all your comments, messages, and mentions together, providing a centralized location to manage user interactions. Also, the platform offers automated reporting that provides data-driven insights into your social media growth.
This valuable information allows you to refine your strategy, identify opportunities, and make informed decisions to drive your social media success.
In short, with this platform, you can optimize your social media management and unlock your full potential. Say goodbye to juggling multiple tools and platforms, and say hello to Vista Social.
With Appsumo, you now have the chance to secure lifetime access to this incredible platform. Don't let this opportunity slip away – grab it now for just $49 and transform your social media game.
Meet Vista Social
TL;DR
Craft captivating social media captions effortlessly with the assistance of an AI writing companions.
Alternatives to: Buffer, Hootsuite, Sprout Social.
Effortlessly plan and distribute content across various social media profiles and networks, all while efficiently managing messages and comments from a centralized inbox.
Best for: Marketing agencies, Social media managers, Solopreneurs.
Publishing
Engagement
Analytics
Listening
Reviews
AI Assistant (ChatGPT)
Unlimited reports
Unlimited posts
Features included in All Plans
Calendar view
Bulk scheduling
Link shortener
Canva integration
Social media reports
Competitor reports
Export reports
Social inbox
Social listening
Review monitoring
User permission and roles
Integrations include Dropbox, Canva, and more.