Cyberangels ONE
Utilize comprehensive cybersecurity and safety solutions to defend your company against any potential threat.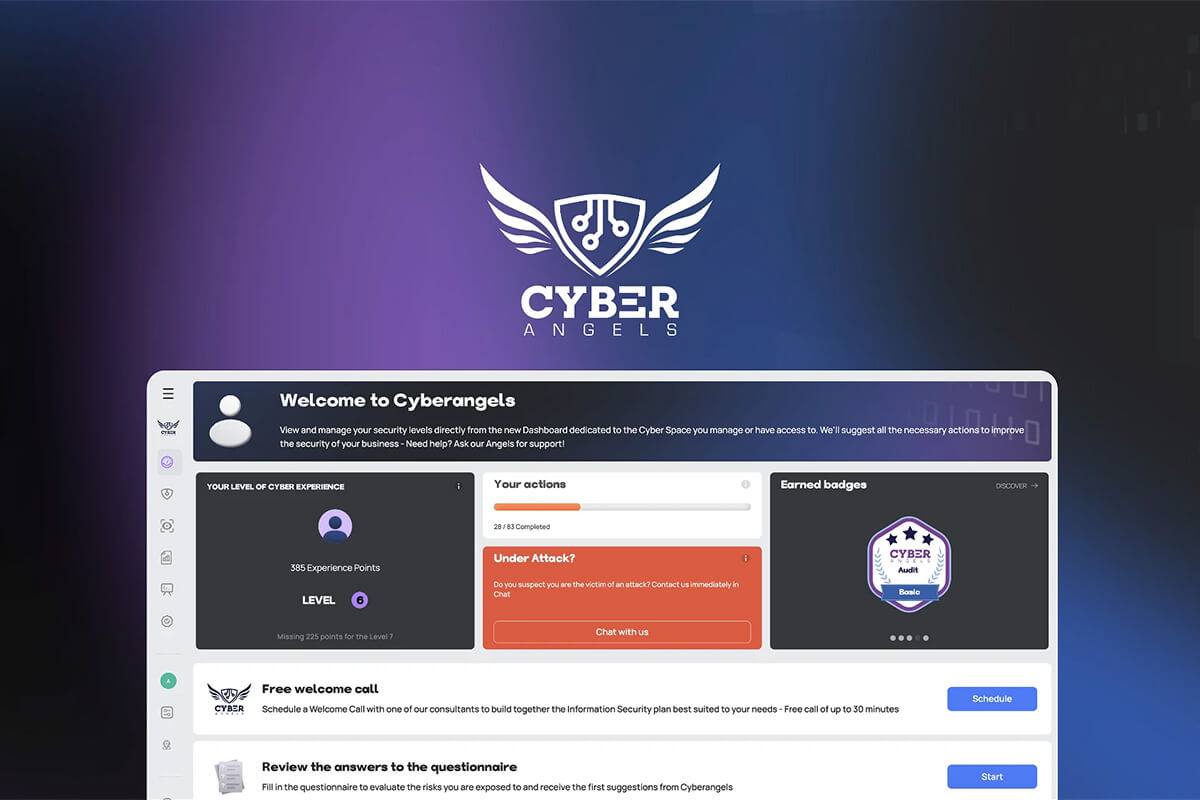 CyberAngels ONE is an all-in-one cybersecurity and compliance solution offering a diverse range of tools to safeguard digital assets. From malware detection and removal to robust firewall protection, it encompasses a comprehensive suite of cybersecurity measures.
Its unified platform, which eliminates the need for businesses to juggle multiple tools and tabs. Also, its unique insurance coverage protects businesses against any economic impact resulting from a cyber attack on their systems. This reassurance allows businesses to focus on their operations without the constant fear of financial repercussions following a security breach.
In addition, businesses can easily streamline the compliance process using the platform's corporate compliance dashboard and IT security questionnaires. By taking a proactive approach to compliance, businesses can avoid exorbitant fines and damage to their brand.
Moreover, through Cyberangels One's vulnerability assessment capabilities, businesses can identify and prioritize major cybersecurity issues that pose a risk to their operations. Also, it offers expertly crafted risk-reducing actions and remediation plans. These plans empower businesses to mitigate potential security threats promptly and efficiently.
Furthermore, the innovative aspect of Cyberangels One is its enhanced approach to cybersecurity training and engagement. Businesses can motivate their teams to be proactive in staying vigilant against potential security breaches by earning badges for completing tasks at different levels.
Cyberangels One is a useful tool for managing the security and compliance of your company that is available at $39 on Appsumo. With lifetime access to this powerful solution, equip yourself to combat cyber threats effectively.
Services
Talk to an Angel
Cyber Risk Insurence
Safety Training
Meet Cyberangels ONE
TL;DR
Enhance security and compliance effortlessly through expert recommendations, NIST-based remediation plans, and industry best practices.
Alternatives to: Cloudflare.
Uncover potential risks and vulnerabilities that could jeopardize your business with a comprehensive vulnerability assessment.
Best for: IT/security agencies, SaaS, Small businesses.
Key Features of Cyberangels ONE
All-in-One Cybersecurity and Compliance Solutions
Unified Dashboard
IT Security Questionnaires
Cyber Insurance Coverage
Vulnerability Assessment
Risk-Reducing Actions
Features included in All Plans
Monitored update frequency
External vulnerability assessment
Cyber risk index
Automated remediation tasks list
Cyber risk report download (PDF)
AI-based security strategy plan creation
Best practice activities
NIST plan
GDPR Plan
Dashboard and insights
Scan History
Scan Scheduling