RTILA
An innovative way to automate any task to drastically reduce the number of human resources required to grow a business.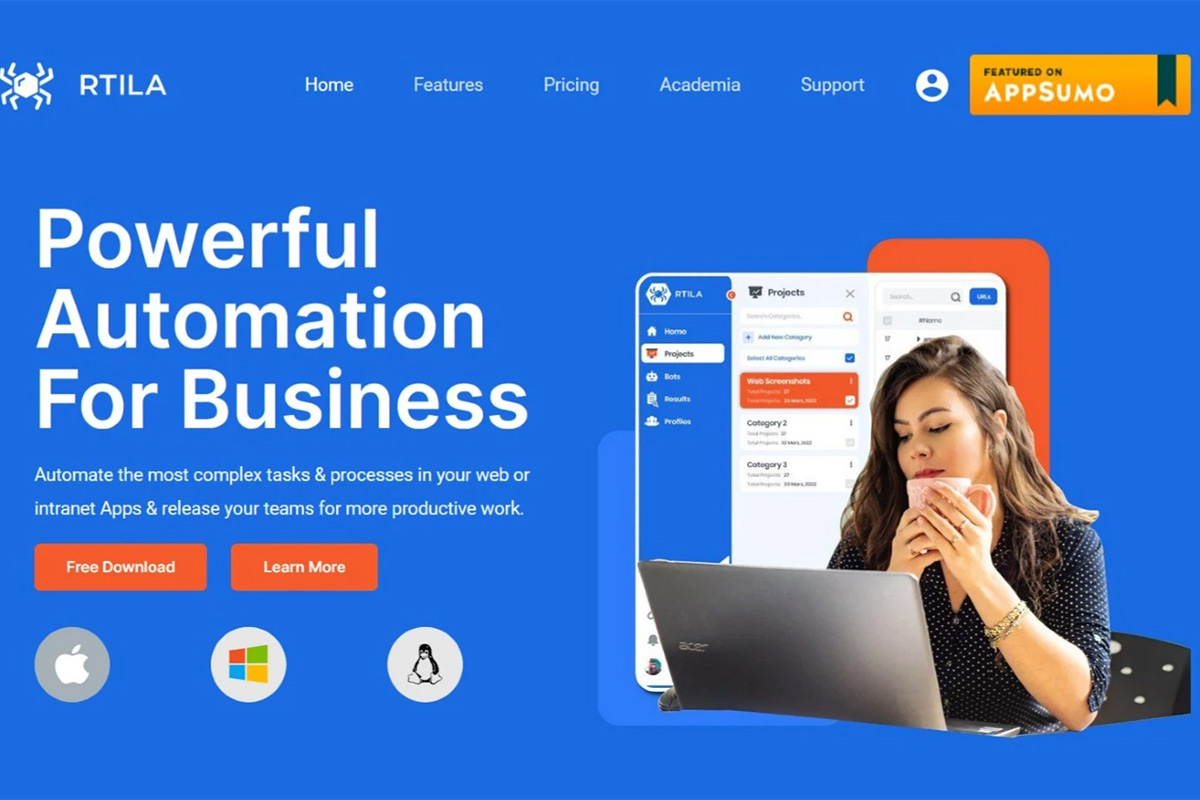 RTILA is a revolutionary desktop application that automatically allows users to run web tasks swiftly and without hassle. It works across Windows, Mac, and Linux platforms, so the whole world has access to it's incredible ability to automate almost any action that requires a mouse and keyboard on a website.
By automating any task that can be done on a web browser, RTILA eliminates manual processes that would otherwise take too much time, such as book keeping and customer onboarding. RTILA also helps streamline website updates by removing the need to adjust HTML.
RTILA is the go-to solution to help you launch and grow a business in the real estate space. Its comprehensive suite of services can not only help you build your initial real estate agency from scratch, but RTILA can also help scrape or create hundreds of listings, so your website looks decent at launch.
It has also developed an automated 2nd enrichment step that uses Artificial Intelligence to rewrite SEO-friendly content and add photos. And It doesn't stop there – integration with other networks allows RTILA to automate outreach to users, allowing the first message connection with your target audience.
This tool is powerful, yet light on resources, meaning their automation systems will run smoothly even after extended periods- some users have seen RTILA's automation running for over 100 hours, collecting hundreds of thousands of datasets.
The convenient setup does not require you to keep your computer on, freeing up time for more important tasks. Not to mention the vast capabilities we can offer with RTILA's Cloud API & integration with services like Zapier, Pabbly and Make – calling over 5,000 different Apps with just a few clicks of your mouse.
With this tool, you can automate connecting and sending initial messages to your target audience with minimal effort. In addition, It lets you concentrate on more essential business tasks that require creativity instead of spending all of your time focusing on mundane administrative work.
RTILA, an incredible Web Business Automation tool, has just made a lifetime deal on Appsumo even more potent with its $99 cost of entry. RTILA's lifetime deal on Appsumo is a no-brainer choice – so take advantage of this incredible offer!
Meet RTILA
TL;DR
It provides a secure and reliable platform that manual processes can't match, providing increased productivity with time and energy.
Alternatives to: Automation Anywhere, Kissflow, UiPath.
This offers time-saving advantages for businesses seeking to build a strong foundation for themselves quickly and efficiently.
Best for: Marketers, Marketing agencies, and Social media managers.
Key Features of RTILA
RPA ToolSet
RPA Cards
RPA Vault
Data Mining
Data Enrichment
Data Monetization
For Windows & Mac & Linux
Export in CSV, JSON & HTML
Visualized web data selection
Features included in All Plans
AI Powered Selector
Automated Data Manipulation
Monetize Data & Processes
Extract data from multiple target sources
Enhance data sets & standardize formatting
Automate sales conversion funnels & fulfillment
Extract multiple pages at once