DarkMySite 
To soothe website visitors' eyes, use this best WordPress dark mode plugin.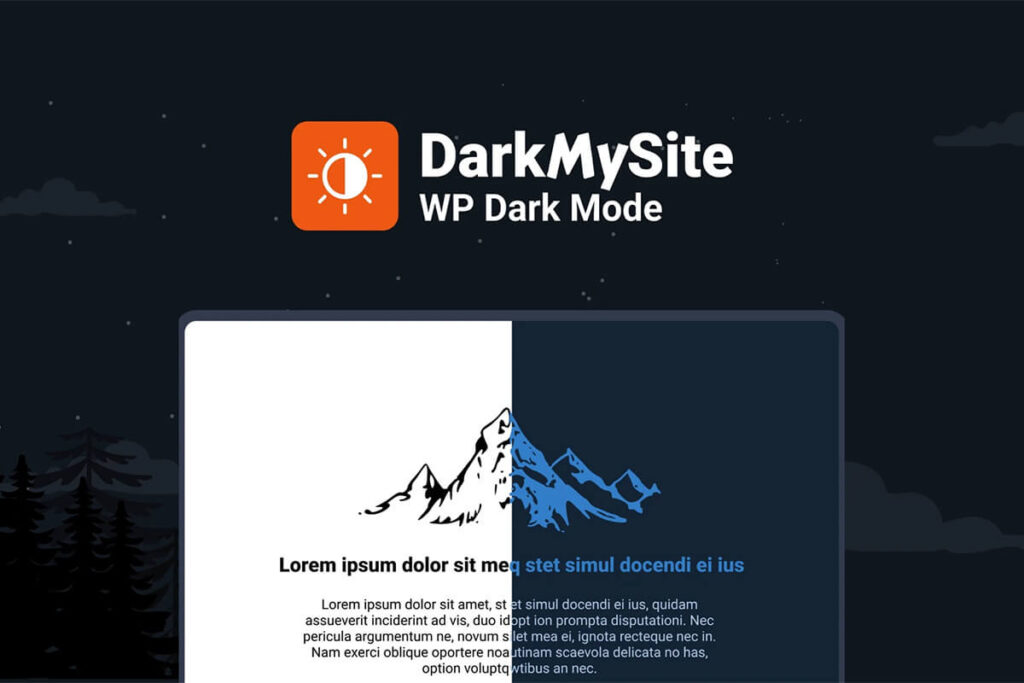 DarkMySite is an advanced WordPress plugin that is designed to improve the dark mode experience for users and website managers. This tool revolutionizes how websites can adopt dark mode effortlessly. It not only enhances the appearance of your website but also gives the WordPress admin panel a soothing dark mode experience.
DarkMySite also caters to each user's preferences by automatically detecting their operating system settings and switching to dark mode accordingly. This personalized experience boosts user satisfaction and engagement. Whether day or night, this plugin effortlessly adjusts the appearance to match the user's surroundings.
Through customization options, you can align the dark mode switch with your brand's identity. With a range of color presets at your disposal, you can quickly apply a dark mode style that suits your preferences. Additionally, DarkMySite offers the flexibility to create custom presets, allowing you to match your brand perfectly.
Furthermore, by aligning with the user's local time, DarkMySite ensures the dark mode activates precisely when desired. Display alternate images or videos specifically tailored for dark mode, enhancing the overall aesthetic.
Plus, this plugin automatically adapts to different operating systems, providing a cohesive experience across platforms. Fine-tune dark mode by disabling it on specific sections of web pages, ensuring certain content remains unchanged.
Don't miss out on the lifetime deal for DarkMySite on Appsumo and unlock the full benefits of dark mode! Elevate your website to new heights of user satisfaction with this exclusive lifetime Deal for just $9. Experience DarkMySite today and dive into the world of dark mode excellence.
Meet DarkMySite 
TL;DR
Transform your website into a soothing and eye-pleasing dark mode with just one simple click.
Alternatives to: WP Dark Mode, Droit Dark Mode, QS Dark Mode Plugin.
Discover an innovative Dark theme maker designed for WordPress, taking your website's aesthetics to the next level.
Best for: Bloggers, Developers, Small Businesses.
Key Features of DarkMySite
Frontend Dark Mode
Admin Panel Dark Mode
Default Dark Mode
OS Aware Dark Mode
Time-Based Dark Mode
Keyboard Shortcut
Multiple Floating Switch Designs
Customizable Switch
Draggable Floating Switch
Switch in Menu
Color Presets with Customization
Image Control
Page-Specific Restrictions
Custom CSS
Page Builder Compatibility
Features included in All Plans
Enjoy the convenience of a floating switch for seamless dark mode activation.
Access a wide range of color presets to effortlessly customize your dark mode appearance.
Benefit from a comprehensive set of features, all conveniently included in the package.
Receive lifetime priority support, ensuring your experience with the plugin remains smooth and hassle-free.