Fliki
Helps to create audio and video content using AI voices in less than a minute.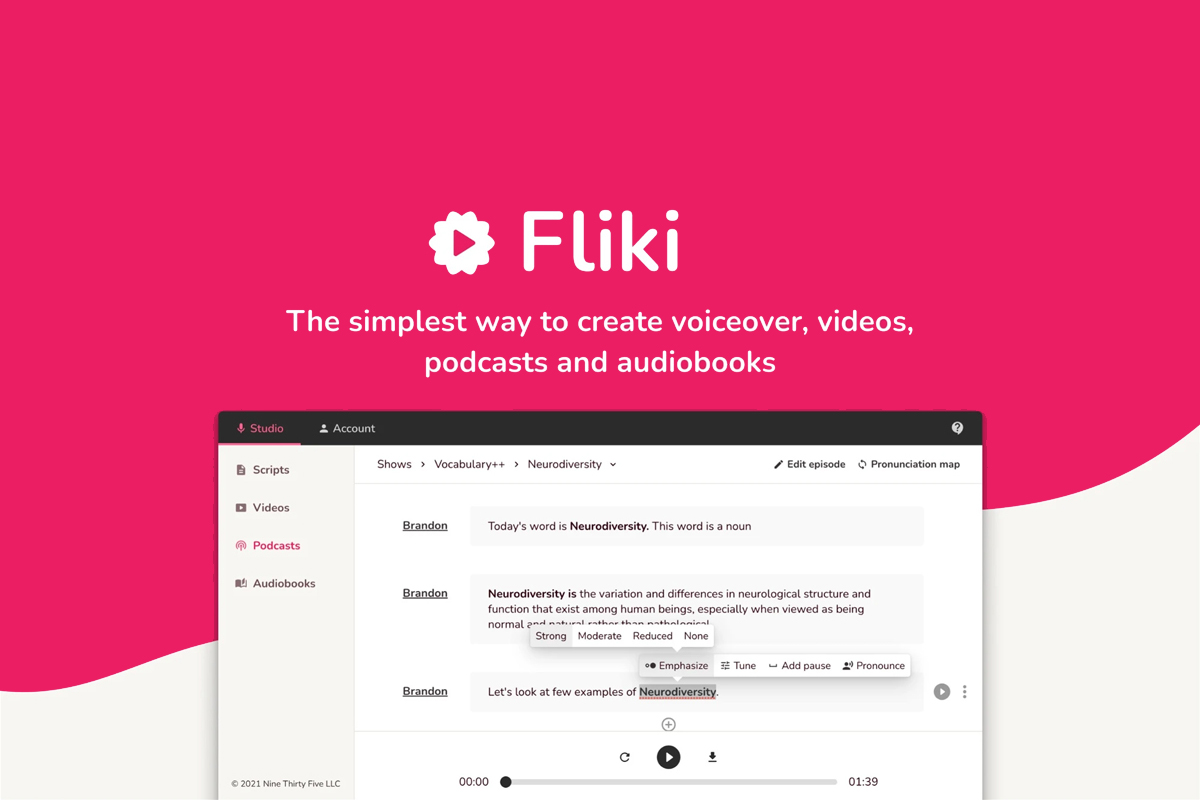 Fliki is the perfect tool for creating marketing videos, explainer or product demo videos, and more. It's text to speech engine produces high-quality, natural-sounding voices that can turn any text into an engaging audio experience.
It's text video converter uses cutting-edge technology to turn any text into a stunning video. It uses artificial intelligence to select the perfect images and recorded for your text, ensuring that your recorded is attention-grabbing and informative.
With Fliki.ai, you can create audio and video content that is both informative and engaging. As a result, it is the perfect tool for content creators who want to save time and produce high-quality content.
It's text to video engine creates attractive-looking recorded from the library of built-in images and animations or by using your pictures. Four use cases are shown in the menu bar on the left: scripts, videos, podcasts, and audiobooks. It is perfect for creating short explainer videos or longer product demonstration videos.
The Fliki AI also offers a wide range of voices and languages, making it the perfect tool for creating global content. With this text to video converter tool, you can quickly and easily create engaging audio and video content that will help you reach your audience.
Meet Fliki
TL;DR
Allows you to convert your blog articles or text-based content into a video, podcasts, or audiobooks with voiceovers in a few clicks.
Alternative to: TexVoz. and NaturalReader
Creating engaging video or audio content that you can share on your website, blog, or social media is easy.
To use Fliki, copy and paste your text into this app, select a voiceover option and click "convert."
Key Features of Fliki
AI Voices
Analytics
Audio Editor
For Marketers
Multi-Language
Multi-Voice
SSML Support
Speed Adjustment
Text Analysis
Voice Generator
Features included in All Plans
Advanced script editor
Multiple voices in one script
Natural Language Processing
Phonetic Variation Detection
Multiple Output Formats
Project Management
Publishing / Sharing
Data Management
Content Library