Flowlu
Using a comprehensive project and customer management platform, you can unify your business processes.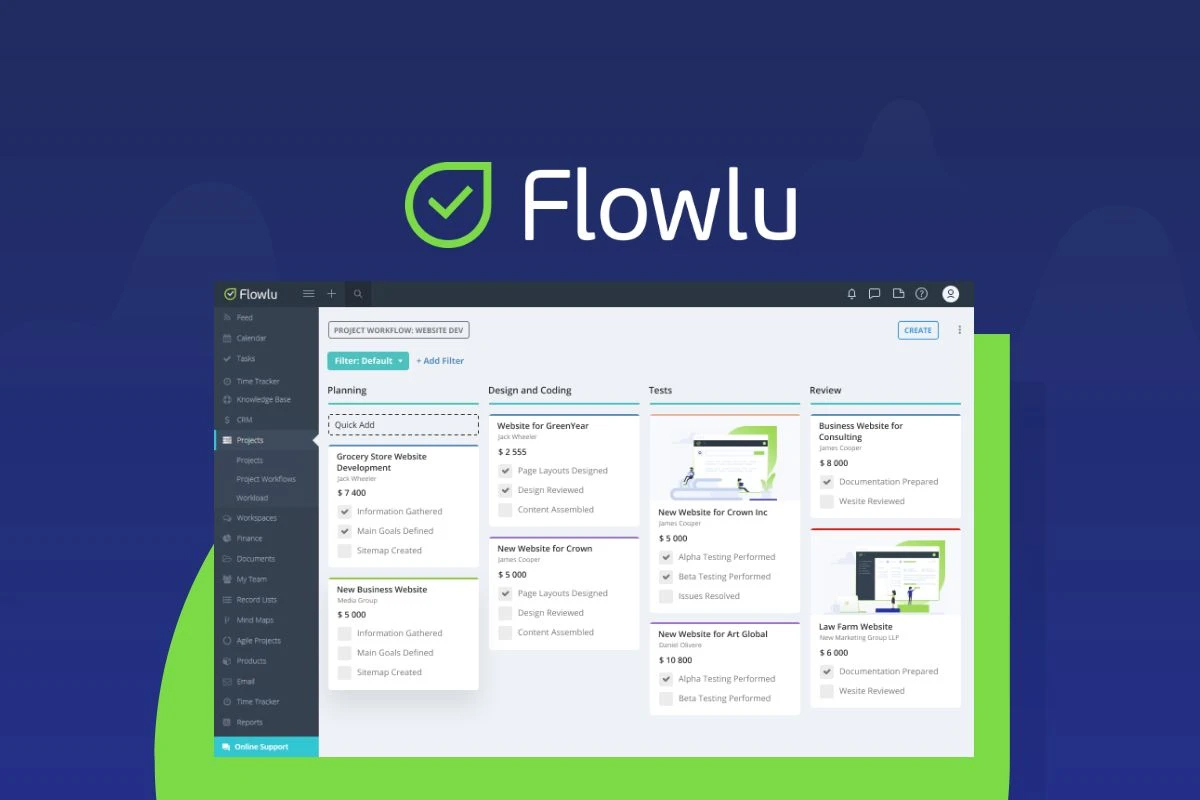 Flowlu provides you with a profound overview of everything that is going on in your company. The strength of Flowlu lies in its ability to provide a unified view of all your business operations in one place.
Flowlu is truly a full business management suite that has the potential to accompany the growth of a company. It also works as a collaboration tool where team members can discuss projects, deals, and tasks, connect with their customers, and help them and share ideas.
By consolidating all of the necessary tools into one platform, It provides a streamlined and efficient way for users to manage their workflows. As a result, It is an incredibly valuable tool for anyone who needs to manage complex tasks or projects.
In addition, It provides users with access to a range of powerful features, including a CRM system, invoicing tool, and project templates. It also has a mobile app to access your account on the go.
It is a business management software that offers a lifetime deal via Appsumo. Flowlu lifetime deal includes access to all features for an unlimited number of users. The Flowlu Appsumo deal is available for a limited time and is an excellent way to get access to flowlu's powerful business management features.
So, It is a great tool for small businesses that need help staying organized and keeping track of their sales pipeline.
Meet Flowlu
TL;DR
Flowlu helps you stay organized and on top of your customer relationships.
Alternative to: Zoho, Wrike, and Bitrix24
It integrates with Google Apps, so you can use it alongside Gmail, Calendar, and Drive.
Related categories: Collaboration, Project Management, CRM
Key Features of Flowlu
The project management features help users to plan and track tasks, set deadlines and allocate resources.
Allow users to share documents, chat in real-time, and track changes.
It's reporting features can be customized to show specific data sets.
It is a business management suite with the potential to accompany a company's growth.
CRM system, invoicing tool, Project templates.
Integrates with Google Apps, so you can use it alongside Gmail, Calendar, and Drive.
Features included in All Plans
Unlimited automation rules
Unlimited workflows
Unlimited sales funnels
Project Templates
Idea Management
Recurring Task Management
Resource Management
Project Planning
Milestone
Payment Reminders
Payment Processing
Project Billing
Online Payments
Online Invoicing
Hourly Billing
Customizable Invoices
Customer Portal
Collaboration Features