Getscreen.me
A versatile tool that helps with administration, technical support, android devices, and remote work.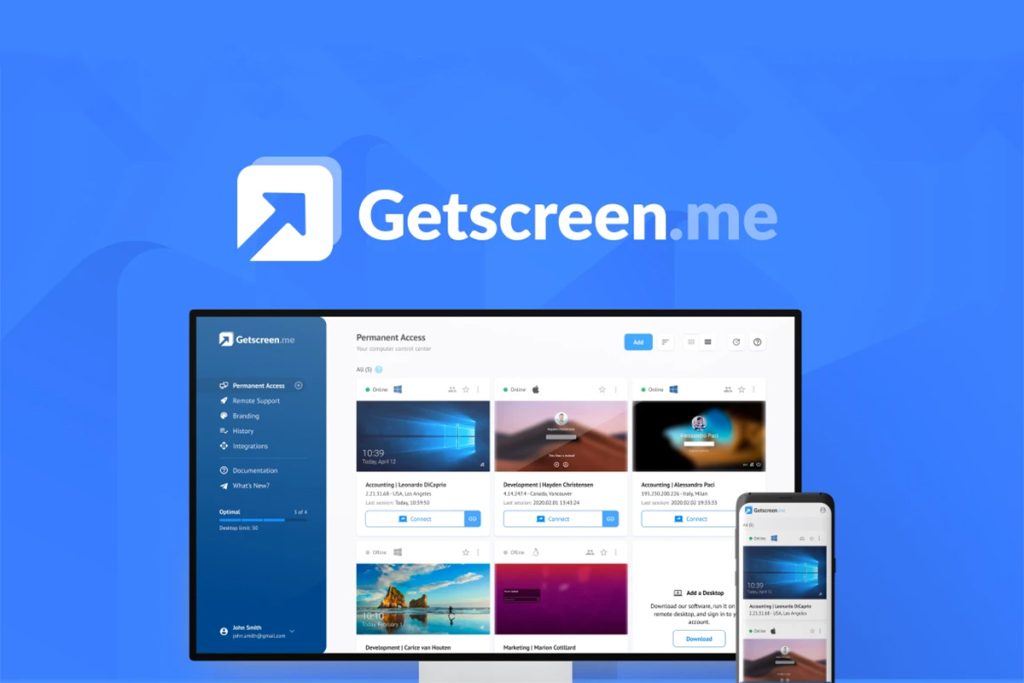 Getscreen.me is one of the most straightforward solutions for remote access. This website provides a simple, step-by-step guide that walks you through downloading and configuring the Getscreen.me software.
Once installed, this allows you to access your computer from any internet-connected device remotely. This means you can work from anywhere worldwide, as long as you have an internet connection.
With Getscreen.me, getting access to any Windows, macOS, Linux, and Android device is now possible. This cloud-based software provides you with the administration, technical support and remote work you need anytime, anywhere.
This is made possible with it's features such as session recording, chat functionalities, real-time collaboration tools, and many more. In addition, its intuitive user interface makes it easy for both beginners and experienced users.
It is a high-quality screen recording tool available as a lifetime exclusive deal on Appsumo. This fantastic offer allows you to purchase Getscreen.me for a one-time phurchase on $99.
And it includes access to all future updates and upgrades. So don't miss out on this incredible offer, head to Appsumo and purchase Getscreen.me today.
Meet Getscreen.me
TL;DR
One-click desktop connection service allows you to connect to your or your client's desktops from anywhere.
Alternatives to: AnyDesk, Teamviewer, RemotePC.
You can send invitations to your clients, and they will be able to associate without remembering any passwords.
Best for: Customer support, Entrepreneur-curious, Remote teams.
Key Features of Getscreen.me
Simultaneous connections
Joint connections
Quick connection by invitation
Integration with your platform
Connection history and recordings
Commercial use
Features included in All Plans
Permanent access
Quick support
Video recording
Size limitations for one transferred file
Team – 25 additional accounts
Branding (title, icon and subdomain for links)
Personal domain for links (CNAME)
Black Screen
Wake-on-LAN