Gumlet Video
With just a few minutes, you can easily upload, optimize, and stream movies while accessing thorough analytics.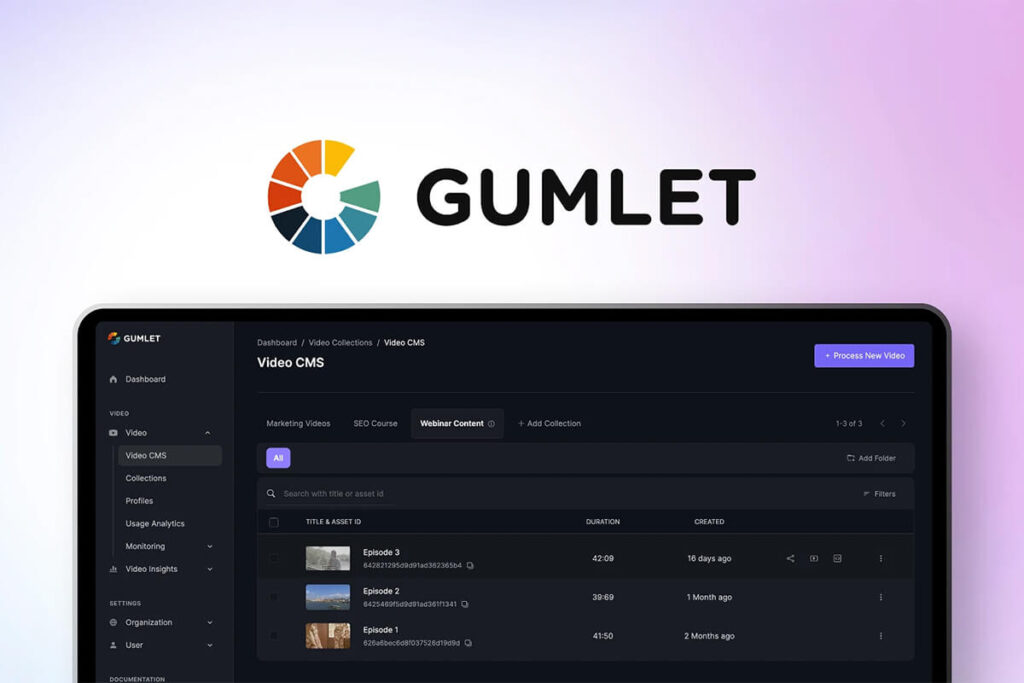 Gumlet Video is a comprehensive video hosting platform that streamlines your video workflow. It allows you to securely upload, optimize, and stream videos while providing detailed analytics to track engagement.
It simplifies video management by enabling direct uploads or sourcing from cloud storage. Organize your SEO video content effortlessly, making it a breeze to locate specific videos. Additionally, you can seamlessly integrate this platform into your existing workflow through API or Zapier integrations.
With Gumlet Video, ensure optimal video compression without compromising quality using per-title encoding. It employs adaptive bitrate streaming that delivers buffer-free experiences across resolutions ranging from 240p to 4K.
Moreover, Customize your video player to align with your brand's identity by incorporating your company's colors, logo, or watermark. Gain complete control over the appearance of your logo on the player. Choose a thumbnail frame or upload an image or GIF of your choice.
Furthermore, expand your reach by adding multiple subtitles and audio tracks to your videos, ensuring accessibility for diverse audiences worldwide. Leverage the power of detailed engagement and playback analytics provided by Gumlet Video's analytics dashboard. Sort and analyze data empowering you to make data-driven decisions regarding your video content.
Elevate your video experience, streamline your workflow, and captivate your audience with Gumlet Video. In Appsumo Saas Deals, you can purchase this deal at $49 for lifetime access. Don't miss this fantastic chance to transform your video strategy and increase audience engagement.
Meet Gumlet Video
TL;DR
Seamlessly host, secure, and stream your video content while enjoying a fully customized player that reflects your brand's identity
Take your video strategy to the next level by launching your own channel, collecting valuable analytics, and driving conversions through engaging and impactful videos.
Best for: Content creators, Course creators, Marketers
Key Features of Gumlet Video
Simplified video management
Remarkable streaming experience
Automate video workflows
Branding and customization
Indepth video analytics
Features included in All Plans
Unlimited video views
Unlimited total videos (subject to storage limits)
Unlimited video and audio upload size
Customizable player
Video analytics
Video CMS and video SEO
Multiple subtitles and sound tracks
Unlimited video upload and streaming API
S3, Wasabi, and GDrive source
Unlimited user(s)
Full HD video resolution
Unlimited dynamic watermark