AcuSheet
With AcuSheet, you can easily optimize your accounting and invoicing processes.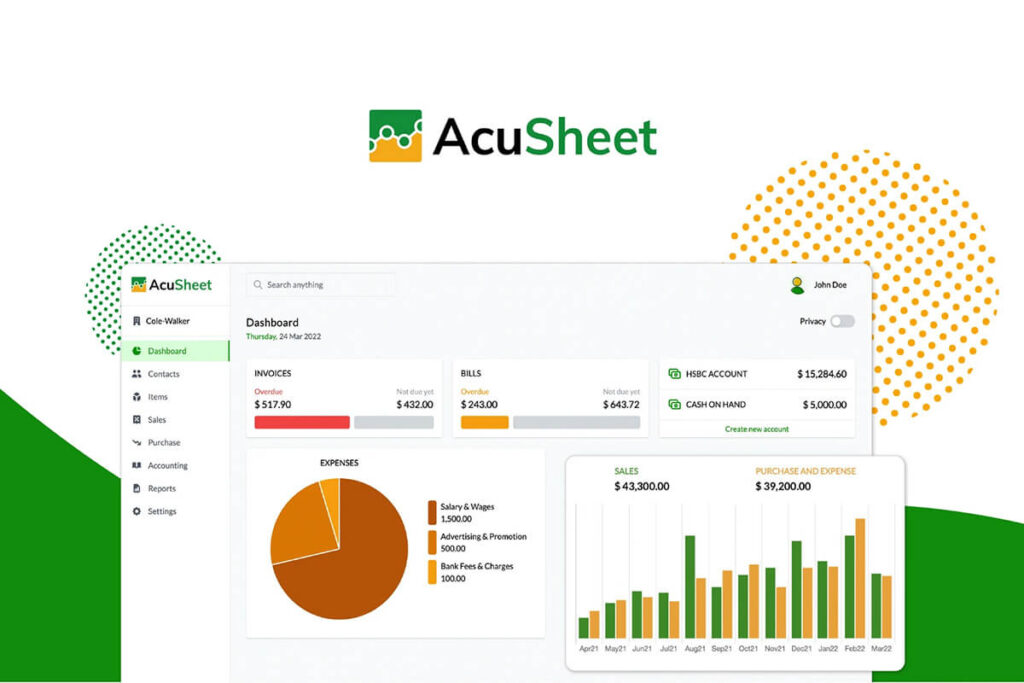 AcuSheet is an online accounting software that empowers you to generate professional invoices and estimates effortlessly within seconds. This user-friendly tool also simplifies the task of recording expenses and bills.
With this tool, your accounts are meticulously organized in the background to ensure accuracy and compliance. It also provides clear and comprehensive financial reports that are easy to understand.
Its double-entry accounting feature automatically handles split transactions, guaranteeing seamless management of debit and credit amounts. Automatic verification processes ensure the equality of debit and credit amounts.
Also, Generate professional invoices instantly with just one click. Customize them by adding your company logo, displaying tax charges neatly, and selecting your desired color scheme.
In addition, with it's multi-currency accounting, you can simplify your international transactions. Another feature of a comprehensive tracking system, you can easily record expenses across various categories.
Furthermore, it automatically adjusts your stock levels when creating bills for purchases. Simplify your inventory management by effortlessly monitoring stock levels and initiating replenishment. By granting access to AcuSheet, you enable smooth collaboration for your team members, accountants, or bookkeepers.
Start simplifying your accounting and invoicing workflows today by purchasing AcuSheet on Appsumo saas lifetime deals for just $99. Take a proactive step towards obtaining the solution you've been looking for.
Meet Acusheet
TL;DR
AcuSheet offers a range of efficient features that streamline invoicing, estimate creation, multi-currency, and expense recording.
Alternatives to: Honeybook, Quickbooks
Its advanced accounting capabilities ensure accuracy, compliance, and ease of understanding financial reports.
Best for: Accountants, SaaS, Small businesses.
Key Features of AcuSheet
Create Invoice in a Minute
Automate Your Accounting
Turn Data Into Information
Manage and control expenses
Features included in All Plans
5 Users
Unlimited contacts & records
Invoices & estimates
Purchase bills
Record expenses
Credit and debit notes
Simplify inventory
Powerful reports
Journals & charts of accounts
Multi-currency, custom roles, and much more.