HelloScribe
The leading security tool comes to protecting businesses and clients from cyberattacks and make sure company's data is not on the Dark Web.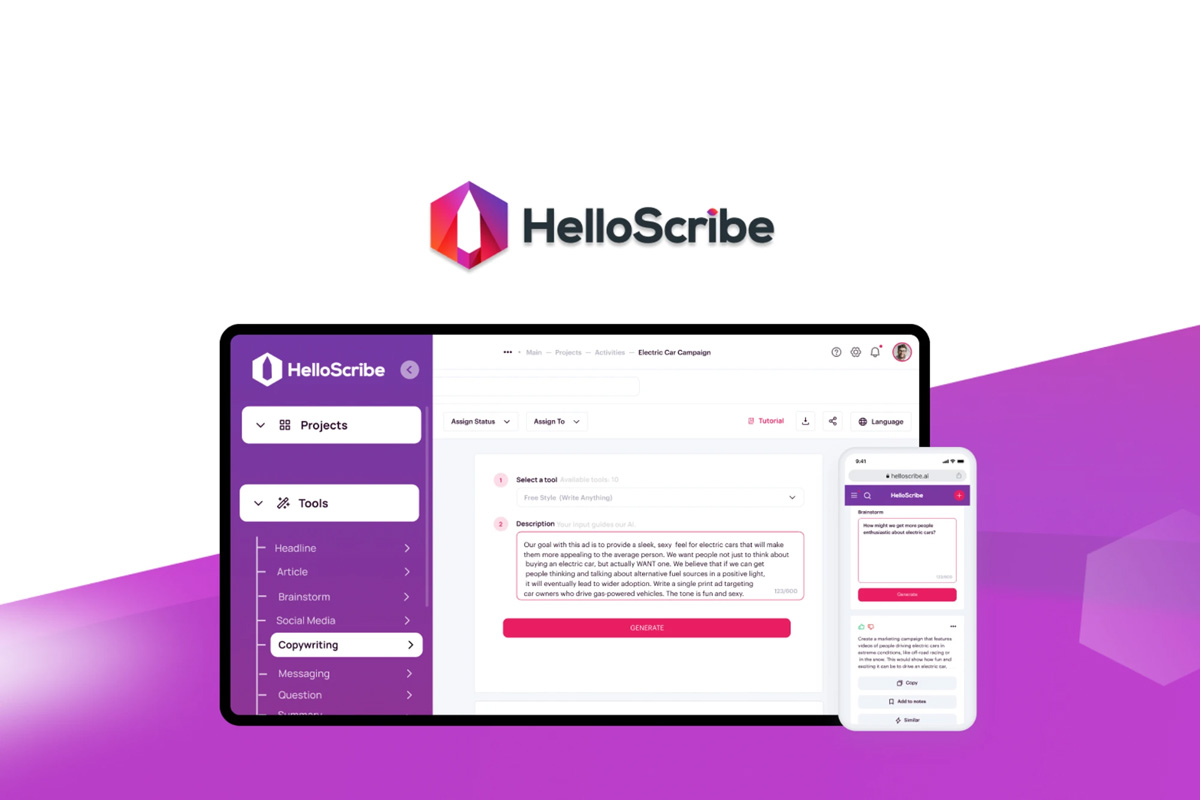 HelloScribe is an AI-powered creative assistant that allows users to generate new and innovative marketing ideas and create premium content in seconds. This brings intelligent and creative solutions to teams across the globe by providing an effortless way to generate engaging content.
With HelloScribe's powerful artificial intelligence algorithms working hard in the background to generate valuable suggestions, you can be confident your team will have plenty of new ideas to choose from while saving time and energy.
HelloScribe is an unbeatable writing and brainstorming tool that allows you to unleash the power of Artificial Intelligence. With over 80+ AI tools, It helps users in improving their writing accuracy, efficiency, and readability.
It's research hub is updated daily with new findings to ensure that it remains ahead of the competition. Furthermore, HelloScribe supports more than 25 languages which gives its members a much wider audience to work with.
It also allows users to share instant feedback on content and ideas which further strengthens the process of brainstorming and developing ideas into actionable plans.
With HelloScribe's research hub, you can access a wealth of data and stay up to date with the best information available. In addition, the platform's editor makes it easy to reference reliable sources, so you'll never have to worry about pulling outdated or inaccurate facts for your project again!
Appsumo's lifetime deal offers HelloScribe at an incredible price of just $79 – an excellent value for anyone wishing to get up-to-date information faster than ever. So don't let this chance pass you by; take advantage of this limited-time offer.
Meet HelloScribe
TL;DR
This extensive database of trustworthy sources makes it easy for users to create authentic content confidently.
Alternatives to: Copy.ai, monday.com, Stackby, Notetracks Pro.
It is updated daily, ensuring users can access the best information available.
Best for: Consultants, Freelancers, Marketers.
Key Features of HelloScribe
Brainstorming
Calendar Management
Content Management
Discussions / Forums
Project Management
Real-Time Editing
Task Management
Version Control
Video Conferencing
Synchronous Editing
Document Management
Features included in All Plans
Built-in templates
Unlimited projects
25+ languages
Unlimited access to all tools and modules
Upvote and downvote results
Bulk download of results (CSV)
Get More Done Faster
Write with Confidence
engage with the audience globally!