WiserNotify
The incredible tool can help businesses to increase their sales by leveraging social proof notifications.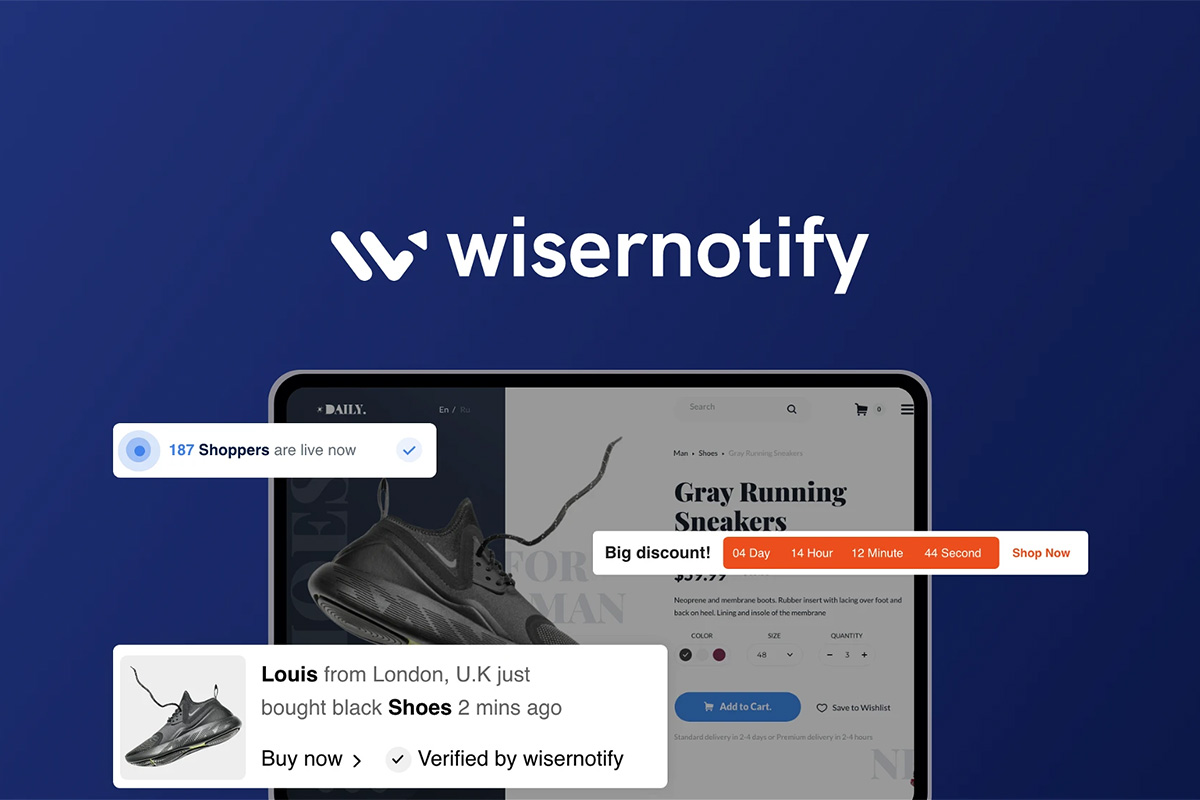 WiserNotify is an invaluable and customizable tool that helps build trust and increase sales in any online business. Through WiserNotify's social proof notifications and widgets, companies can leverage customer feedback, reviews, recommendations, and more to create a trustworthy atmosphere.
This allows organizations to craft custom notifications that will help to establish credibility and inspire more trust in potential customers. It also enables businesses to tailor their messages according to the user'suser's preference and location, ensuring maximum engagement and conversion rates for each campaign.
It makes it easy to start tracking and engaging with your web traffic. Installing their pixel code will only take minutes and works with all website and page-building tools. This gives you real-time data on customer visits, so customers will see that your brand is getting even more attention than Regina George.
This offers the perfect way to stay on top of customer reviews and recommendations across Facebook, Google, and Twitter. You can also view your YouTube channel stats, such as subscribers or number of likes, plus get updates on the latest offers.
This tool makes it easy with widgets like social media counters, video pop-ups, and timer notifications. Optimize engagement by ensuring your visitors are always up-to-date with the latest reviews and announcements!
WiserNotify provides the most comprehensive, customizable notification tool on the market. With more than 60 notification templates to tailor to your brand, you can control every aspect of the image from size and shape to animation and background ensuring that your notifications fit perfectly with your business identity.
It also offers an integrated language translator to give your international customers a truly personalized experience. And with access to real-time data from over 150 platforms, It allows you to target particular audiences with precision and accuracy. With WiserNotify, leveraging communication for increased customer engagement has never been easier.
With it's language translator, businesses can easily reach out to international customers and demonstrate the appreciation they deserve. It also provides interactive calls-to-action that improve click-through rates and conversions dramatically.
By using WiserNotify's interactive call-to-action feature, brands have seen an increase in clicks to purchase products or signup for services. WiserNotify gives business owners the tools they need to design their brand and maximize their viewership reach and sales conversions.
WiserNotify's lifetime deal offered by Appsumo grants an incredible value for an unbeatable cost. Now, you can access WiserNotify's cutting-edge technology for just $89 with this limited-time offer from Appsumo – take advantage of this fantastic opportunity!
Meet WiserNotify
TL;DR
This gives users the versatility they need to ensure their branding looks perfect.
Alternatives to: UseProof, OneSignal, Freshdesk, EngageBay
This offers extensive customization options for businesses to shape their brand identity uniquely and creatively.
Best for: eCommerce, Marketing agencies, Online coaches, eCommerce stores, Freelancer or Services, Marketing Agency
Key Features of WiserNotify
Abandoned Cart Saver
Content Personalization
Customer Segmentation
Lead Qualification
Performance Metrics
Real-Time Notifications
Real-Time Reporting
Reporting & Statistics
Social Media Integration
Template Management
Visitor Tracking
Features included in All Plans
Unlimited websites and subdomains
Unlimited notification impressions
All integrations, reporting, and analytics
All notification types, including live, recent, purchase, counter, review, and YouTube
Advanced analytic & goal setting.
Progressive analytics show unique visitor, impression, click & hover count.
Measure notification performance by setting a goal.
Compare every data point in the chart.