Linguix
AI-based writing assistant and high rate of error corrections and suggestions.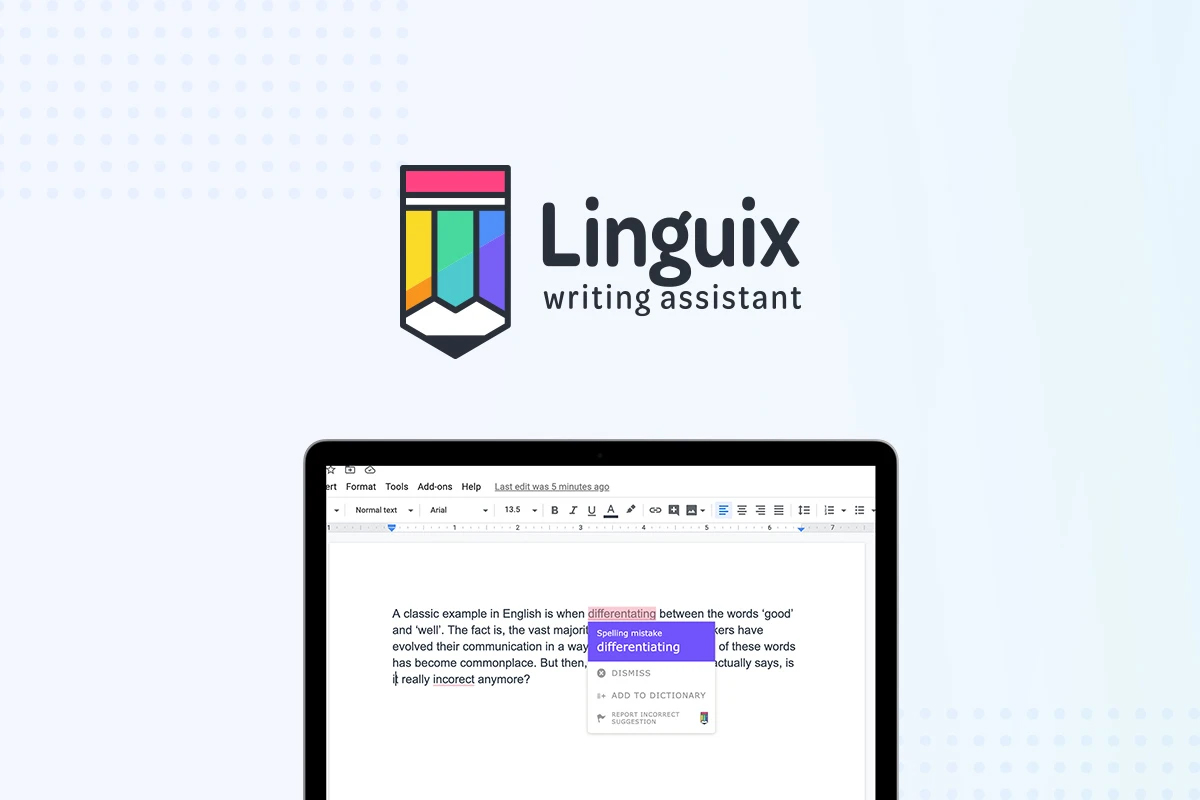 Linguix is an AI writing assistant that offers real-time grammar checking and style suggestions to help you improve your writing. Whether you're composing an email, creating marketing content, or working on a business document, this tool can help you communicate more effectively.
This AI writing assistant analyzes your text and provides recommendations for improving clarity, conciseness, and impact. Linguix also offers a range of tools for rewriters, including a thesaurus, dictionary, and style guide.
It provides users instant feedback on their writing, allowing them to improve their content in real-time. In addition, it offers a plagiarism checker to help you avoid accidental plagiarism.
Finally, it uses natural language processing to analyze your writing and suggest grammar, spelling, and style corrections.
The Linguix is the perfect tool for anyone to improve their writing skills or create better content for their business. With Linguix, you can be sure that your writing will be of the highest quality.
Meet Linguix
TL;DR
You can instantly improve your written communication skills and produce error-free content.
Alternative to: Grammarly and Wordtune
They are designed to help users write more effectively, such as a spell checker, a thesaurus, and a style guide.
Best for: Professionals and businesses that want to ensure they're reaching the right audience with the right message.
Key Features of Linguix
Activity Dashboard
Alerts/Notifications
Contextual Guidance
Customizable Templates
Dictionary / Thesaurus
Document Review
Document Templates
Problem Area Alerts
Punctuation Check
Real-time Updates
Reporting & Statistics
Reporting/Analytics
Spell Check
Template Management
Text Editing
Text Review
User Management
Features included in All Plans
2M checks for punctuation, grammar, context, and sentence structure
AI-based rephrasing
Shortcuts for repetitive typing automation
Unlimited premium suggestions
Unlimited rewrites per day
Unlimited word definitions
Unlimited grammar checker
Fix 9 million typos
Synonyms suggestions
Performance stats
Contextual Guidance
Punctuation Check
Third-Party Integrations
Dictionary
Rewriter
Shortcuts
Team management
Style guide