Directual
Create applications that utilize Amazon's cloud computing infrastructure with this no-code platform.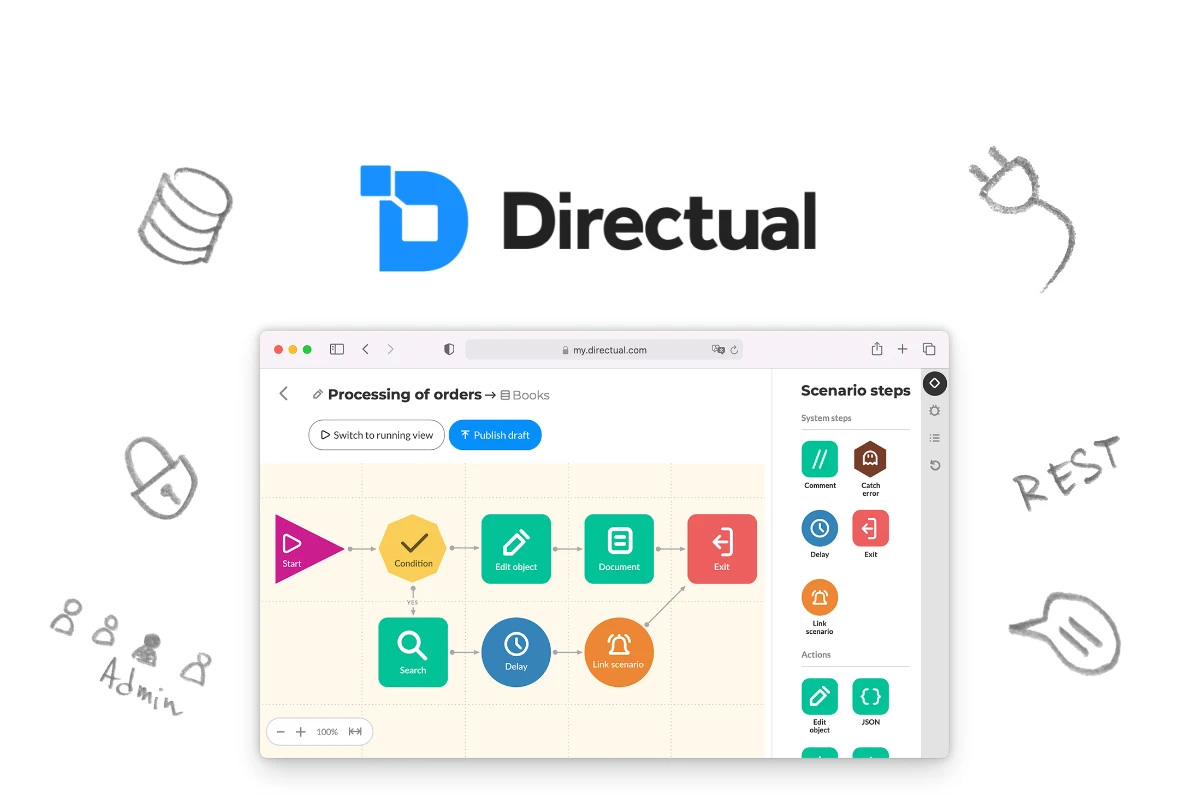 Directual is a complete app development platform that combines the advantages of traditional coding with a visual no-code approach. Whether you are a traditional coder or not, this tool empowers you to exceed the minimum viable product. On dashboard, you can manage and monitor your app's frontend, backend, and API levels.
Moreover, you can integrate your app with various tools, such as site builders, CRMs, email platforms, messengers, social networks, and more. The user-friendly tools on this platform facilitate the configuration of your database using folders, data structures, object fields, and field groups.
Directual's NoSQL database is designed to expand alongside your app and manage millions of records without any setbacks. To protect your data from unauthorized access, you can set up user-based access to particular fields by using the API builder.
In addition, this platform presents an attractive affiliate program that allows you to earn up to 50% of client payments by referring others to the platform.
Directual's scenario interconnection functionality allows you to create and link workflows to automate any backend app logic. You can quickly set them up, whether planned or event-based scenarios. Real-time scenarios can be executed via Directual, and each step is finished within milliseconds. Also, you can directly connect many situations or use an event model to connect them for a fluid workflow.
Plus, by utilizing this tool, users can create web and mobile applications that are scalable and sophisticated without having to write any code. It provides a wide range of pre-built templates and components that can be easily customized to fit the user's needs.
Additionally, Directual allows users to integrate with other popular no-code tools like Webflow and Wix, as well as traditional UI frameworks for web and mobile. Overall using this no-code platform it's simple to create your own application without the need for programming skills.
Appsumo's lifetime deal for Directual is outstanding, priced at only $29. Don't wait any longer. Sign up for a lifetime subscription to Directual on Appsumo now
Meet Directual
TL;DR
Create web and Web3 applications that are scalable and advanced, using a no-code platform that features an easy-to-use visual interface.
Alternatives to: 8base, DronaHQ, Ninex.
Connect with other no-code tools such as Webflow and Wix, or use a conventionally developed user interface for web and mobile.
Best for: Developers, IT/security agencies, Solopreneurs.
Key Features of Directual
Database & API-builder
Backend-scenarios
Web-page builder
Blockchain & Web3
Integrations
Cloud no-code platform
Features included in All Plans
Plugins (up to 5 per app)
Web3 plugins: NFT, MetaMask, WalletConnect, Ethereum, Near, and Polygon
Regular web 2.0 integrations
Swagger support
Marketplace
Client billing
Unlimited app versions
JSON-step
Reports
Advanced scenario settings and advanced security features
On-demand resources
Synchronic scenarios