LinkTube
To increase engagement and sales, host unlimited links on your smartpage business portfolio.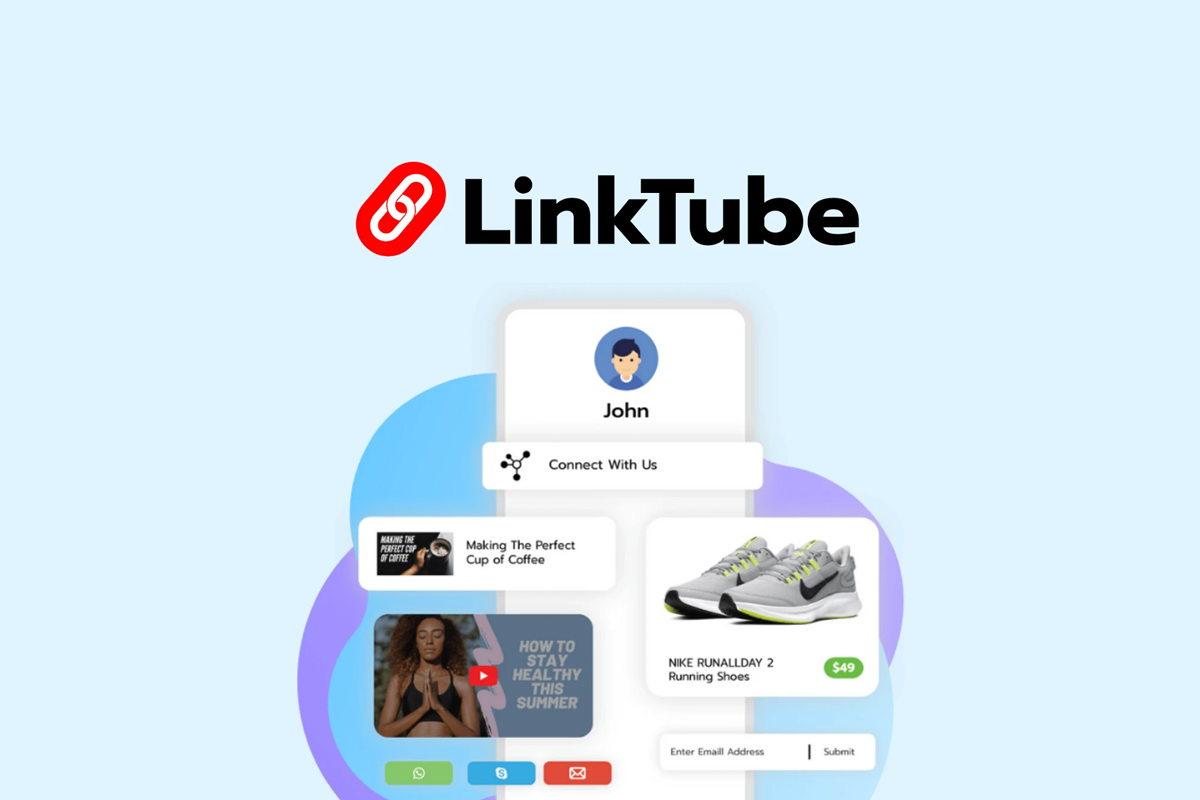 LinkTube provides businesses with an easy way to share and manage links and track link traffic and analytics. It also offers many features and tools to help businesses optimize their links for maximum engagement and sales.
By hosting unlimited links, you can provide your visitors with more opportunities to interact with your brand. In addition, this makes it easy to track clicks and conversions, so you can see which links are most effective. Plus, it is a snap to set up and use, so you'll be up and running in no time.
With LinkTube, you can easily create and manage your CTAs, so every aspect of your smartpage is tailored to your specific needs. This allows you to customize your CTAs in various ways, so you can make sure that your CTAs are practical and efficient.
One of the most valuable features of LinkTube is its integration with popular third-party tools. It allows users to easily connect their LinkTube account with tools like Mailchimp, Google Sheets, and Zapier, making it easy to manage their video content and workflow.
LinkTube is a new video hosting and streaming platform that offers users a lifetime of exclusive access for just $69. Appsumo is full of high-quality digital products, and this is by far the best Appsumo deal ever.
This is the perfect platform for anyone looking to create and share video content, and the lifetime access deal from Appsumo. Act now to take advantage of this fantastic offer.
Meet Linktube
TL;DR
Using your smartphone, create a smartpage portfolio that may have unlimited links and display to explore your brand.
Alternatives to: Linkin.Bio, Linktree.
To increase sales, measure clickthrough rates, examine interaction patterns, and use retargeting advertisements.
Best for: Bloggers, Content creators, Influencers.
Key Features of Linktube
Send traffic to any website with a personalized title
Get deeper analytics that measures every click and view
Dynamic feeds for YouTube, Shopify
Smartpage with Integrated Newsletter sign-up form
Products Feed with a price tag
Downloadable QR code for each SmartPage
Personalized Landing page builder
Awesome eye-catching animations
Features included in All Plans
Unlimited buttons, button icons, and messenger buttons
Custom themes, text, and background images
QR codes
SEO profiles
CCPA compliance
Sensitive content
Remove LinkTube branding
Newsletters for Mailchimp, Google Sheets, and Zapier
Tracking pixels include Facebook, Google Analytics, Snapchat, and Quora