ProductDyno
All-in-one extensive platform for selling courses, memberships, and digital products from one place.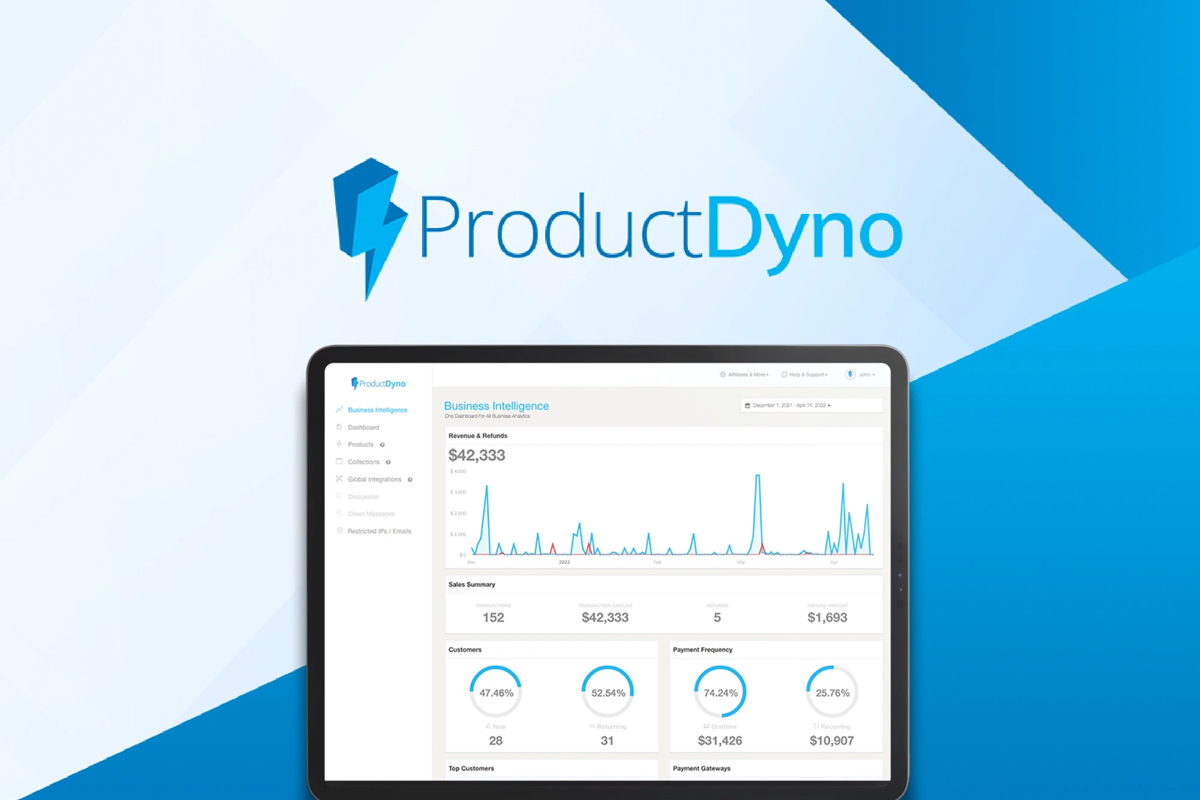 ProductDyno is simple to use and set up, making it the perfect solution for anyone who wants to sell digital products. With this product, you can quickly deliver your products securely and protect them from unauthorized access.
With ProductDyno, you can add jam-packed content like text, audio, video, and downloadable files to your products. It also allows you to promote your products with built-in marketing tools easily.
It lets prospects view products they own and purchase missing stock in the collection to boost sales without additional admin work. In addition, ProductDyno makes it easy to deliver your products to customers with its built-in delivery system.
It also makes it easy to assist others, as you can join multiple accounts from one platform to different products or collections. This feature makes ProductDyno an ideal solution for businesses or individuals who want to streamline their digital product management.
In addition to hosting features such as domain management and SSL certificates, ProductDyno also includes a multi-layered content security system. This system helps to protect your site from malicious attacks and keep your customer's data safe.
ProductDyno is excited to be featured on AppSumo. With this lifetime deal, you can access ProductDyno for $79. This is an incredible deal because ProductDyno is an essential tool for anyone selling digital products.
Meet ProductDyno
TL;DR
A digital product selling platform that makes to sell and delivers digital products behind a secure membership area.
Alternatives to: Kajabi, Podia, Thinkific
Thousands of Zapier and Pabbly integrations are included, allowing you to create a smooth workflow by connecting your existing tools.
Best for: Course creators, Marketers, and Online Coaches.
Key Features:
Unlimited Collections
Unlimited Products
Content Management
Sell Anywhere
Domain Management
Live Editor
Host Anywhere
Checkout Pages
Custom Emails
Access Management
Trustable Infrastructure
100% Customization
Built-in Licensing
Fully Automated System
Features included in All Plans
Multiple-Layered Content Security
Up-Sell, Down Sell, and Cross Sell
Hassle-Free Membership Management
Software/SAAS licensing module
Link custom domains to products or collections
White labeling/branding removal
Complimentary SSL certificates
Unlimited file upload (up to 25 MB)
Import members via CSV
Connect your storage
All current/future integrations
All contemporary standard themes included
0% transaction fee
Advanced reporting/analytics dashboard