Mentum.ai
AI writing assistant will assist you in breaking through writer's block and producing high-quality articles.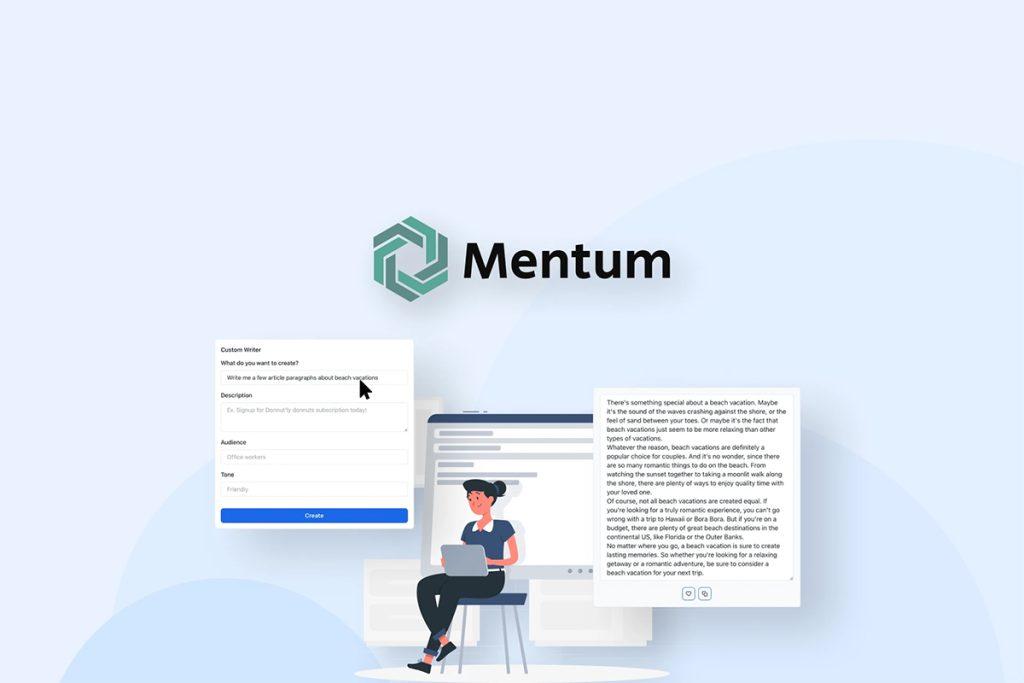 Mentum.ai is an all-in-one platform to help you with every aspect of content creation, from efficient catchy headlines to compelling blog articles. This content writing tool analyzes your text and provides feedback on how to make your writing more effective.
With Mentum.ai, all you have to do is type in a topic, and it will create ideas for you to choose from. In addition, it provides feedback on your writing to improve your skills over time. This tool also gives a wide range of custom writing features that allow you to customize your content according to your needs.
This powerful tool can help you improve your productivity and efficiency. It offers a wide range of predefined templates, such as the Cold Email template, Facebook Ads recipes, and Text Extenders. It also offers a variety of other templates, such as the Job Interview Question Generator or Testimonials Rewriter.
This tool uses GPT-3 and proprietary ML models to provide you with the best results possible. So whether you're just getting started, Mentum.ai is the perfect tool for helping you take your writing to the next level.
For a limited time, Appsumo offers a lifetime deal on Mentum.ai for just $59. The Appsumo lifetime deal includes access to the its platform and support and life updates. So don't lose on this wonderful opportunity – check out Mentum.ai today
Meet Mentum.ai
TL;DR
AI technology company that uses GPT-3 and proprietary ML models to create compelling copy that resonates with your audience.
Alternatives to: Jasper, Copy.ai, Frase
With Mentum.ai, you can drive conversions and increase return on investments by creating catchy content that will stand out from the competition.
Best for: Authors, Bloggers, Content creators, Copywriters.
Key Features of Mentum Ai
Writing Tools
Blogs
Website
Digital Marketing
A/B Testing
Custom Writer
Integrations
Call to Action
25+ Languages
Features included in All Plans
30+ Writing tools to help you write better content
Custom Writer will create any content for you
Feature updates: All feature updates included in the lifetime plan
Blog post: Find ideas for your next blog post and write a rich blog posts
Sales emails: Never write a sales email from scratch again – Mentum.ai will help
Website tools: Generate CTA and website headlines that drives conversions
Startup tools: Create name for your next big product idea
Generate 400,000 words per month