Instaminutes
Using trainable AI assistant, you can summarize meetings into key takeaways and gain actionable insights.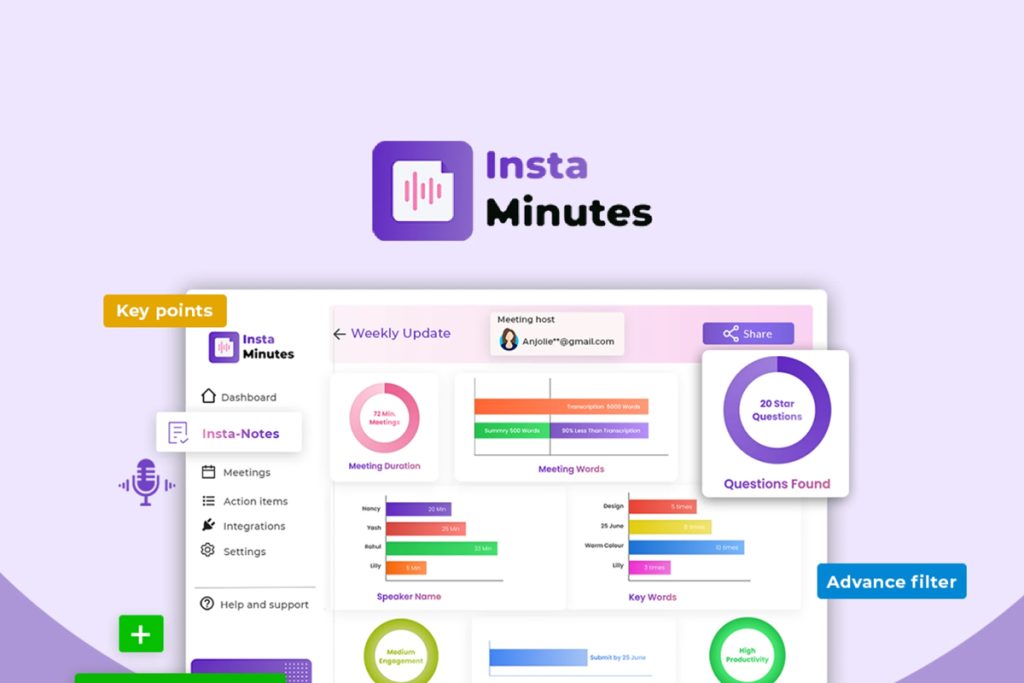 Instaminutes is a powerful tool that helps you summarize meetings and recorded conversations. It takes real-time, interactive notes with an AI assistant that automatically highlights the most important points. You can also train your AI assistant to generate better summaries over time.
Instaminutes also connects to all your favorite meeting tools on desktop and mobile, like Google Meet, Microsoft Teams, and Zoom. It helps you get advanced recommendations on improving customer engagement and conversions. In addition, it's easy to listen to summaries of your meetings on the go.
This tool also allows you to search using advanced filters, like focusing on certain speakers or topics. It integrates with over 50 popular platforms. This tool also allows you to share key moments from meetings via Slack or email to circle back.
It can also transfer summaries to CRMs and share insights with your team. So, Instaminutes is the perfect tool for busy professionals who want to be able to summarize their meetings quickly and easily.
Instaminutes is now available on Appsumo. You can get lifetime Appsumo deals at a discount price. So, Grab the deal. Try this tool with a new experience.
Meet Instaminutes
TL;DR
This AI assistant analyzes and summarizes meetings in a way that is both accurate and engaging.
Alternatives to: Fireflies.ai, Otter.ai
Connect to your favorite meeting tools, messengers, and CRMs to make your workflow more effective.
Best for: Product managers, Project managers, Sales managers.
Key Features of Instaminutes
Record Zoom, GMeet, Teams, & other tool meetings
Real-time notes
Meeting Summary Notes
Chrome extension
300 mins of notes/month
Decisions list
Meeting analytics
Slack, Trello, and CRM integrations
Features included in All Plans
SSO
Dedicated Company Domain
Dedicated Account Manager
All limits as per your choice
Trello, CRM integrations
Priority Support
Team productivity Analytics
Conversation Intelligence
Slack Integration
Speaker Identification