My Lead Fox
A comprehensive tool that helps you find eCommerce stores worldwide.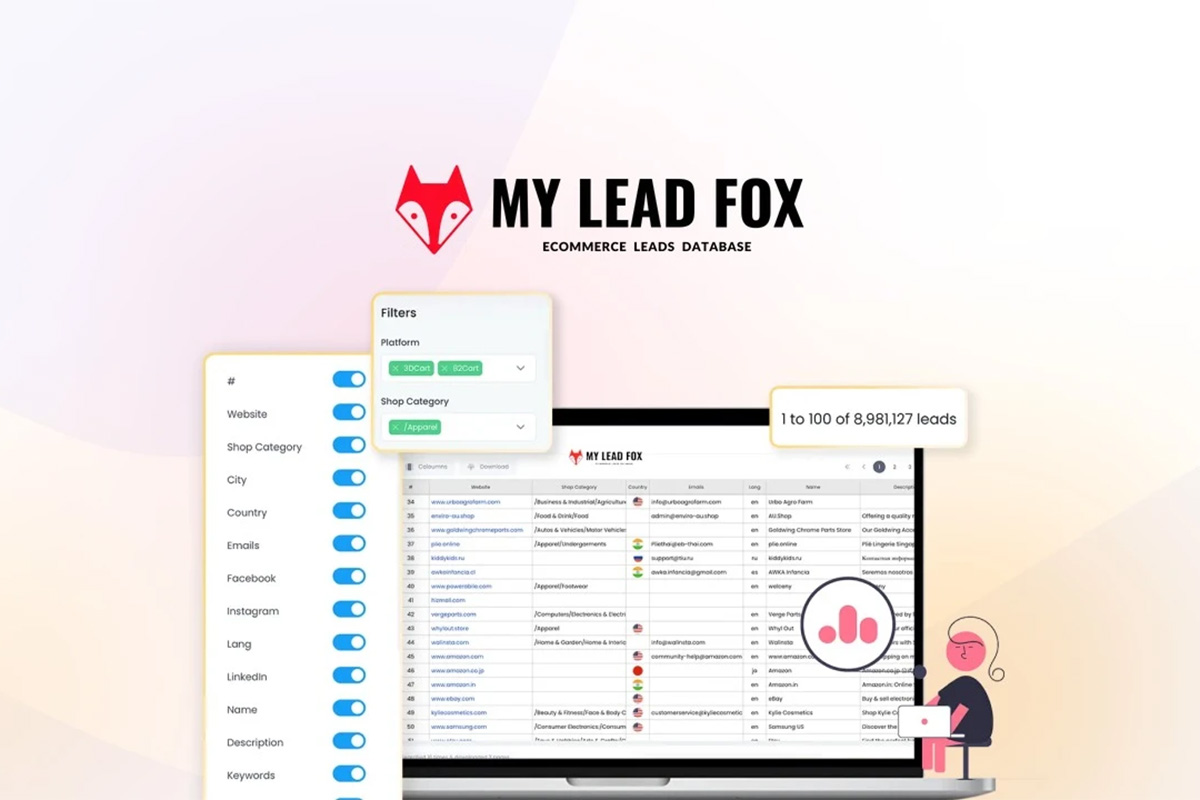 My Lead Fox is the ultimate solution for business owners and professionals looking to acquire leads, perform market research, enhance data, or collect alternative investment data.
It offers a cost-efficient platform that leverages automation and analytics to deliver reliable data with incredible accuracy. This eliminates tedious manual efforts while providing precise, comprehensive results in real-time. It also enables users to make informed decisions quickly and efficiently.
Users no longer have to settle for near-accurate leads. It gives users all the insights they need to build relationships with clients and grow their businesses. Not only does My Lead Fox provide access to numerous data sources, but it also has vital filtering and sorting capabilities that make it easier than ever to find the leads user need precisely.
With My Lead Fox, creating customized lists of prospects and managing and tracking campaigns becomes incredibly efficient and easy – with just a few clicks! It also opens up more possibilities for finding alternative investments and gaining insight into the market.
Moreover, My Lead Fox offers additional resources to maximize users' marketplace knowledge – allowing businesses to make educated decisions in their area of specialization. As a result, it is an invaluable tool for gaining a competitive edge in digital marketing and understanding target markets better.
Putting its comprehensive data and powerful insights at the user's fingertips, My Lead Fox enables users to stay ahead of the competition. In addition, its reliable prospecting capabilities give users a considerable advantage over their clients as they can access superior data that keeps them in the know and up-to-date on all trends.
This tool offers an excellent deals on Appsumo at $59. You can get this lifetime subscription to access it's top-of-the-line customer engagement and sales tracking tools. So, don't wait – join My Lead Fox on Appsumo today and make the most of your subscription!
Meet My Lead Fox
TL;DR
Its analytics allow users to monitor their market and trends and discover new opportunities.
Alternatives to: LeadSnake, Closely, Markettailor
This analyzes the success of their services, arming them with the insight and knowledge needed to maximize their profits.
Best for: Developers, E-commerce, and Marketing agencies.
Key Features my Lead fox
Data Pools
Privacy Compliance
Verified Stores
Sales Activity Tracking
Lead Management
Follow Up Schedule Management
Features included in All Plans
Worldwide eCommerce store data
Quick search and simple to use
Complies with GDPR
Fully automate your marketing processes
Unique visual automation module