Nymblr
Optimize your outreach process effortlessly by finding millions of qualified B2B leads in a single click.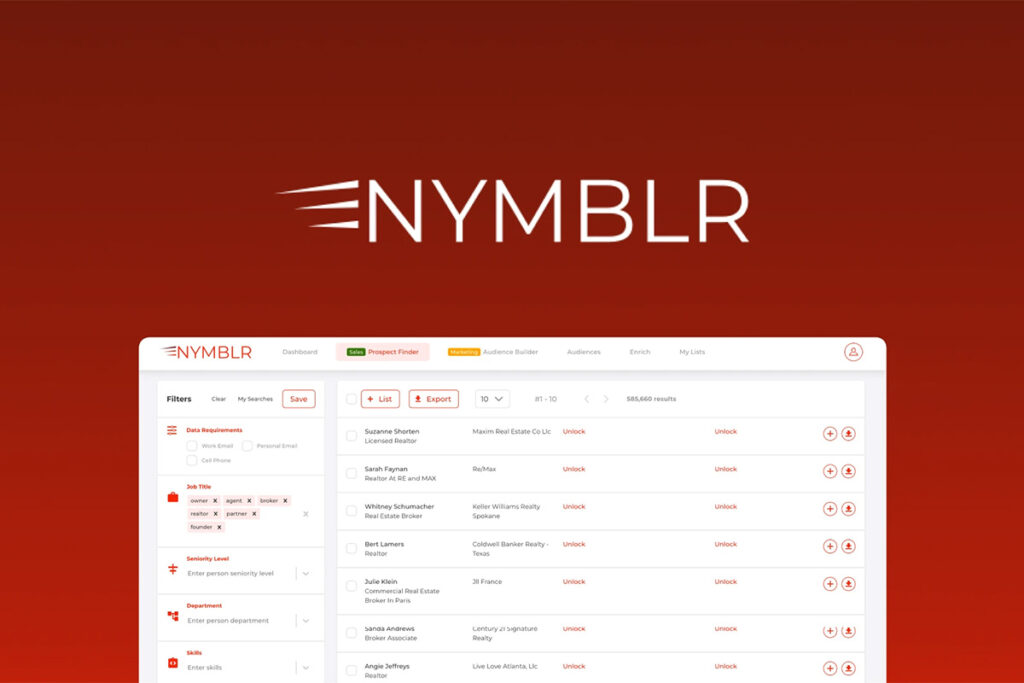 Nymblr is an innovative platform designed to improve B2B lead generation and streamline marketing campaigns. With this platform you can access millions of qualified B2B leads with verified contact information. Its comprehensive database provides instant access to a vast pool of validated leads, saving valuable time and effort.
By utilizing Nymblr's powerful search capabilities, businesses can precisely target their ideal customer profiles and align their marketing goals accordingly. It ensures that businesses connect with the right audience for their products or services.
Additionally, the platform's extensive database boasts over 70 million US-based business contacts that complete with accurate email addresses and direct phone lines. It goes the extra mile by offering real-time email validation at no additional cost. This feature enables marketers to focus on engaging with prospects rather than worrying about the quality of their contact information.
Nymblr also excels in helping businesses build targeted ad campaigns. By utilizing the verified B2B contacts, marketers can create custom contact lists and audiences. With the ability to launch customized campaigns on various platforms, businesses can reach their prospects effectively and increase their chances of conversion.
Furthermore, this platform simplifies the management of contact and company information by seamlessly integrating with popular CRM systems. This integration allows businesses to update and maintain accurate data in real time, preventing them from sifting through outdated documentation.
Plus, collaboration is made effortless with Nymblr's unlimited user feature that allows teams to work together seamlessly on the same platform. The platform's white-labeling capabilities also offer a professional touch, enabling businesses to customize the interface and creating a consistent user experience.
Discover the immense potential of Nymblr and unleash the power of your B2B outreach campaigns. Embark on your Nymblr journey today, available at an exclusive price of just $39 on the Appsumo platform. Secure the lifetime deal and unlock a whole new level of efficiency and accuracy in your marketing efforts.
Meet Nymblr
TL;DR
Tap into an extensive B2B contact database, gaining access to a vast pool of verified leads perfectly suited for your cold outreach campaigns.
Alternatives to: Lusha,ZoomInfo.
Ensure data enrichment and accuracy by leveraging real-time updates on a customizable white-labeled platform, integrated with APIs to meet your specific requirements.
Best for: Marketers,Marketing agencies,Sales managers.
Key Features of Nymblr
Get verified B2B contact data
Real-Time Email Validation
Unlimited Users
Never Pay For Bad Data
Free Trial & No Annual Contracts
Features included in All Plans
Prospect finder
Work and personal emails
Mobile numbers
Social media profiles
Real-time email validation
Contact and company enrichment
Developer APIs
Up to 50 data points per lead
Audience builder
White labeling