Ocoya
Improve your content marketing tactics with a platform powered by AI.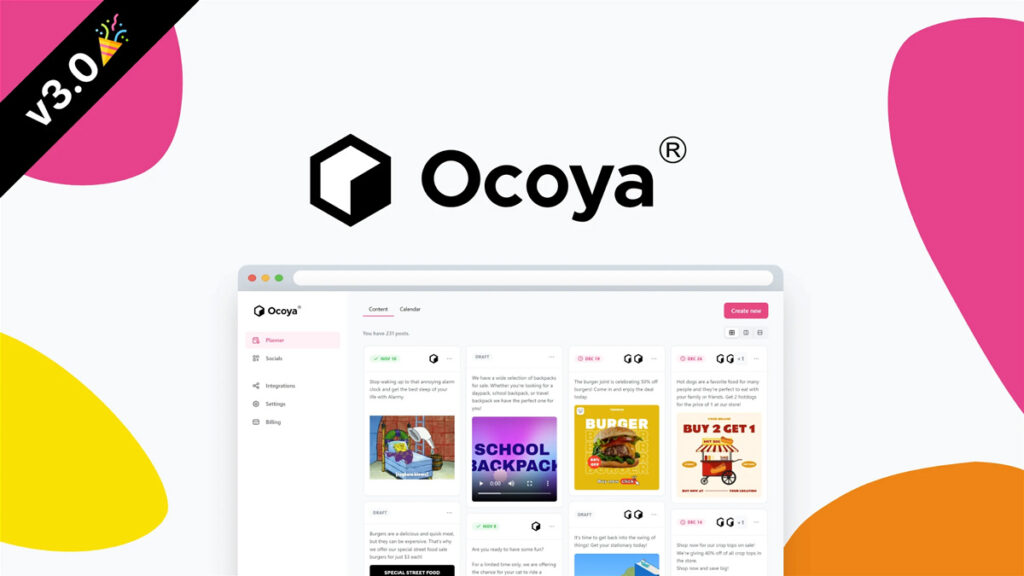 Ocoya provides a library of pre-designed templates to make graphic design easier than ever before. With it's built-in function, you can easily select from over 10,000 images and video templates to create effective and attractive marketing campaigns.
It also gives you the freedom to customize fonts, colors, backgrounds, and layouts depending on your project's needs. It helps assist with professional graphic design so that your social media marketing campaigns look polished and modern. This tool empowers you to level up your visual presence online.
This is a unique tool for digital marketers looking to quickly and efficiently compose captions and hashtags for their campaigns. It provides fast caption generation, offers link-shortening capabilities, and allows you to produce your copy in 26 languages.
This platform allows marketers to craft copy from multiple sources, making adjustments and saving the versions they prefer. Ocoya makes putting together a post effortless so that digital marketers can focus on other aspects of their campaigns.
Ocoya is the easiest way to manage all your social media postings in one place. With this tool, you can easily post across multiple platforms such as Facebook, Instagram, Twitter, and LinkedIn at once, saving time and energy.
It also makes tracking key performance indicators (KPIs) a breeze and features built-in suggestions for improvement to enhance your campaign's results. With Ocoya now available on Appsumo for just $69, there's never been an easier or more affordable way to maximize your social media reach.
Meet Ocoya
TL;DR
Create and manage high-converting marketing campaigns with ease.
Alternatives to: Canva, Hootsuite, Jasper
Plan your social media posts and let AI write your copy for you.
Best for: Marketers, Social media managers, Solopreneurs.
Key Features of Ocoya
Stack unlimited codes
GDPR compliant
Each additional code applied unlocks 25 social profiles,
16 team members,
and 4 workspaces
Stacking 20+ codes unlock the Platinum Plan
Features included in All Plans
Copy translations (26 languages)
Unlimited scheduled posts
Unlimited images and videos
10,000+ templates
All supported channels (including future channels)
Essential analytics