One Transcriber
AI-powered transcription tool that provides real-time audio and video transcripts in multiple languages.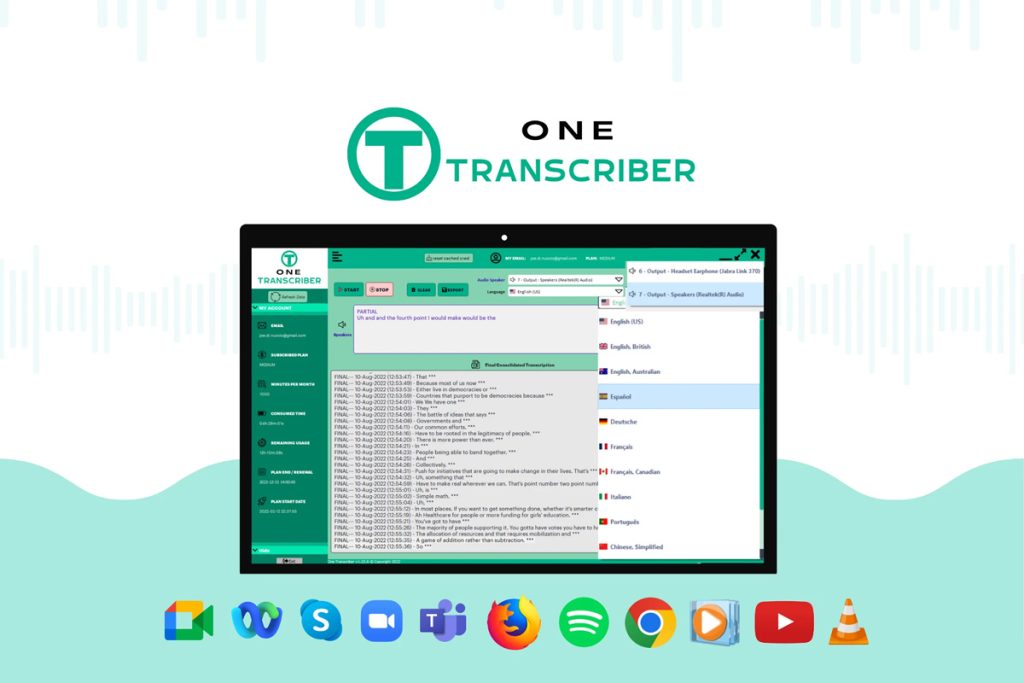 One Transcriber is the ideal solution for businesses that must transcribe large volumes of audio or video content in multiple languages to create subtitles, closed captions, or generate text transcripts for further analysis.
You can generate real-time transcripts of live events, meetings, videos, and audio recordings through One Transcriber. The transcripts can be generated in 12 different languages, including German, French, and Italian. This tool allows you to automatically transcribe anything played on your computer.
In addition, It offers several features that make it unique among transcription services and the option to create customized transcriptions using One Transcriber's drag-and-drop interface.
This tool is also capable of real-time transcription of dialogue in the speaker's language. You can view partial transcripts as they are generated within the app's "live box," save transcripts directly from the final text box, or copy and paste them into another document. One Transcriber is an invaluable tool for anyone who needs to transcribe audio or video recordings.
One Transcriber is offering a lifetime deal through Appsumo for just $69. This is an incredible opportunity to get all One Transcriber's features for a one-time purchase. In addition, it is a potent transcription tool that allows you to transcribe audio files into text. So take advantage of this great opportunity and get this for a lifetime.
Meet One Transcriber
TL;DR
The app is easy to use and only requires a few clicks.
Alternatives to: Otter.ai 3Play Media, BLEND, Translated.
This makes it easy to identify errors in the transcription process and make corrections as needed.
Best for: Content creators, Event organizers, Remote teams.
Key Features of One Transcriber
Select Audio Device and language to a transcript
Real-Time Transcripts
Tracking Usage
Minutes consumptions
Closed captioning and subtitles
Transcribe recordings
Unlimited users
live captioning
Features included in All Plans
Refresh to get updated Consumption data and start a new Session
Integrates with business meetings, videos, podcasts, or anything on your PC
Maximum Security and Data Privacy over the network
All languages available and any future languages
Select audio device and language transcription
Track usage and minutes consumed
Internet connection required to integrate machine learning and advanced algorithm
Data-encryption protocol with a certificate issued by an official certificate authority