PATR
With PATR, you can quickly deploy and scale your applications, static websites, databases, and more in just 60 seconds.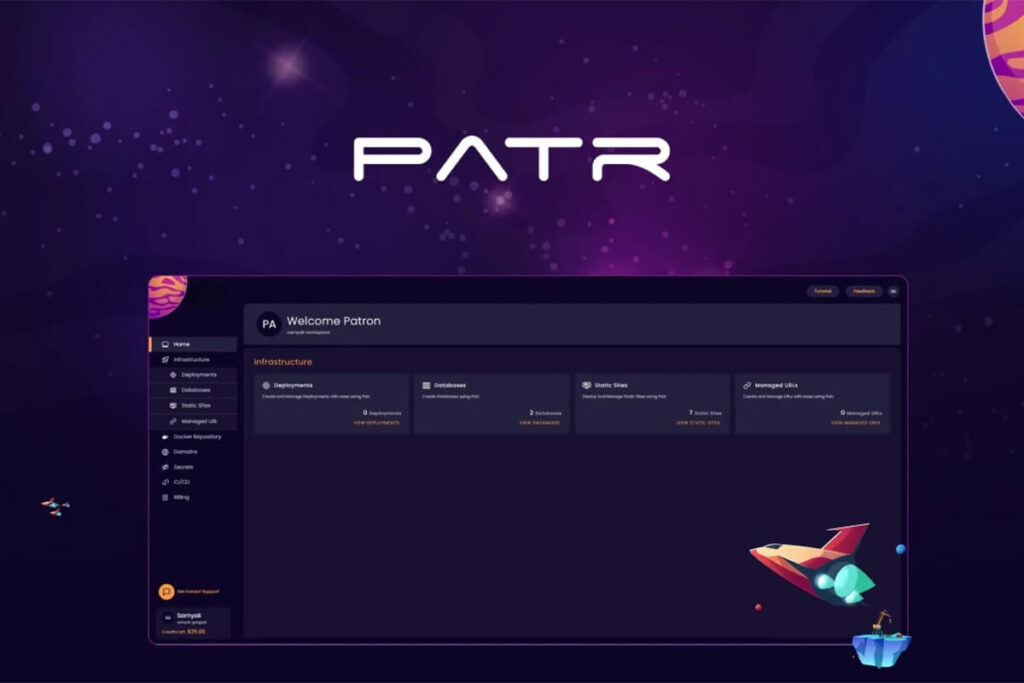 PATR is an innovative cloud platform that simplifies the process of deploying and managing a wide range of applications and services. With this tool, you can effortlessly build, deploy, and host anything using a Dockerfile. This is the ultimate platform tailored to your needs, whether you're an early-stage startup founder or a DevOps engineer.
Deploying static sites, web apps, databases, containers, and more are easier or faster with PATR. The platform's streamlined process allows you to go from code to deployment in a matter of seconds. Thus giving you more time to focus on what truly matters of creating outstanding applications.
With PATR's Dockerfile support grants you the freedom to build, deploy, and host virtually anything you can imagine. This flexibility sets this tool apart from traditional cloud platforms. Its simplicity allows you to scale your applications with just a few clicks.
Moreover, managing your entire infrastructure is a breeze with PATR. From creating deployments and databases to setting up static sites and managed URLs, the platform provides several capabilities to meet the needs of different application formats. Only your imagination can restrict the possibilities, which are unlimited.
Furthermore, this platform provides additional features to enhance your cloud experience. Such include auto-scaling for optimal performance, alerts and monitoring to stay on top of your application's health, and horizontal scaling for managing peak workloads effectively.
Plus, web apps, static sites, APIs, and managed URLs – PATR supports it all and more. With its user-friendly interface and comprehensive set of tools, you can effortlessly deploy static sites, APIs, private Docker registries and manage databases and URLs.
Utilize PATR to Your Project's Full Potential on Appsumo! By purchasing a lifetime subscription to PATR for just $10, you can discover the power of a remarkable cloud platform. Don't wait. Embrace the cloud solutions of the future now!
Meet PATR
TL;DR
Effortlessly Automate Your Entire Infrastructure with Unparalleled Simplicity and Seamlessness.
Alternatives to: Netlify.
Empower Yourself to Create Deployments, Databases, Static Sites, Managed URLs, and Much More with Ease.
Best for: Developers, IT/security agencies, SaaS.
Key Features of PATR
Free SSL Certificates
Automated Firewalls
Secure private Docker Registry
Free Monitoring
Simple Predictable Pricing
Instant Free Support
Features included in All Plans
$100 Credits to kickstart your projects.
Create and host 3 Static Sites effortlessly.
Register and manage 1 Domain for your online presence.
Enjoy 10 Managed URLs for seamless navigation.
Secure your sensitive information with 3 Secrets.
Access a generous 10 GB Docker Repository.
Rest easy with Free DDoS Protection.
Stay safe with Automatically Configured, Fully Secured Firewalls.
Collaborate limitlessly with Unlimited Collaborators.
Experience Infinite Outbound Network Bandwidth for efficient data flow.