Nudgify
Nudgify increases sales and enhances your conversion rate by displaying genuine actions, such as recent purchases, for increased visibility.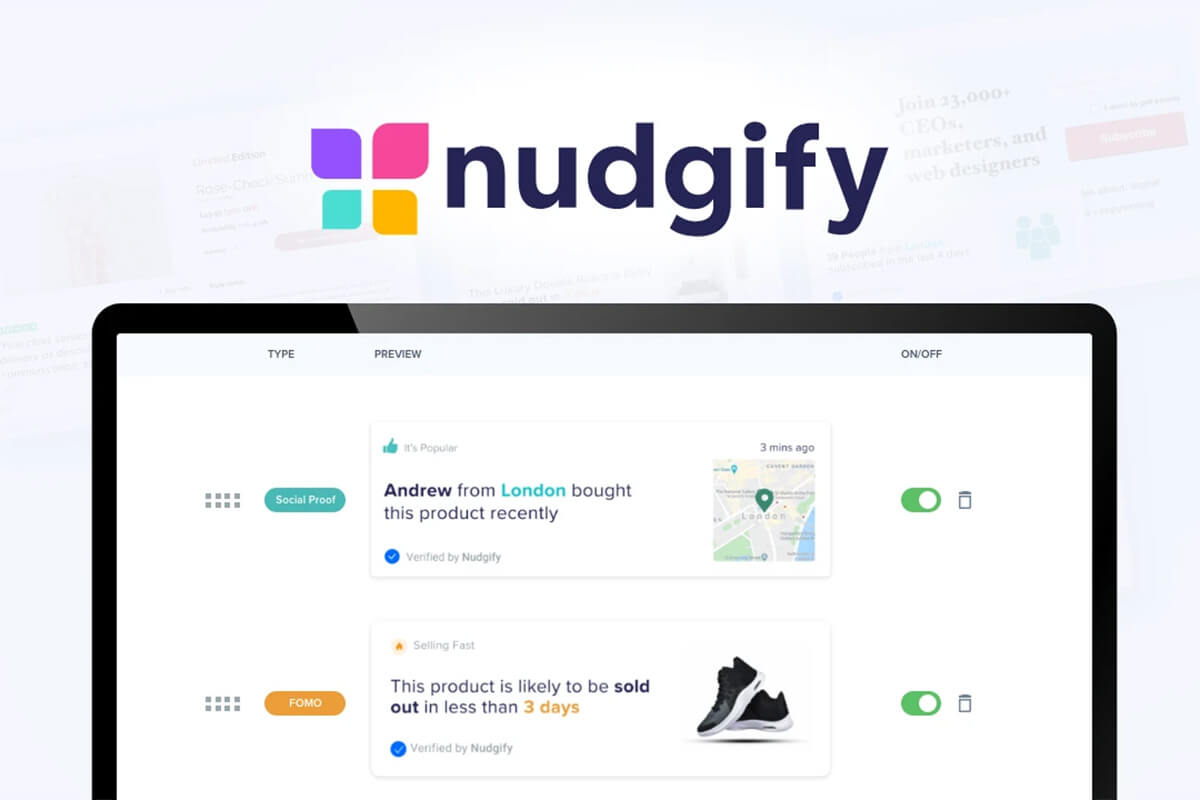 Nudgify is a dynamic tool that transforms online conversions and customer experiences. This tool offers a transformative solution by leveraging the power of social proof and FOMO (Fear of Missing Out) notifications driven by real-time data.
However, Nudgify is more than a run-of-the-mill social proof or FOMO application. It offers a diverse library of impactful notifications, each harnessing real-time data to trigger potential customers into making purchases. The innovative aspect lies in the ability to customize notifications, creating a tailored user experience on pages that might otherwise present challenges.
With this tool, you can get full control over the timing, appearance, and sequences of these persuasive notifications. Moreover, its versatility extends beyond language barriers, as it operates seamlessly in over 30 languages. The integration with hundreds of applications ensures that you can showcase various forms of user activity, catering to the preferences of your diverse audience.
Plus, its customer-centric approach means it's an instrument that enhances the overall customer journey. Traditional websites often struggle to effectively utilize their marketing budgets, with visitor engagement often falling short of desired conversion rates. Nudgify addresses this issue head-on by showcasing the authenticity of your brand through social proof and FOMO notifications.
In essence, Nudgify is the finest solution in a world where online interactions determine corporate success. Grab the opportunity to obtain lifetime deals for this exceptional tool via Appsumo, priced at just $89. So, take advantage of the chance now to improve your online presence and reach new heights of online success.
Meet Nudgify
TL;DR
Manage your Nudges' appearance, sequence, and timing according to your preferences.
Alternatives to: HoverSignal, Belkins Data Enrich, Nextsale.
Integrate Nudgify seamlessly with a diverse range of applications to display customer actions.
Best for: eCommerce, Marketers, Product managers.
Key Features of Nudgify
Nudge Templates
Form Autocapture
Nudge Builder
Display Rules
Custom Styles
32 Languages
Drag-drop Streams
Custom Links
Features included in All Plans
Accommodates up to 10,000 unique visitors monthly
Enjoy limitless Nudges without restrictions
Apply Nudgify across multiple websites without any limitations
Tailor your Nudges to match your specific requirements
Access a comprehensive array of Nudge message types
Available in over 30 languages for broad usability
Utilize URL targeting for precision in Nudge display
Monitor performance through an analytics dashboard
Seamless integration with all compatible apps, Webhooks & REST API
Employ advanced features like Skip Seen Nudges