ContextMinds
An AI-powered content management system helps you organize and generate your content ideas and keywords.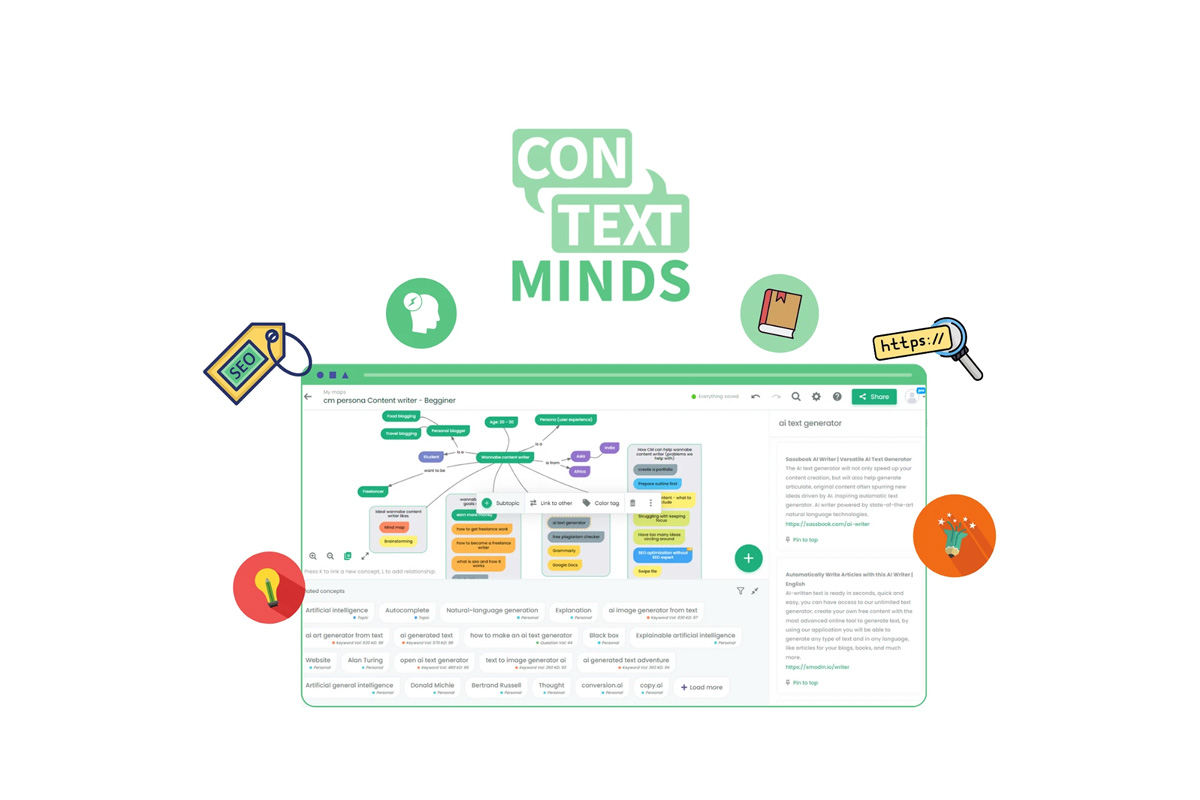 ContextMinds is an AI-powered digital whiteboard that helps you organize your content ideas and keywords. It offers a variety of features to help you brainstorm, including mind mapping, keyword research, and task management. ContextMinds also allows you to share your boards with others and collaborate in real time.
This can be especially helpful when working on a large project or website redesign. In addition, ContextMinds integrates with several popular productivity apps, making it easy to keep your work organized and on track. This AI tool also includes a virtual whiteboard, which allows users to organize their thoughts into mind maps, outlines, and boards.
The Contextminds is especially useful for students and professionals who need to generate ideas quickly and efficiently. The AI research assistant helps users discover relevant keyword metrics, SERP results, related academic papers, and even short AI-generated paragraphs.
It is also able to share links that anyone can open, making it easy to collaborate with others. And because the app stores all of your previous maps, you can easily find topics and keywords from previous brainstorming sessions.
These include keyword research, competitor analysis, and SEO tracking. With ContextMinds, you can be confident that your content will be found by those who need it most. As a result, it can help you improve your search ranking and better serve your users.
ContextMinds offers a lifetime deal through Appsumo that gives you access to all its features and integrations for just $69. That's an incredible deal, and take advantage of it if you're looking for a tool to help you boost your productivity.
Meet ContextMinds
TL;DR
This ensures that you always have the most relevant and up-to-date information and create the best possible content for your readers.
Alternatives to: Frase, Miro, WriterZen
Able to use a virtual whiteboard to brainstorm and organize your thoughts and generate topics and keywords in real time based on your input.
Best for: Bloggers, Content creators Marketers.
Key Features of ContextMinds
Find the most relevant related keywords
Create a content map while you research
Unlimited private maps
AI idea generation
Generate relevant and related keywords
Beat writer's block with AI
Features included in All Plans
6,000 topic and keyword lookups per month
1,500 web and AI article suggestions per month
1,500 AI-generated paragraph topics per month
1 internal user(s)