ExpoSim
All-in-one solution for hosting virtual and hybrid events software provides a wide variety of real-time interactive features and engagement analytics.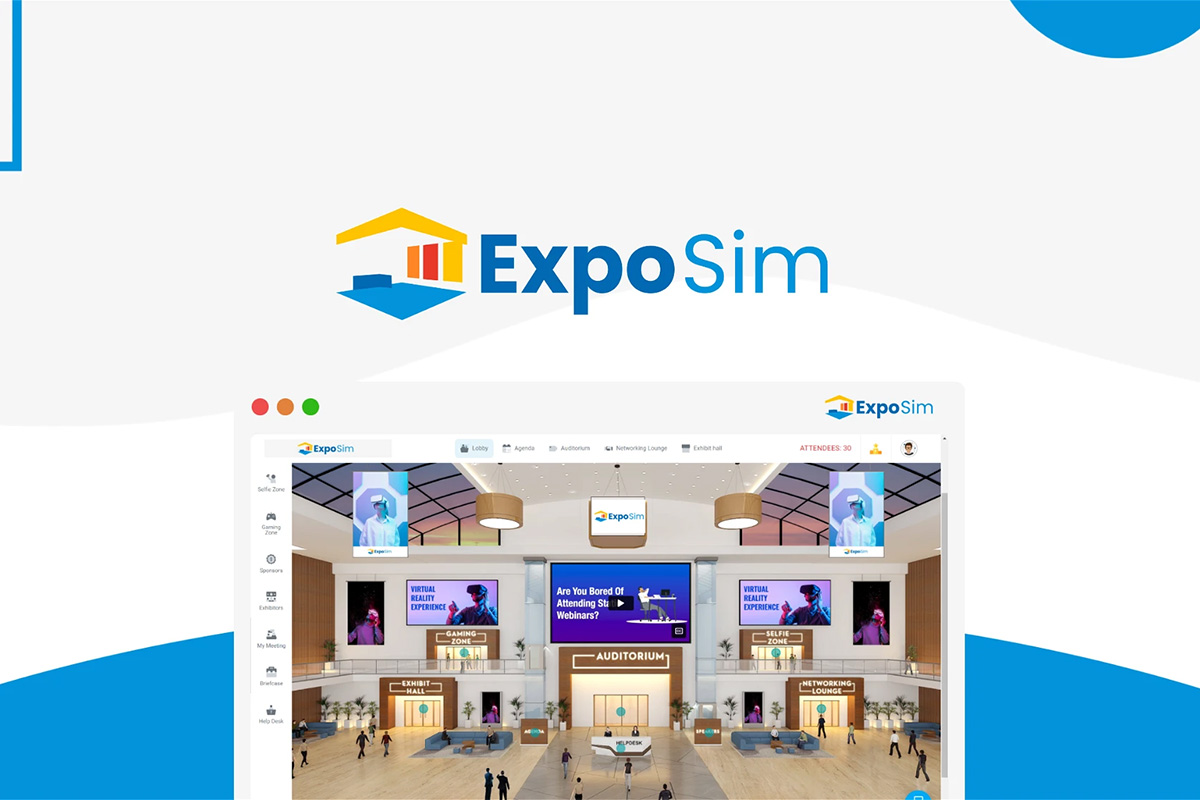 ExpoSim is revolutionizing the events industry with its one-stop solution for hosting virtual and hybrid events. It offers a comprehensive platform that functions as a real-time interactive hub with user analytics. It also allows users to create engaging experiences in an immersive environment.
This tool makes life simpler for event planners with features such as one-click registration, custom landing pages, personalized itineraries, and automated reminder emails. In addition, it helps ensure successful events by providing in-depth analytics on user engagement so events can maximize profits and success.
With this tool, event organizers can have complete control over their events, from setting up the registration page to customizing the design. This tool also provides access to view user data and engagement analytics so organizers can review how attendees engage with the booths and activities at each event.
As a result, it will help you keep your users engaged with marketing and interaction tools and provide them with a customized experience highlighting the brands behind ExpoSim's powerful platform.
Users can maximize their interactivity, collaboration, and engagement with various tools, including live notifications, polls, video calling, and white-labeling solutions. It's versatile white-labeling options extend beyond events into emails and domains so you can uniquely highlight your brand.
With ExpoSim, you can redesign your virtual space to enhance its look and feel and create customized registration forms and reminder messages for an extra personal touch. Make ExpoSim the ultimate virtual platform for your event and cultivate an interactive experience with customizable features.
ExpoSim's lifetime deal on Appsumo makes it one of the most affordable premium services on the market. With ExpoSim, businesses have access to quality analytics and tools that provide meaningful insights and allow you to make more informed decisions – at a meager cost of just $99. Take advantage of ExpoSim's lifetime deal on Appsumo now.
Meet ExpoSim
TL;DR
This fantastic no-code tool makes it easy to set up virtual events in a matter of minutes.
Alternatives to: Airmeet, Cvent, GoToWebinar.
It provides users with a comprehensive, easy-to-use platform that makes it effortless to coordinate multiple sessions.
Best for: Event organizers, Marketers, and Marketing agencies.
Key Features of ExpoSim
Attendee Management
Customizable Branding
Live Streaming
Real-Time Chat
Online Registration
Survey/Poll Management
Virtual Lobby
Sponsor branding
DIY dashboard
Features included in All Plans
Unlimited events per month
Unlimited concurrent events
Unlimited registrations per month
Customizable landing page
Attendee group chat
Q&A polls
Registration reminder email
Booth chats
Stream from Zoom, Webex, and CustomRTMP
Event analytics and session analytics