Samdock CRM
A basic CRM solution that is suitable for expanding small and medium-sized organizations.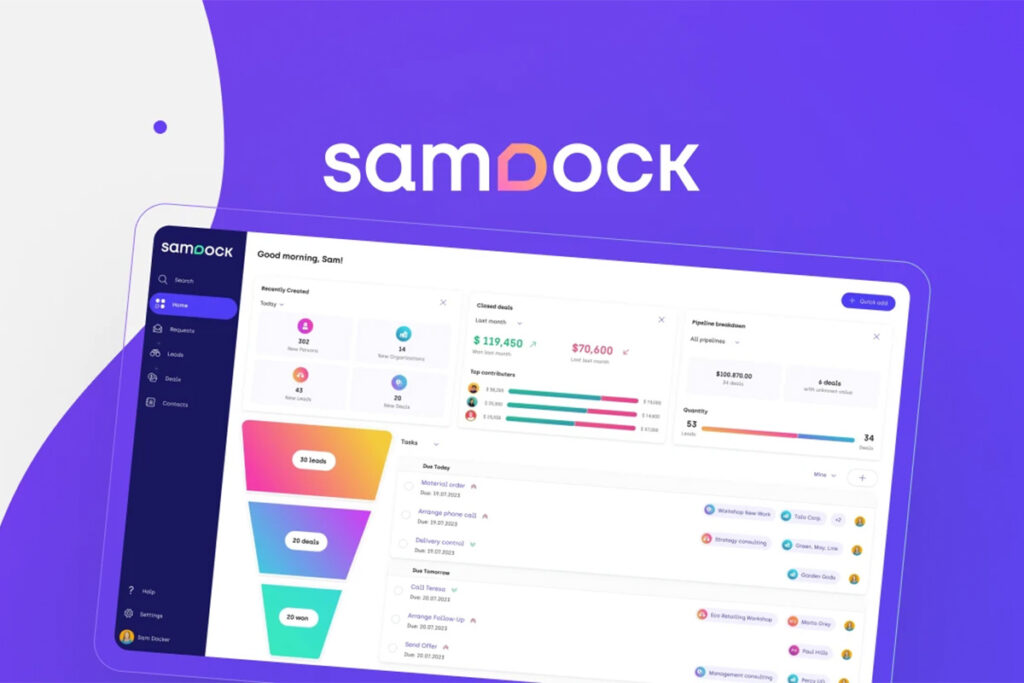 Samdock is a customer relationship management (CRM) tool designed to meet the needs of all different kinds of enterprises. Its intuitive features make it easy for businesses to manage their important clients, prospects, sales, and other customer-related data.
The most significant feature of Samdock is its integrated view. It provides a comprehensive overview of a business's personal and business contacts without the need to switch between different applications. This feature allows businesses to easily seize sales opportunities and streamline their sales process.
Samdock also provides a customized user interface, enabling companies to adapt the CRM tool to their particular requirements. This includes the ability to create custom pipelines, personalized sales levels, and tailored views. Additionally, Samdock can connect to over 5,000 different tools via Zapier that makes it highly adaptable.
In addition, this tool promotes collaboration and teamwork by providing a clear overview of a team's efforts. This helps businesses to plan their next steps and work together to achieve their sales goals.
Furthermore, its sales management capabilities can maintain existing clients and contacts. It offers comprehensive customer profiles with essential data for successful sales. This allows businesses to customize their sales process to meet their clients' needs and build strong, lasting relationships.
Take advantage of a lifetime deal for this tool on AppSumo and get access for just $99. Don't wait any longer to achieve your sales goals with the benefits of Samdock.
Meet Samdock CRM
TL;DR
Emphasize the key features with a simple and intuitive application
Alternatives to: HubSpot, Pipedrive, Salesforce.
Start using it right away without any projects, integrations, or prior knowledge needed.
Best for: Entrepreneur-curious, Freelancers, Small businesse0s.
Key Features of Samdock CRM
2 users
1,000 persons
500 organizations
1,000 leads & deals
2 pipelines (max. 5 stages each)
5 GB storage
Unlimited requests
2 inbound sources
5 custom fields
5 list views
Activity Dashboard
Calendar/Reminder System
Contact Management
Document Storage
Email Marketing
Interaction Tracking
Internal Chat Integration
Lead Generation
Lead Management
Features included in All Plans
Webforms
IMAP/SMTP email sync (2-way)
No calendar sync incl. in Lifetime Deals
Email BCC
Contact segmentation
Double Opt-in Automation
Automation Integrations (i.e. Zapier)
Open API
User upgrades possible later
Support via email only for new Samdock accounts