Worktivity
A flexible productivity tool created to increase worker effectiveness and maximize workforce potential.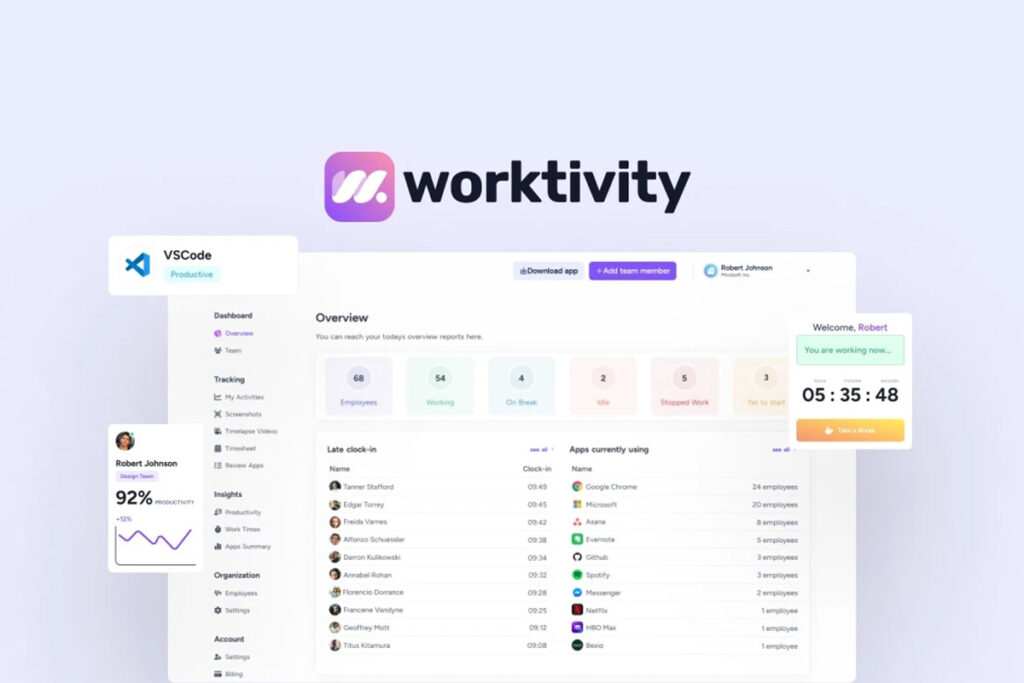 Worktivity is a comprehensive productivity app that helps businesses increase employee efficiency and workforce potential. With its real-time updates feature, you can stay informed about your team's ongoing tasks. In addition, the intuitive visualizations provide a clear picture of where your team's productivity can be optimized and take necessary actions to boost their performance.
Moreover, its data-driven insights revolutionize the way you manage your team that enables you to make informed decisions in real time. You can even customize rules to filter out unproductive employees, which in turn boosts team performance.
Furthermore, the app offers advanced monitoring, reporting, and collaboration features that empower businesses of all sizes. With advanced tools for workflow management, businesses of all sizes can streamline processes, achieve their goals, and drive growth.
This tool empowers businesses to take control of their workflows and streamline processes, so it can be an excellent solution to achieve your goals. Currently, Appsumo is offering Worktivity for a one-time fee of $19.99 for lifetime access. Don't wait any longer to take advantage of this deal and start improving your team's productivity.
Meet Worktivity
TL;DR
Worktivity enables businesses to track employee productivity and streamline workflows using data-driven insights and personalized rules.
Alternatives to: Asana, Teamwork, ProofHub.
It increases productivity and helps businesses achieve their goals, regardless of whether their teams are remote, hybrid, or in-office.
Best for: Remote teams, SaaS, Small businesses.
Key Features of Worktivity
Time tracking.
Track apps and URLs.
Timesheet and attendance.
Custom rules.
Chat support
Features included in All Plans
Unlimited screenshots
Unlimited storage
Unlimited activity tracking
Time tracking
Track apps and urls
Custom rules to detect slacking employees
Timesheet and attendance
Email support
Unlimited teams
Daily email notifications