Sniply
Add clickable CTAs to webpages and retarget users with powerful link.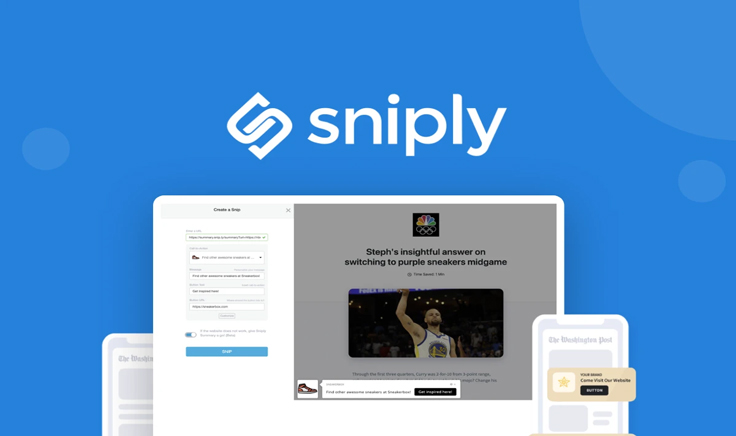 Content is essential for engaging your audience, but without a great strategy, it can feel like you're merely driving visitors away from your sales funnel. Sniply is a great tool that allows you to add a call-to-action (CTA) to any external article or blog post, essentially redirecting visitors to your site.
This is a great way to ensure that even if someone is reading content that isn't directly related to your business, you can still keep them in your sales funnel by giving them a CTA. Sniply also has built-in retargeting pixels, so you can ensure that people who read your Snip are targeting prospects for your business.
With just a few clicks, this powerful tool will compress and convert your images without compromising quality. As a result, your pages will load faster, your customers will be happier, and your SEO rankings will improve.
Sniply is more than just a link shortener; it's a powerful tool that lets you add calls to action (CTAs) to any website using your own custom link. Each CTA is fully customizable, so you can change the images, text, buttons, and form fields to make your banner stand out.
You can also use this tool to add CTAs to external web pages, driving more traffic from social media, newsletters, and blogs further down your sales funnel.
If you're looking for a way to make your links more effective, this tool is definitely worth checking out. For a limited time, Appsumo is offering a Sniply lifetime deal. So if you're looking for a way to get more out of your links, it is a great option. Get Sniply Appsumo lifetime deal now.
Meet Sniply
TL;DR
The use of social media, newsletters, and blogs to direct more visitors down your sales funnel.
Make use of your personal connection.
You can monitor data, split-test your CTAs, and retarget clients who click on your distinctive links all with the same application.
Key Features of Sniply
Fully customizable CTA.
Track and analyze the user.
integrate with Google Ads, Twitter Pixel, and Facebook Pixel.
One line of code streamlined your sales funnel.
Features included in All Plans
Button snip
Text snip
Hidden snip
Form snip
Image snip
Themes
Custom colors
Custom positioning
Custom domain
Custom short link