Storipress
Utilize a comprehensive content management system capable of generating and sustaining an entire digital publication.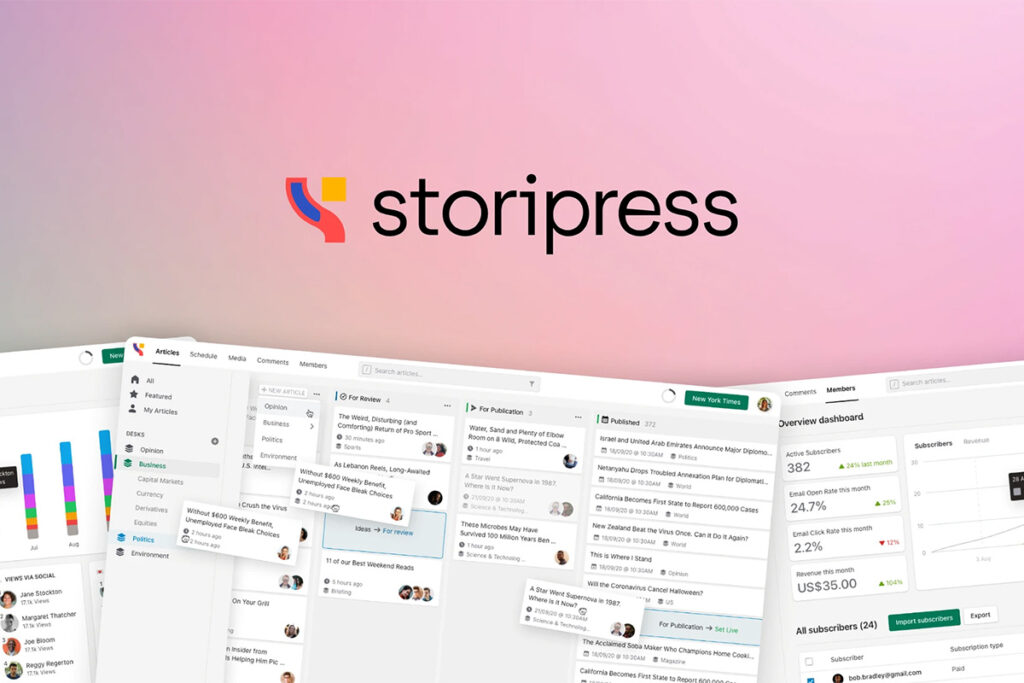 Storipress is a proficient media publishing platform that simplifies to scale and improves your content workflow. You can get a complete picture of your editorial work with its integrated kanban boards and calendar views. Also, it offers a user-friendly drag-and-drop interface that lets you fine-tune the publishing schedule to optimize your content strategy.
With this tool, you can work on articles with your entire team in real-time, leaving inline comments and tracking live changes simultaneously.You may avoid having to copy and paste information into another CMS by using a single collaborative text editor.
It supports over 2,000 embed sources, enabling you to insert rich content such as images, videos, and tweets. Additionally, you can take advantage of SEO tools like live preview to ensure that your content is optimized for search engines.
You may use Storipress to build a community around your items with pertinent content by integrating it with Shopify. By linking it to social media sites like Facebook and Twitter, you may effortlessly share content with your followers. Moreover, by linking this tool to your Slack workspace, you can notify the relevant individuals whenever an article needs updating.
Moreover, this software tool simplifies the process of branding your own website which features layouts specifically designed for publications. It includes no-code paywalls, newsletters, and ads, which can help you turn your site into a profitable media company. Plus, you can quickly share and sell your material with Storipress because it offers a one-stop-shop for controlling all aspects of the publishing process.
Without the right tools, managing business might leave your workflow with many gaps. So, for launching your own publication, get lifetime access to Storipress at $49. Take advantage of this fantastic offer immediately.
Meet Storipress
TL;DR
Easily create a monetized digital publication without needing to know how to code by seamlessly integrating it with your marketing tech stack.
Alternatives to: Bloggers, Content creators, SaaS.
Collaborate and schedule your content with ease by streamlining your editorial workflow within a unified workspace.
Best for: Asana, Squarespace, WordPress.
Key Features:
Visualize and manage the entire workflow.
Collaborate in real time using a text editor.
Integrate Storipress with platforms like Shopify, Facebook, and Slack.
Design a premium online publication and monetize it.
Features included in All Plans
Unlimited collaborators
Unlimited storage
Unlimited email newsletter subscribers
Custom domain
Editorial calendar scheduling
Kanban article staging
Collaborative editing and commenting
50+ customizable theme blocks
Advanced SEO tools
Email collection
Custom integrations to enable paywalls, Pars.ly, and more
Email newsletters and paywalls
Beta access to Shopify and Webflow integrations