Texta.ai – The #1 Article Writer
A content generation tool helps quickly create long-form content for your blog, eCommerce site, and social media.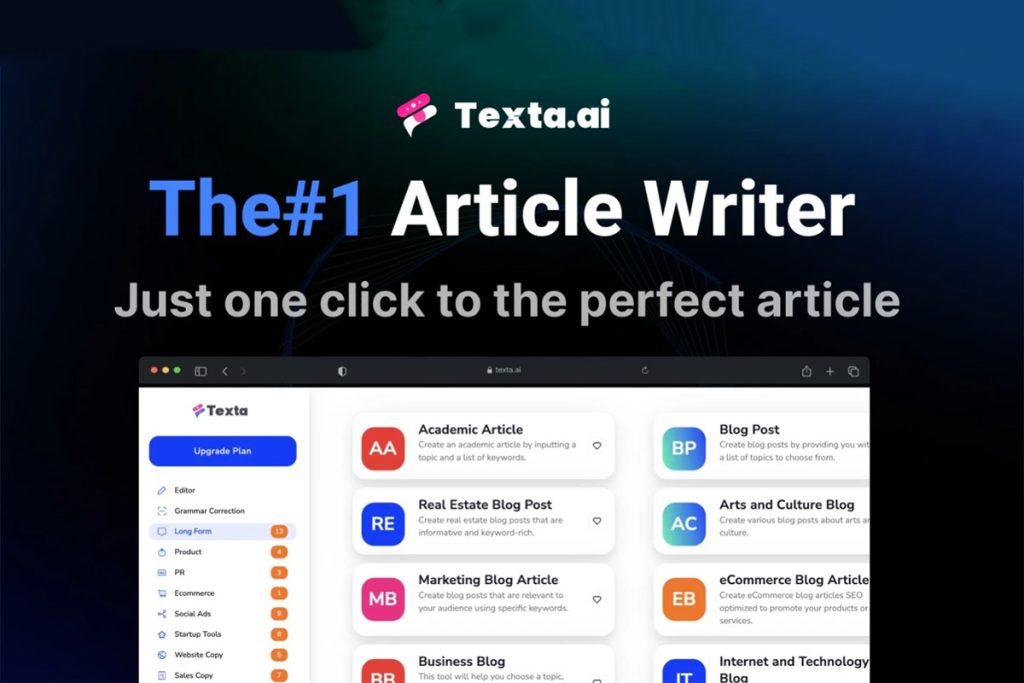 Texta.ai is a powerful content generating tool that can help you to generate long-form content quickly and easily. With Texta.ai, input any topic on blog article generator window, and the AI copywriting tool does the rest, automatically generating optimized content for your blog, website, or social media.
This tool is powered by artificial intelligence, so it constantly learns and improves its content generation capabilities. With Texta.ai, you can create high-quality content without spending hours writing and editing.
It uses cutting-edge Natural Language Processing (NLP) to understand the context of your topic and produce a well-written and researched article on it. In addition, its algorithms are constantly improving, making it the market's most accurate and up-to-date AI copywriting tool.
In addition, this tool offers a variety of other features to help you become more productive, including a keyword research tool, an AI-powered content optimization tool, and a real-time content collaboration tool.
It also uses Artificial Intelligence to help you become more productive, rank higher on Google Search, and speak to your customers in their mother tongue. In short, it is the perfect tool for content marketing, as it allows you to create original content in your customers' native language.
Texta.ai is an incredible resource for anyone who wants to improve their writing skills. It offers a lifetime deal for one-time purchase of just $69, so don't miss out on this great opportunity. Instead, head over to Appsumo and take advantage of this offer today.
Meet Texta.ai
TL;DR
It uses natural language processing and machine learning to understand the concepts and generates clear, concise, and on-point text.
Alternatives to: Copy.ai, Jasper, Writerly, LongShot AI.
You enter a topic, and the tool will generate a full-length article on that topic in seconds.
Best for: Copywriters, Entrepreneur-curious, Marketers.
Key Features of Texta.Ai
Free Grammarly Integration
Pro Writing Assistant
Zapier Integration (Coming soon)
Project Folders
Auto-Save
Professional Open-ended text generation
Multiple Writing Styles
SEO Keyword Research
Professional Editor
Support 25+ Languages
Professional Articles
Features included in All Plans
Generate blog articles, product descriptions, and sales copy
Generate creative, catchy copies for social media
Discover ideas and write engaging content for a blog
Stack up to 5 Codes Max Each code = 2 more users
Once you purchase 2 codes, you have access to all available languages