Upbase: All-In-One PM Tool
Create and manage tasks, calendars, documents, files, and chat all from one location.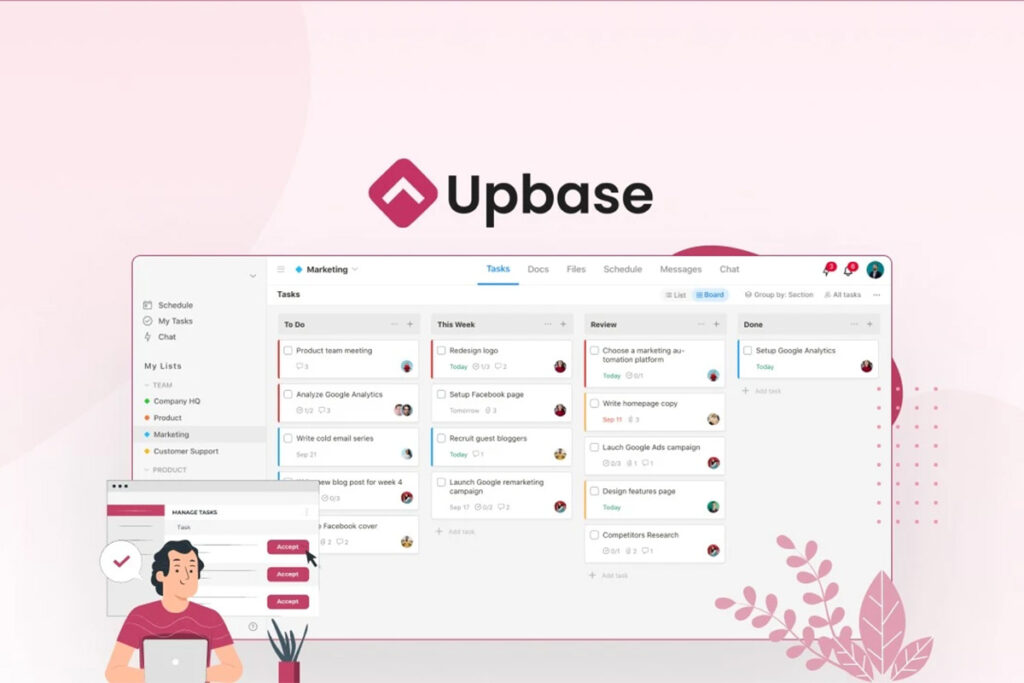 Upbase is an all-in-one project management solution designed to help teams keep their projects and tasks on track. It offers a full suite of necessary project management capabilities, such as task scheduling, resource management, and financial tracking.
Upbase also helps teams break down their projects into smaller components with task lists, allowing teams to clearly visualize their workload and prioritize tasks more effectively. It provides an intuitive user interface to make it simple for anyone on the team to jump in without the need for additional training.
Upbase is a productivity tool specifically designed for solos and small teams who want to maximize their output. It offers numerous personal productivity features, such as a weekly or daily planner, time blocking, Pomodoro timer, daily journal, and more to make sure individuals always hit their desired targets.
This tool is extremely user friendly and does not offer any complex features that can confuse and overwhelm its users. Upbase makes sure that people get the most out of their limited resources every day with its intuitive design.
Upbase's Project Management (PM) tool is now available on Appsumo and it's here to revolutionize the way you manage your projects. This Appsumo lifetime deal is available for a short time at $49. So, don't wait. Grab the Deal.
Meet Upbase
TL;DR
A straightforward and user-friendly platform to manage all your tasks at once.
Alternatives to: Asana, ClickUp, Trello.
All the resources required by your team, without the complexity.
Best for: Project managers, Remote teams, and Small businesses.
Key Features of Upbase
1 workspace
5 team members
Unlimited lists
Unlimited storage (250MB/file)
Team Chat: list chats, custom channels, and direct messages
Embed Google Drive folders, Docs, Sheets, Slides
Features included in All Plans
List, board, and calendar views.
Access the full history of chat messages.
Recurring tasks.
Unlimited access to all future features.
Stack additional codes.
All the above features + 5 additional team members (per additional code)