Voilà
Use an AI-powered personal assistant to increase your productivity and produce excellent content.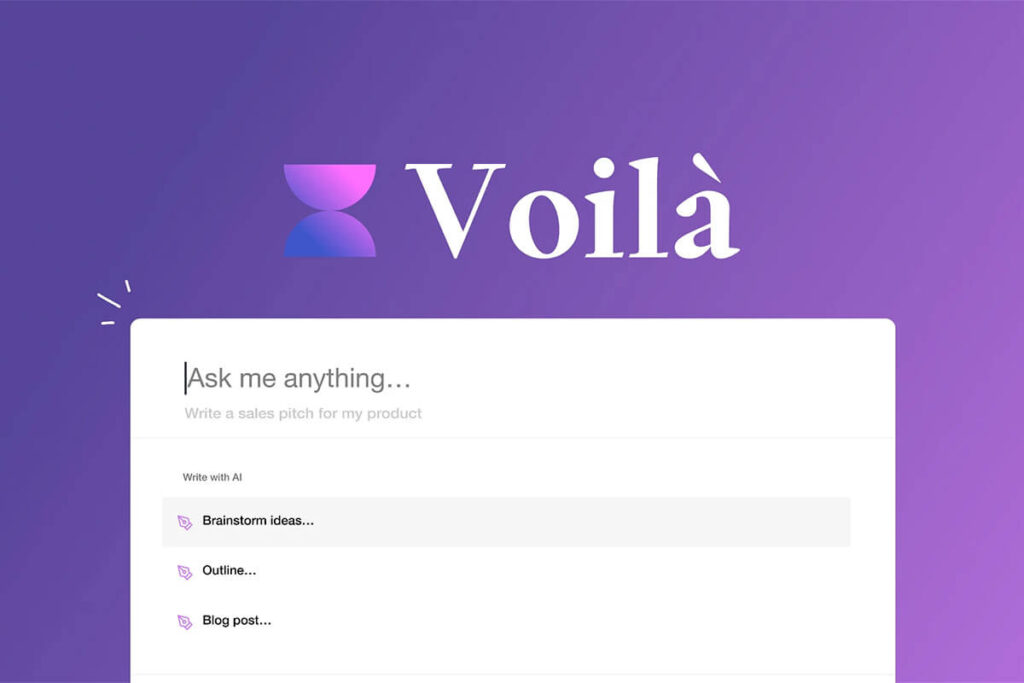 Voila is an AI-powered browser extension that can improve the way of content creation process. Also, it increases your productivity, providing you with prompt responses to your inquiries, and streamline work-related tasks with the aid of user-friendly shortcuts. As a result, simplify your workflow and achieve more in less time with ease.
With Voilà, you can bid farewell to tedious Google searches and effortlessly find accurate information. Additionally, it enables you to generate pitch deck outlines, campaign strategies, and blog post structures. You can thus be sure that your content begins on the right track.
Another feature is seamless integration with Gmail where you can streamline your email communication. Simply explain the email you need, and Voilà will quickly compose the ideal message for you. No more searching through your inbox. Plus, you can easily create the ideal impact with Voilà because it offers a variety of tones and vibes.
Moreover, boost your marketing efforts with Voilà's ability to create high-quality copy for blog posts, advertising campaigns, and SEO-focused content. You can also enhance existing copy, fix grammar errors, summarize information, and even translate the text with just a few clicks.
Furthermore, this browser extension seamlessly integrates with popular platforms that effortlessly fit into your daily tasks. Rest assured your data and AI conversations are completely secure. It also puts your privacy by ensuring that none of your content or interactions are stored on its servers.
Explore the limitless potential of AI and elevate your content with Voilà. It is available at an unbeatable price on Appsumo for just $29. Take this exclusive deals on Appsumo and secure lifetime access with it. Get Voilà right away so you don't lose out on this offer.
Meet Voilà
TL;DR
Boost your productivity and simplify your tasks effortlessly with the help of convenient shortcuts designed to streamline work-related actions.
Alternatives to: Grammarly, Jasper.
Obtain instant answers to your inquiries, enhance your writing skills, and effortlessly generate top-notch written content with ease.
Best for: Content creators, Copywriters, Marketers.
Key Features of Voilà
Craft professional emails
Create high-quality content
Fix spelling & grammar
Streamline your browser experience with shortcuts
Answer any question and look up any information
Features included in All Plans
Chrome extension
Craft emails
Create blog posts, essays, and domain-specific documents in product development
Create UX, marketing, engineering, sales, advertising, and SEO content
Fix spelling and grammar
Translate text
Extract key information from any document
All integrations (and future added integrations)
Unlimited requests per month
Ability to select AI model