WooLentor
#1 WooCommerce Page Builder for Elementor and Gutenberg.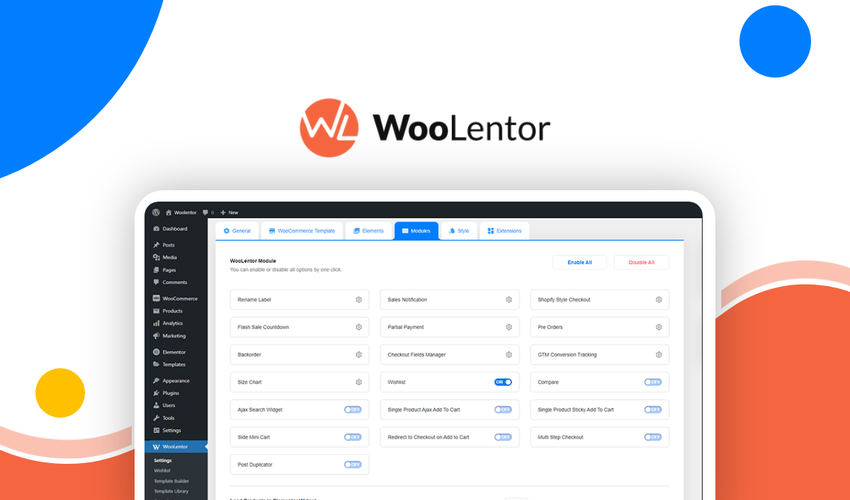 The easiest way to create a beautiful and user-friendly WooCommerce store without any coding required. With WooLentor, you can easily create your own templates or start with readymade designs. Plus, our multi-step checkout, sales notifications, and search filters will improve the customer journey and boost sales in your store.
You'll be able to focus on what you're good at – selling products – while we take care of the rest. A great user experience is a key to a successful WooCommerce store, so WooLentor made sure that everything is easy to use and looks great too.
Start using this plugin today and see how easy it is to create a beautiful WooCommerce store with WooLentor!
Meet WooLentor
TL;DR
Build Shopify Like Checkout Page is WooCommerce, Custom page, edit checkout fields using Checkout Field Manager module.
Alternative: JetWooBuilder.
Custom Product, Shop, Cart, My Account Page builder for Elementor and Gutenberg.
Ajax Search Filter, Sales Notification, Pre-Order, Back-Order, etc.
Key Features of Woolentor
Horizontal/Vertical Filter: WooLentor comes with horizontal and vertical filter options.
Ajax Search: It provides Ajax search functionality. So, when a customer searches for any product, they can see the results without refreshing the page.
Archive Page Builder: It provides an archive page builder. So, you can easily design your WooCommerce shop and product category without any coding knowledge.
Product Page Builder: It comes with a product page builder. So, you can easily design your WooCommerce single product without any coding knowledge.
Live Sales Notification: To develop trust, show amazing live sales notifications or popups to inform customers about real/custom orders on your website.
Template Library: Both the free and premium versions of WooLentor include pre-made templates. Templates may be easily imported and altered for a website.