EWWW Image Optimizer
By optimizing your photos with a single click, you can increase the speed of your website and your SEO rankings.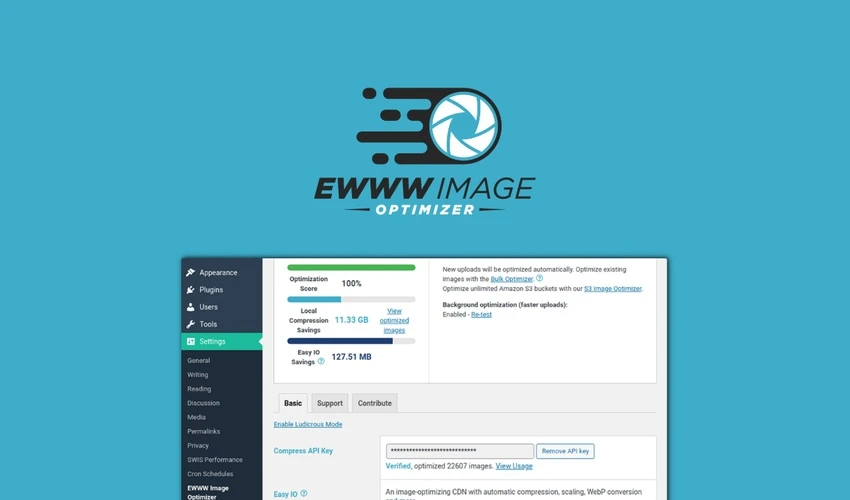 We all know that image is everything when we try to sell something or express our thoughts. Whether it's a physical product, a service, or an idea, people are more likely to engage with something that looks professional and polished. And in the world of online marketing, EWWW Image Optimizer is one of the best tools you can use to make sure your website and content are looking their best.
But what many people don't realize is that images can also be a major drag on your site's performance. Large image files can take forever to load, and if you're not careful, they can quickly eat up all your bandwidth. That's why you need the EWWW Image Optimizer.
With just a few clicks, this powerful tool will compress and convert your images without compromising quality. As a result, your pages will load faster, your customers will be happier, and your SEO rankings will improve.
Optimizing images for different screen sizes used to be a real pain- having to export multiple versions of the same image, only to find out that you still needed another size. EWWW Image Optimizer makes it easy-ish by automatically scaling images for you.
So whether your users are on a desktop, tablet, or phone, with Ewww image optimizer they'll always get the best quality image without having to wait forever for it to load. Plus, it's one less thing for you to worry about. So go ahead and take that break, and your website will still be running smoothly.
More features and support are offered with the EWWW Appsumo deal. It is a fantastic way to get the deal at a discount is through the EWWW lifetime deal.
Meet EWWW Image Optimizer
TL;DR
Single integrative package: The platform EWWW IO provides your website with all of the essential tools for improving site speed in a single, comprehensive package.
For high-quality digital photos that load quickly, automate image compression, make CSS/JS adjustments, and use speed hacks.
Use picture scaling to reduce storage requirements and increase site performance without compromising quality.
EWWW Image Optimizer Features included in All Plans
Lifetime access to EWWW Image Optimizer.
All future Infinite Plan updates.
Unlimited images.
Site speed audits.
Auto-compress.
Auto-webP.
Lazy load.
Global CDN delivery