SEOcrawl
An easy-to-use SEO tool that enables users to generate comprehensive SEO reports with data from both their Search Console and Google Analytics.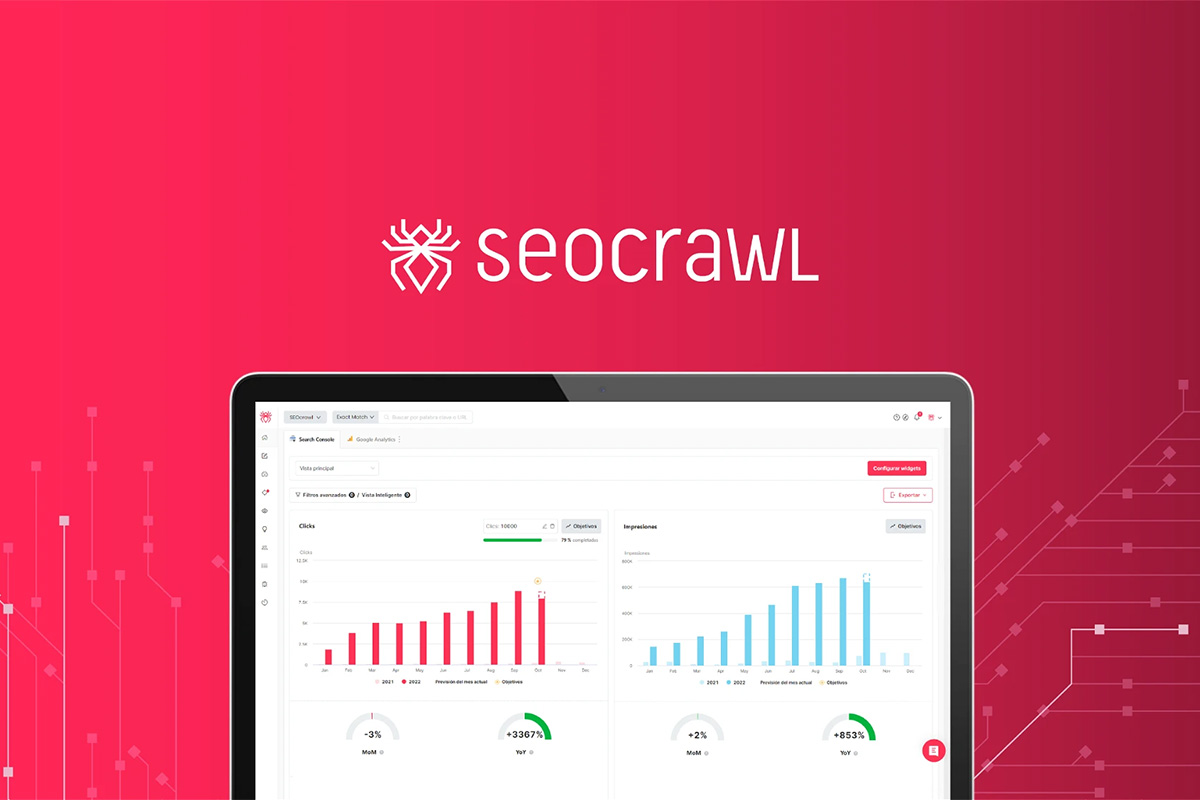 SEOcrawl is a powerful data warehouse that provides 16 months of historical SEO data for SEO analysis. In addition, SEOcrawl makes the SEO process easier by allowing SEO professionals to quickly create detailed SEO dashboards and SEO reports without having to write reports and track data manually.
With SEOcrawl, SEOs can save time knowing their system is capable of automatically creating multiple keyword and URL clusters, monitoring unlimited keywords such as core keywords and brand-related keywords while also having the ability to detect changes in visibility regarding Google algorithm updates.
Plus, these SEO dashboards are designed with customization in mind, allowing you to build up to 20 different SEO dashboards explicitly tailored to your business needs. This will enable you to control how your SEO data is interpreted and make it easy for technicians and non-technical employees.
It seamlessly combines Google Search Console and Google Analytics data to generate insightful SEO reports. These reports show how your website performs in the SERPs and identify areas that need improvement.
In addition, with the easy accessibility to be able to share all your SEO dashboards with others in PDF and HTML formats or even collaborate with your team on SEO projects with detailed tasks or provide marketing newsletters, you'll never have to worry about not being up-to-date.
This tool allows you to get a product of exceptional value at an unbeatable price. This lifetime deal is available from Appsumo and will only be up until a limited time, so don't delay! SEOcrawl's offer of just $19 is one of the most incredible deals out there, and it won't last forever, so seize this chance now to get SEOcrawl's excellent service!
Meet SEOcrawl
TL;DR
It generates insights that SEO professionals can use to understand their customers and their website performance better.
Alternatives to: Ahrefs, SEMrush, SurferSEO.
Its easily customizable parameters enable you to automatically specify brand-related keywords and build SEO dashboards tailored to your business and URL clusters.
Best for: eCommerce, Marketing agencies, SaaS.
Key Features of SEOcrawl
New and Lost Keywords
Task management for users
SEO Targets and Forecasts
SEO Visibility Index
SEO International Dashboard
Keyword Rank Tracker
Url Rank Tracker
Folder Rank Tracker
Performance by Device
SEO Opportunities
SEO Cannibalization
Headers and On Page
Internal and External Links
Features included in All Plans
Changes and Trends in Keywords and URLs
Automatic Keyword and Url Tagging
Brand vs. Non-Brand Report
Keyword Distribution by Position
SEO Annotations and SEO Performance Measurement
Intuitive Weekly and Monthly SEO Report
Download data (CSV, Excel, Google Sheets)
Keyword, URL, and folder rank tracker
Automatic weekly and monthly SEO report
SEO extension for Google Chrome
SEO insights with AI and automated analysis