AppSumo is an amazing platform for discovering great deals on the digital services and products you need. In this article, we'll be taking an in-depth look at the AppSumo Review process. We'll explore what it is, how it works, and why you should use it. You'll have all the information you need to decide if AppSumo is a good fit for your business when we cover its features, pros and cons, and pricing. With this comprehensive guide to AppSumo Review, you can make an informed choice that's best for your business.
AppSumo Review
In this AppSumo review, we have determined that this marketplace can be highly recommended for those already die-hard fans and those just entering the AppSumo market.
What is AppSumo?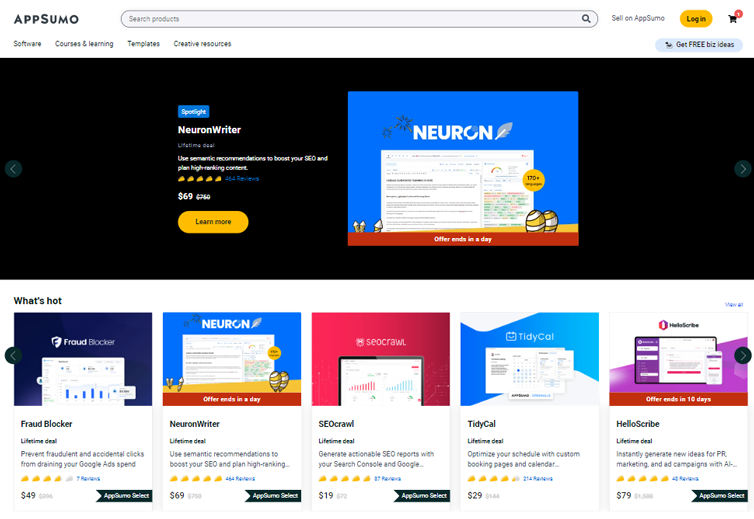 AppSumo is an online marketplace that enables users to find and purchase digitally distributed goods and services at reduced prices. It offers daily deals that allow you to get digital goods and online services at heavily discounted prices. Not only does It offer reduced costs, but it also provides its clients access to exclusive products, items, and giveaways that are unavailable elsewhere.
Who is AppSumo best for?
AppSumo is the best option for entrepreneurs, bloggers, and small business owners looking to save money on essential software tools. Whether you're a budding entrepreneur, freelance writer, or digital business owner, It can provide you with the tools you need at a price that fits your budget.
Benefits of AppSumo
Offer a different discount on Saas Deals
New services are added every three weeks from different products, services, and websites.
Over 4+ deals sections to help you get access to the best software and tools.
They include what's hot, new arrivals, spotlight, ending soon, etc.
Customer beta-testing feature.
60-day money-back guarantee
Email notifications on the latest deals and discounts
What makes AppSumo different from other online marketplaces
AppSumo stands out from other online marketplaces because they enable customers to access deeply discounted deals on software tools, templates, courses, and digital resources that are essential for growing their businesses.

In addition, these tools come with lifetime access, so you won't need to worry about paying a monthly subscription fee. With this marketplace, a one-time payment can get you everything you need to make suitable investments in your business and take it to the next level.
What Types of Products does AppSumo offer?
AppSumo has a wide range of products, from video editing services to project management software. In addition to conventional online tools, they also offer social media apps and plugins suitable for any user. It has many products that cover everything you need to succeed when running projects or managing your business.
How to Get the Best AppSumo Deals
First and foremost, when the deals are active on the site, make sure to access them quickly. These deals usually have limited licenses and tend to sell out before expiry. Make sure to use AppSumo's alert system, which notifies customers of newly released offers, giving them an early jump of buying the right discounted products or services better than competitors.
Pros and Cons of AppSumo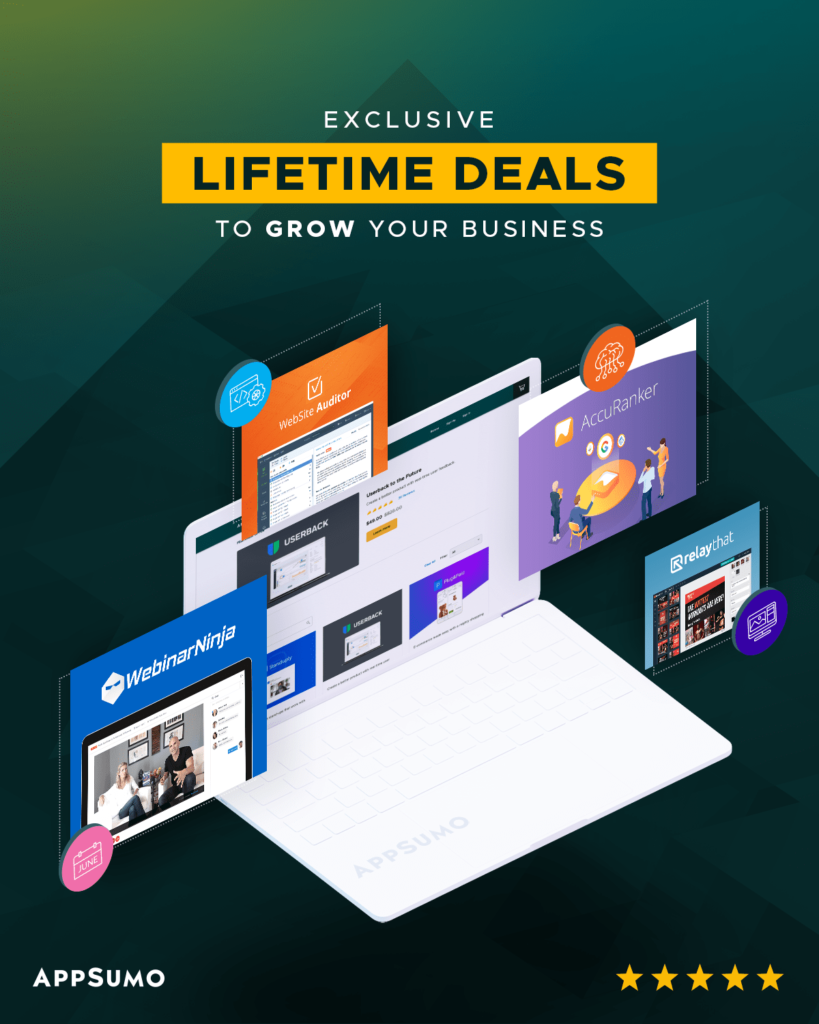 Pros:
Generous and fair returns policy
A very engaged community of Sumo-Lings
AppSumo has its own world-class customer support team
It has launched deals by partnering with several big brands
This is a user-friendly platform
Generous and affordable paid plan
Powerful filtering options to help you pick the best deal.
Cons:
Customer support can be inconsistent.
Some AppSumo deals change their terms and features after the sales
User reviews are overly enthusiastic
There has no guarantee that they will be around for a long time.
Companies that don't honor the spirit of the deal
Frequently Ask Questions
How can I use AppSumo to save money on software?
AppSumo's lifetime deals offer an incredible way to save money on business tools, products, and services. Their exclusive one-time deals provide access to top software companies at a very cheap price. Firstly, search for the services you need that have been featured in an AppSumo deal.
Then purchase the deal and get access to a lifetime license for the software, meaning you'll never have to pay for updates or renewals again! With AppSumo's lifetime deals, you can make huge savings on your software costs.
What are some of the best lifetime AppSumo deals?
With AppSumo, businesses can access unbeatable deals on some of the most user-friendly, yet powerful tools out there. Whether you are a marketer, designer, blogger, developer, or entrepreneur, there are some truly incredible deals available for you. In particular, AppSumo's Support Genix offer is a fantastic deal.
Additionally, some of the popular lifetime deals offered by AppSumo include discounted access to popular and powerful tools like MailChimp Pro, Yoast SEO Premium, and Canva For Business. With discounts of up to 60%, this lifetime AppSumo deals can save businesses hard-earned money in the long run while still helping you access high-quality services and features.
How do I get started with AppSumo?
The first step towards reaping the benefits of AppSumo is to create an account. To do so, click the "Sign up" button and "Create your account." By doing this, you agree to AppSumo's Terms of Service and Privacy Policy. Upon signing up, you can start taking advantage of the unbeatable deals AppSumo has to offer.
What are the AppSumo terms of use?
To ensure everyone using AppSumo can get the most benefit out of their experience, they have set forth a set of terms and conditions. These terms of use provide information on topics ranging from acceptable use to payment procedures.
Acceptance of the Terms of Use
Roadmap of Rules
Accessing the Services and Accounts
Using Their Services
Purchasing from Their Site
Third-Party Intellectual Property
Termination
Privacy
Enforcement and Cooperation
Disclaimer of Warranties; Limitation of Liability
How do I know if an AppSumo deal is still active?
By using AppSumo's alert system and Email notifications.
Final Word
AppSumo is driving the digital industry. in the digital industry landscape. By offering entrepreneurs the right tools, best deals, and solutions, AppSumo makes it easier and more affordable to start up new businesses online. Entrepreneurs get lifetime access to reasonably priced apps to grow their businesses without spending too much on technology.
As an entrepreneur, AppSumo can provide life-changing purchase opportunities that will take your business to the next level. For this AppSumo review, we have come to the conclusion that AppSumo is a great tool for either huge or meticulous buyers.