Are you looking for an effective platform to access the best SaaS Lifetime Deals but don't want to settle on DealMirror? Fear not – we've got you covered. This blog post is going to provide a comprehensive list of some of the top DealMirror alternatives available today!
We'll break down each platform and its individual features so that it's easier for you to make an informed decision based on your specific business needs. So keep reading if you're in need of a new lifetime deals provider.
This comprehensive guide will provide you with all the essential information to make a decision and choose the option that best suits your requirements.
5 Best DealMirror Alternatives
Appsumo
AppSumo is one of the popular digital marketplaces for entrepreneurs to grow their businesses. This renowned platform has gained the trust of over 1 million entrepreneurs worldwide. It emphasizes software lifetime deals and discounts.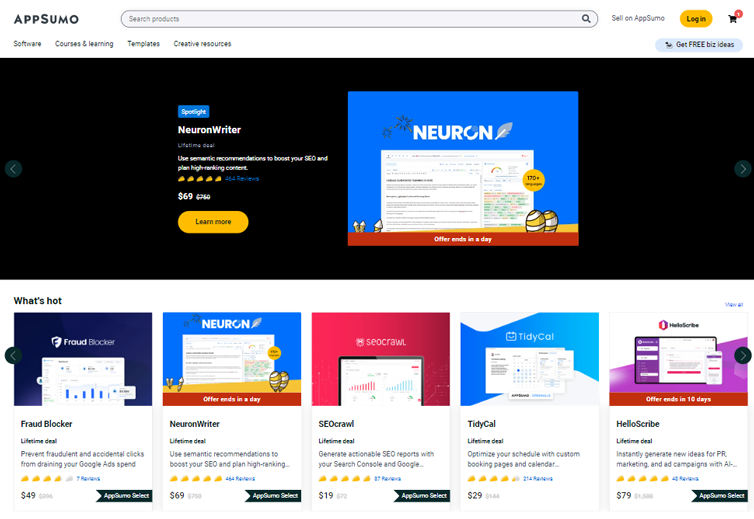 This platform collaborates with software developers and service providers to negotiate special pricing. As a result, users can access premium products at a fraction of their regular cost. This approach enables entrepreneurs to make smart investments while maximizing their return on investment.
AppSumo provides software across seven different categories, which are listed as follows:
Operations: Voilà, ContractHub, Nymblr
Marketing & sales: NeuronWriter, SendFox, Serpple
Build it yourself: EzyCourse, Notice, Eurekaa.io
Media tools: Castmagic, Publitio, FlexClip
Finance: TYKR, Invoiless, Trending Stocks
Development & IT: PROCESIO, Tagmate, NordVPN
Customer experience: Support Genix, Acadle, Climbo
👉 Check Mailchimp vs TinyEmail: Which Email Marketing Platform is Right for You?
StackSocial
StackSocial is an innovative online platform that serves as a hub for discovering a wide range of third-party software and digital assets. With a primary focus on enhancing productivity, this platform curates an impressive collection of products to bring incredible solutions to users.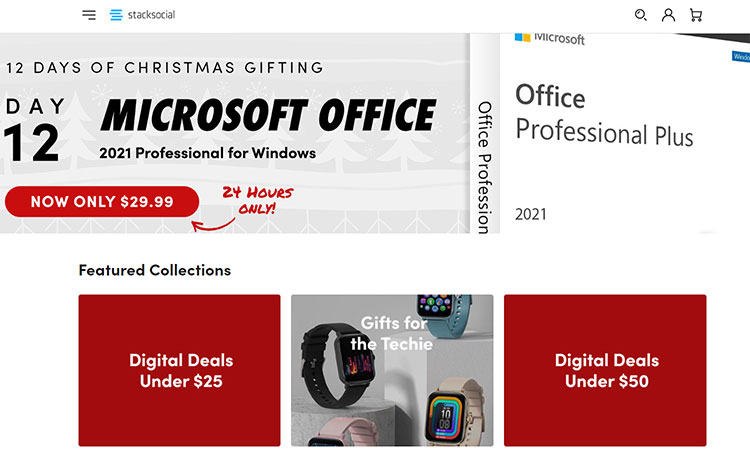 Additionally, there is a dedicated section for hardware, including proprietary software like drone PCB and associated tools. It caters to various entities, including online media sites, social influencers, and broadcast media publishers, providing tools that effectively grow revenue. With the help of a virtual assistant of this platform, merchants can get a complete solution.
StackSocial offers software across seven distinct categories. Some of the popular products are listed below according to their category.
Business: Write Bot, Hustle Buddy, Wordplay AI
Design: KyotoUI, Vectorstate, MyDraw
Education: SumizeIt, Headway, Homer
Entertainment: Elizium, VPNCity, Airflow
Main+body: Ultiself, Mindfulness.com, Bloom
Productivity: Linkdelta, Structure, VideoMark
Security: AtlasVPN, Surfshark, Getflix
👉 Explore 6 Best SERP Rank Tracker Tools: Save Time and Increase Productivity
SaasPirate
SaaSPirate is one of the DealMirror alternatives platform that meets the needs of entrepreneurs, customers, and SaaS founders. With a mission to provide exceptional value, it offers a range of benefits and opportunities to its users. Customers can access high-quality SaaS products at deeply discounted prices, often surpassing 90% off regular rates.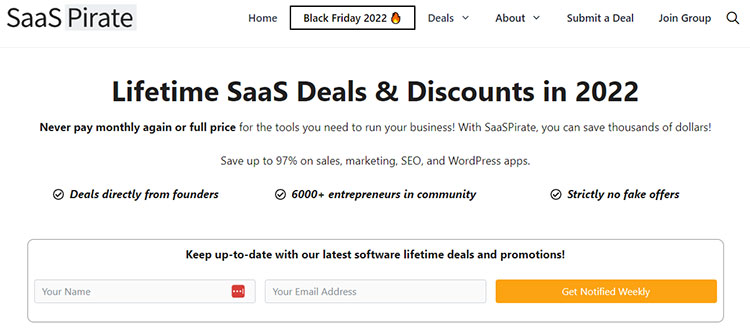 These exclusive offers are truly once-in-a-lifetime, ensuring customers can secure top-notch software. By sharing software on this platform, SaaS founders can showcase their products to a vast community of thousands of entrepreneurs. This exposure can greatly amplify their product launches and drive sales growth.
SaasPirate software deals are 9 categories. Some of the popular products are listed below according to their category.
Backup and storage: PolarBackup, Prism Drive, EaseUS Todo Backup
Design: Snapit, Nikolay Ironov, Plasfy
Productivity: WorkHub Scheduling, iToolab WatsGo, Kurator
SEO: Semrush, LinkVault, Jasper
Social Media: AddStars, Tweet Ninja, LinkHub
Social proof: ProofBooster, TRUST Notifications, Prooven
VPN: NordVPN, RealVPN, AtlasVPN
Web hosting: iBrave Hosting, CloudPages, BonoHost,
WordPress: Ninja Tables, Sky Addons for Elementor, Bizxpo
👉 Check Top AI Writer Lifetime Deals: Boost Your Content Creation Skills
PitchGround
PitchGround is a platform that offers an extensive range of productivity software at competitive prices compared to retail. It serves as a valuable resource for businesses looking to grow by providing customizable software solutions tailored to their specific needs.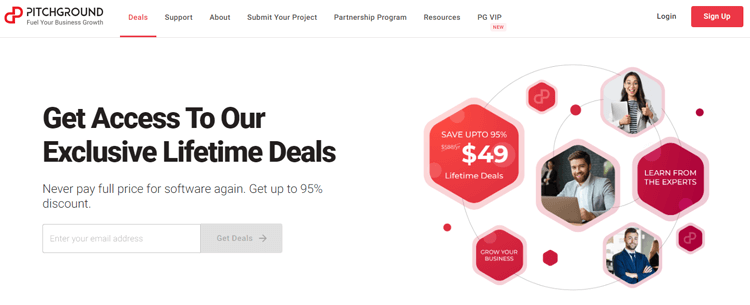 By exploring its current deals page, users can discover limited-time offers with significant discounts on various software products. Once purchased, all software is registered for a lifetime, eliminating the need for recurring monthly or weekly registrations. Additionally, the platform offers a noteworthy 60-day money-back guarantee, allowing users to return a product if they are not satisfied with it.
There are 4 categories of PitchGround deals. Some of the popular products are listed below according to their category.
Featured: Redtrack
Marketplace Deals: Locker Password Manager, MiPLR, CyberHoot Autopilot
Newly Launched: vidBoard.ai
Coming soon : JumpAsync, Odio.ai, Launch by OWNBN
👉 Check Ahrefs Backlink Checker- A Comprehensive Guide to SEO Success
Dealify
Dealify is a premier platform for software lifetime deals that provides exclusive discounts on digital marketing solutions. It empowers entrepreneurs to maximize their online business budgets by providing access to powerful and cost-effective tools.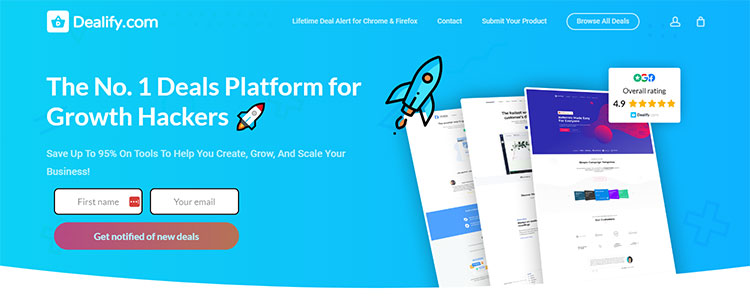 With this platform, users can optimize their websites, expand their customer reach, and effectively engage with potential customers. Also, Dealify serves as an exceptional resource for discovering fantastic promotions, deals, and bargains. Moreover, the platform offers a remarkable 30-day money-back guarantee window, ensuring customer satisfaction.
Dealify planform consists of 5 categories. Some of the popular products are listed below according to their category.
App Deals: DontPayFull, Kimp.io 
Software Deals: HaasOnline
Startups: Warmup Inbox, CobbleStone Software
Growth Hacking: Umso , Gloc.al
Digital Marketing: Atomic Mail Sender , Conversion Guard
Frequently Ask Questions
How Do I Know Which is the Best Dealmirror Alternative for me?
To determine the best Dealmirror alternative for you, consider the following factors: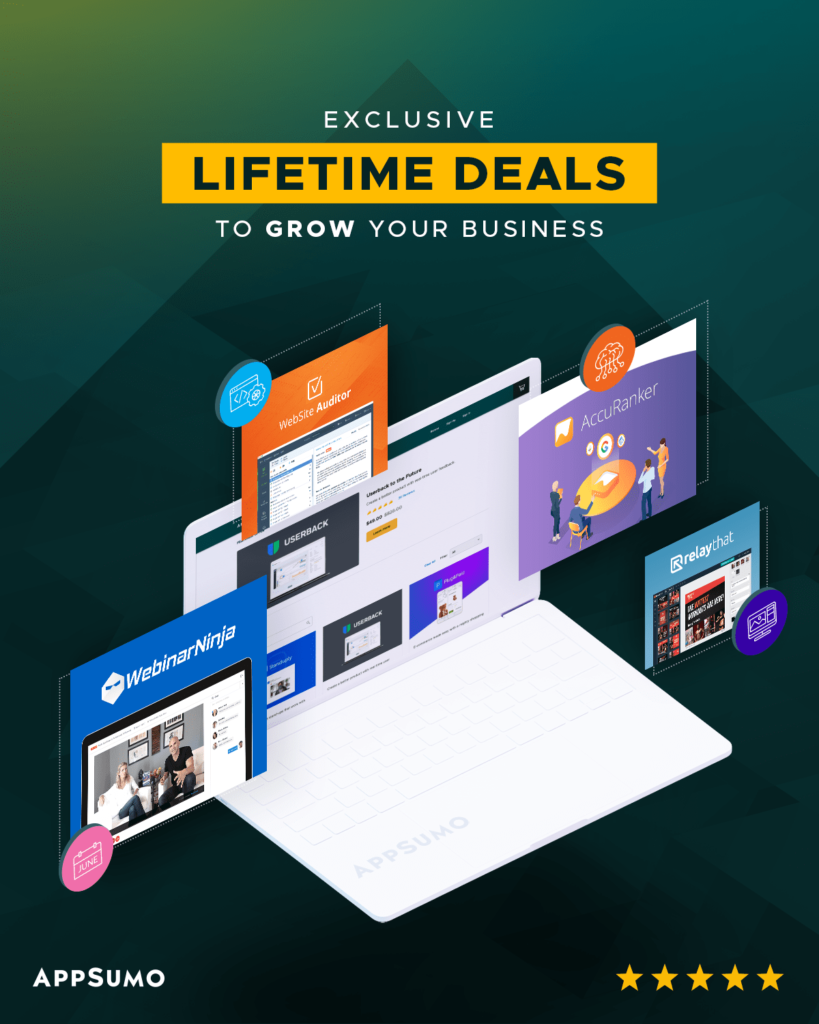 Features and Functionality: Evaluate the features and functionality offered by different dealmirror alternatives. 
Pricing and Affordability: Compare the pricing structures of different alternatives. Determine whether the pricing aligns with your budget and offers good value for the features and services provided.
Integration and Compatibility: If you require integration with other tools or systems, verify whether the dealmirror alternative platforms offer the necessary integrations and compatibility. 
Security and Data Protection: Examine the security measures implemented by these platforms to protect your sensitive information and ensure secure transactions. Look for features like encryption, secure payment gateways, and compliance with data protection regulations.
Trial Period or Demo: Take advantage of trial periods or demos offered by these dealmirror alternatives platforms. This allows you to test the platform firsthand and determine if it meets your requirements.
How do I find the best deals on SaaS products?
It can be advantageous to get the greatest offers on SaaS goods in order to save costs while still having access to high-quality software solutions. Here are some suggestions to assist you in finding the best deals:
Research Multiple Platforms
Subscribe to Deal Newsletters
Follow SaaS Communities and Groups
Utilize Coupon Websites
Keep an Eye on Product Launches
What should be considered while choosing Saas deals Marketplace?
Selecting the right SaaS deals for your business is of utmost importance. Here are five essential tips to consider when choosing a SaaS deals marketplace:
Determine Reliability
Request a Service Level Agreement
Check the provider's reputation and industry position
Make sure the service meets your expectations
Dig deeper into their security offerings
Conclusion
Exploring DealMirror alternatives can open up new opportunities for accessing great deals and discounts on software products. The five DealMirror alternatives mentioned in this blog offer their unique features and benefits that meet a variety of business requirements. By thoroughly evaluating these platforms, you can confidently select any platfrom from these 5 best dealMirror alternatives that not only maximize your savings but also perfectly align with your specific needs.