When it comes to SEO tools, Mangools has gained popularity for its comprehensive suite of features. However, it's essential to explore alternative options and consider which tool best suits your specific SEO needs.
In this article, we will delve into the world of SEO tools and discover the best alternatives to Mangools. Whether you're seeking advanced keyword research, competitor analysis, backlink analysis, or comprehensive SEO management, we've curated a list of powerful alternatives that can help you optimize your website and drive organic traffic.
Join us as we explore the top alternatives and find the perfect SEO tool for your digital marketing strategy.
5 Best Alternatives to Mangools for SEO Tools
The 5 Best Mongools alternatives are listed below:
Semrush
Semrush is a comprehensive search marketing software that empowers marketers to increase search traffic using both organic and paid methods. Its keyword research feature provides valuable metrics such as search volume, click-through rates, and the cost-per-click bid rate for each keyword. It also allows users to gain insights into their competitors' strategies by providing a list of keywords for which their competitors are ranking and the keywords they are bidding on in paid advertising campaigns.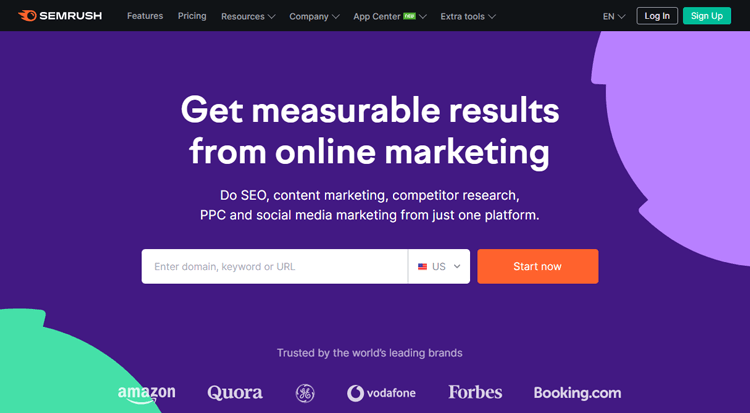 Additionally, Semrush also excels in providing comprehensive backlink analysis. Users can explore the websites linking to their competitors, understand the authority and quality of those backlinks, and identify potential link-building opportunities. Website auditing is made easy with its site audit feature. To assist in creating SEO-friendly content, Semrush offers tools like the SEO Content Template and SEO Writing Assistant.
Features lists:
Analyze keywords for organic and paid search
Figure out keywords your competitors rank for
Figure out the websites linking to your competitors
Audit your website's SEO
Create SEO-friendly content
Analyze your competitors' social media
Schedule to Facebook, LinkedIn, Instagram, Twitter, and Pinterest
Pros and cons:
Pros:
The learning curve for Semrush is smooth and user-friendly, making it easy for users to navigate and utilize the platform effectively.
The keyword intent data offered by Semrush is invaluable for identifying and focusing on the most relevant and profitable phrases for your business.
Semrush excels in link building functionality, featuring CRM-style features that greatly assist with link outreach and building successful backlink strategies.
The site auditing feature in Semrush offers actionable instructions for improving technical SEO and on-page SEO elements, guiding users to make concrete enhancements to their websites.
Semrush stands out by providing a generous number of reports that can be generated in a single day compared to its competitors.
Semrush offers a 30-day free trial, which is longer and more accessible compared to some competing tools that either provide no free trials or limit their duration significantly.
Cons:
Semrush focuses solely on providing data from Google, unlike some competing tools such as Ahrefs that offer data from multiple search engines.
The competitor research and online marketing add-ons in Semrush can be relatively expensive.
Performing broken link building in Semrush may not be as straightforward as desired.
Semrush's usability on mobile devices is challenging, making it less convenient for users who prefer to access the platform on their smartphones or tablets.
Price:
Monthly:
Pro: $119.95/monthly
Guru: $229.95/monthly
Business: $449.95/monthly
Annually:
Pro: $99.95/monthly
Guru: $191.62/monthly
Business: $374.95/monthly
👉 Check SEOCrawl vs SEMrush: Which SEO Tool is Better for Your Business
Ahrefs
Ahrefs is an SEO tool that provides a wide range of tools and information to aid companies with their SEO campaigns. Site Explorer, one of the key tools, enables users to conduct competitive research and understand the SEO profiles of other websites. Keywords Explorer is another valuable tool that helps users discover keyword ideas, assess their business value, analyze ranking difficulty, track performance, and more.

The Site Audit tool of Ahrefs is designed to conduct a comprehensive analysis of on-page and technical SEO aspects of a website. It identifies potential SEO issues and errors that may hinder the site's ranking. Content Explorer allows users to identify the most popular articles on any topic. Also it functions as a Google Analytics search console that fixes the problem with incorrect keyword data ensuring the delivery of accurate data.
Features lists:
See how your site is performing
See how your competitors are performing
See backlink growth or decline over time
Get keyword ranking alerts
Analyze internal backlinks
Get fresh, strategic insights and suggestions
Get total search traffic estimations
Uncover content gaps
Pros and cons:
Pros:
Rich functionality
Can use it for SEO analysis of Google, YouTube, and Amazon
Large keyword and backlink index
Great data filters
Good customer support
Cons:
Ahrefs does not offer a free trial, although some free tools are available for use.
Phone support is not available for Ahrefs users.
Ahrefs support is available exclusively in English, limiting assistance for users who prefer other languages.
The reporting limits in Ahrefs are restrictive and may not be as generous as desired.
Price:
Monthly:
Lite: $99/month
Standard: $199/month
Advanced: $399/month
Enterprise: $999/month
Annually:
Lite: $83/month
Standard: $166/month
Advanced: $333/month
Enterprise: $833/month
👉 View SocialNowa vs ManyChat: Is ManyChat the Best Alternative to SocialNowa?
Ubersuggest
Ubersuggest is a user-friendly keyword tool designed for beginners in the world of SEO. It not only provides essential features for keyword research and website analysis but also offers comprehensive SEO training and support.With Ubersuggest's daily rank tracker, you can monitor keyword rankings across different cities and countries. Additionally, Ubersuggest's site audit feature performs weekly scans of your website, identifying and highlighting any SEO errors that need attention.
When it comes to keyword research, Ubersuggest helps you discover the most suitable keywords for your brand. Its backlink tool allows you to analyze the specific content that other sites in your niche are linking to. Beyond SEO, Ubersuggest offers additional features such as its beta tool, AI Writer. This tool generates articles based on a provided keyword, enhancing your content creation efforts at scale.
Features lists:
Rank tracking (including mobile ranking)
Weekly site audit
Keyword research
Competitive analysis
Backlinks analysis
AI writer tool
Pros and cons:
Pros:
Fantastic onboarding video tutorial
Export files and reports
Free training to develop an SEO strategy
Chrome extension
Inexpensive compared to other SEO tools
Easy to use
Social media results
Discover great keywords and content ideas
Cons:
Low competitor limit on the basic plan.
Can be slow when running two reports at the same time.
Price:
Monthly:
Business: $20/month
Individual: $12/month
Enterprise: $40/month
Lifetime:
Business: $200 for lifetime
Individual: $120 for lifetime
Enterprise: $400 for lifetime
👉 Check Top AI Writer Lifetime Deals: Boost Your Content Creation Skills
SE Ranking
SE Ranking is a cloud-based SEO platform for SEO professionals, webmasters, and businesses. With this tool, you can track your website's keyword rankings in real time across and customize the tracking for specific locations, languages, and devices. You also have the flexibility to monitor up to 5 competitor websites, allowing you to gain insights into their keyword rankings and stay ahead of the competition.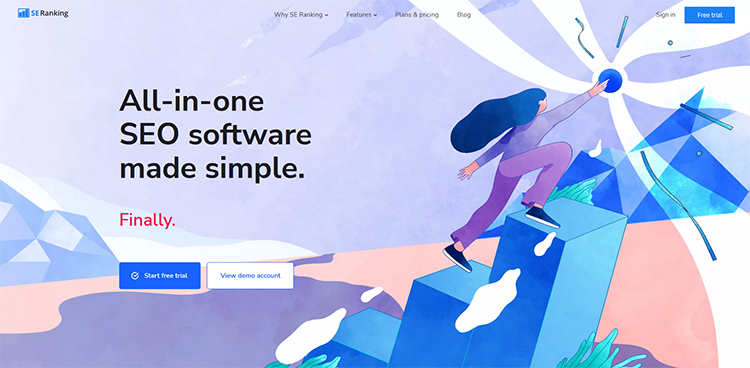 Managing backlinks is made easy with SE Ranking's ability to import them manually or automatically. Additionally, you can assign costs to links, enabling you to estimate the potential expenses of your link-building campaigns. SE Ranking's onsite and on-page SEO audits provide detailed reports and recommendations for improving your website's SEO.
Features lists:
Find out what others are searching for on the internet
Produce fresh, traffic-generating online content
Discover link-building opportunities
Discover more keywords you hadn't thought of
Find out which websites are linking to your site and your competitors' sites
Improve the technical components of your website's content marketing
Get a better ranking in search engines
Pros and cons:
Pros:
User-friendly interface
Affordable pricing plans
Ease of set up
Page crawl volume
Discounts via rank checks
Cons:
Limited depth of data compared to competitors
Restricted social media monitoring
Price:
Monthly:
Essential: $39.00/month
Pro: $89.00/month
Business: $189.00/month
Annually:
Essential: $31.20/month
Pro: $71.20/month
Business: $151.20/month
👉 Get 5 Best DealMirror Alternatives: The Best SaaS Lifetime Deal Platform
Moz Pro
Moz Pro is a powerful suite of SEO tools and software designed to empower businesses and marketers with comprehensive insights and strategies to improve their online presence. With its site auditing capability, this program does thorough scans of websites to find technical problems, crawl errors, and places for improvement. Users may track keyword ranks over time, analyze their success on search engine result pages, and learn more about their visibility with rank tracking functionality.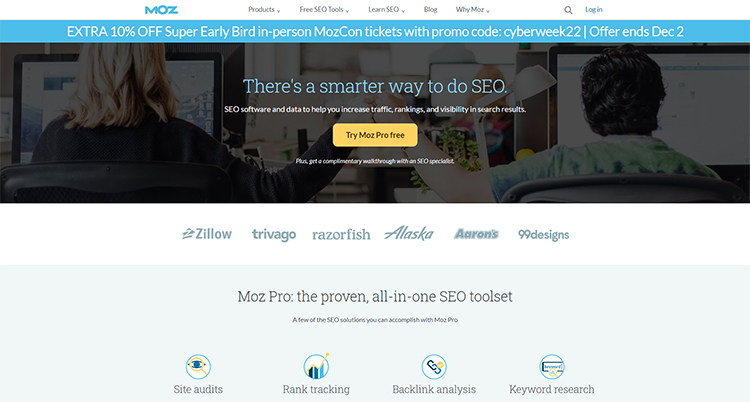 Moz Pro also provides a comprehensive backlink analysis tool. It enables users to examine their website's backlink profile, identify high-quality links, and uncover potential spammy or toxic links that could harm their rankings. The Keyword research component of this tool offers an extensive keyword explorer that allows users to discover relevant keywords, analyze search volume, and assess keyword difficulty. Furthermore, it offers insightful competitor analysis tools. 
Features lists:
SEO Auditing
Technical SEO
Link Building
Keyword Research
SERP Rank Tracking
Localization
Competitor Analysis
Data Visualization
Custom Reports
White Label
Pros and cons:
Pros:
Moz Pro offers an extensive suite of SEO tools with deep functionality.
The platform provides excellent metrics and comprehensive reporting capabilities.
The crawling feature has been redesigned, enhancing its effectiveness and efficiency.
Cons:
The user experience lacks intuitiveness, which may pose challenges for users.
The extensive depth and range of features could be overwhelming for certain individuals.
Price:
Monthly:
Standard: $99 /month
Medium: $179 /month
Large: $299 /month
Premium: $599 /month
Annually:
Standard: $79 /month
Medium: $143 /month
Large: $239 /month
Premium: $479 /month
👉 Check Steve AI alternatives: the top 6 Video generating AI tools
Frequently Asked Questions
Q: Why should I consider alternatives to Mangools for SEO tools?
Considering Mangools alternatives for SEO tools can be beneficial for a few reasons:
Feature Set
Data Accuracy and Coverage
Pricing and Value
User Experience and Interface
Integration and Compatibility
Customer Support and Community
Q: Are these alternatives cost-effective compared to Mangools?
The cost-effectiveness of Mangools alternatives can vary depending on various factors, including the specific features and plans offered by each alternative, your budget, and your unique needs and priorities. It's important to assess the value provided by each alternative in relation to its cost to determine cost-effectiveness.
Q: Are the alternatives as comprehensive as Mangools in terms of SEO features?
The comprehensiveness of alternatives to Mangools in terms of SEO features can vary depending on the specific tools you consider. While Mangools offers a comprehensive suite of SEO tools, it's worth exploring alternative tools to evaluate if they provide comparable or even additional features that meet your requirements. Here are some factors to consider:
Keyword Research
Rank Tracking
Backlink Analysis
Site Auditing
Competitor Analysis
Additional SEO Features
Q: How reliable are these alternatives in terms of data accuracy and performance?
The reliability of Mangools alternatives can vary. It's recommended to evaluate them based on your specific requirements and preferences. Consider conducting trials or demos of the alternatives to assess their data accuracy and performance firsthand before making a decision.
Final Word The Best Alternatives to Mangools for SEO Tools
When looking for suitable alternatives to Mangools, the key factor to consider is finding an option that provides wide arrays of features within your budget. Evaluating the overview of the top five alternatives can provide valuable insights to determine which one would be most beneficial for your business. Additionally, to ensure a more confident decision, you can take advantage of the opportunity to try out some of the tools at no cost for a limited time. This allows you to assess their functionality and suitability before committing to a particular choice.