As we enter 2023, it's time to explore new tools that can optimize our lead generation efforts. D7 Lead Finder has been a popular choice, but it's always beneficial to keep an eye on potential alternatives. This guide will introduce you to the top D7 Lead Finder alternatives that can enhance your lead sourcing strategy. Each of these options brings unique features and benefits to the table, ensuring you have the best resources for your B2B marketing needs.
Overview of D7 Lead Finder
The D7 Lead Finder is a comprehensive and effective lead creation tool for businesses looking to extend their customer base and increase sales. This tool allows users to swiftly identify potential leads by leveraging criteria such as geographical location and specific keywords. This innovative B2B lead generation software enables businesses to build an extensive database containing thousands of contacts swiftly.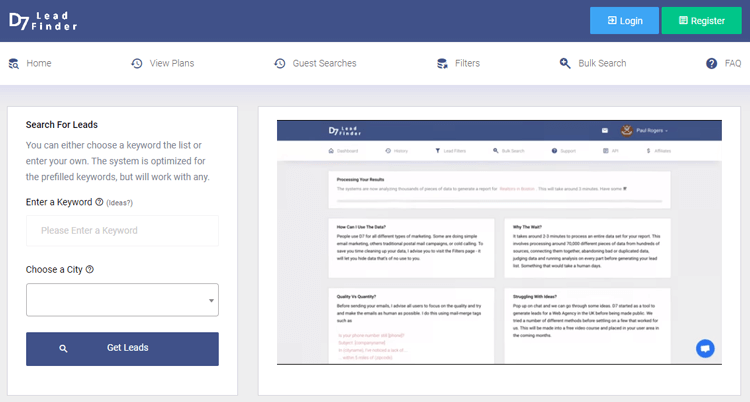 Users have the flexibility to select keywords from a predefined list or input custom keywords of their choice. While designed with specific keywords and industries in mind, the tool also allows for the incorporation of user-defined keywords. Moreover, D7 Lead Finder provides detailed and insightful reports, encompassing key information like phone numbers, geographical coordinates, website links, and even connections to social media profiles.
Features and benefits of D7 Lead Finder
Listing and Search Activities: The functionality of the D7 Lead Finder revolves around its "Lists" and "Searches." These terms correspond to the number of daily industry and location-based queries you can execute.
Quantity of Leads: In contrast to competing tools, the D7 Lead Finder doesn't limit the number of leads you can gather within 24 hours. Hence, depending on the industry you're targeting, you have the potential to practically collect numerous leads daily.
Lead Contact Information: Among the most critical details any lead extraction program provides is lead contact data, which is essential for lead qualification and outreach efforts.
Contact Information: Gathering a person's name, business website, social media handles, and email address aligns with standard business practices, making this aspect self-explanatory.
Additional Lead Insights: The D7 Lead Finder also provides supplementary lead data, including indicators of Google Analytics usage, SEO data points, and lead generation services.
Business Reviews: The tool extracts varying degrees of data from different sources, but the essence remains the same – evaluating customer feedback about a business aids in pinpointing entities in need of positive reviews or identifying high-performing businesses with the resources to engage your services.
Potential drawbacks of D7 Lead Finder
Limited Keyword and Industry Coverage
Dependence on Online Sources
Lack of Real-Time Updates
Absence of Contact Verification
False Positive Leads
Lack of Lead Qualification Metrics
Importance of having alternatives to D7 Lead Finder tool
Having alternatives to the D7 Lead Finder tool is of significant importance for businesses seeking flexibility, innovation, and the ability to tailor their lead generation strategies to their unique needs. While D7 Lead Finder might be a valuable solution, exploring alternatives provides several key benefits:
Diverse Features and Functionality: Different lead finder tools offer a range of features and functionalities. Exploring alternatives allows businesses to choose a tool that aligns precisely with their lead-generation goals and strategies.
Customization: Alternatives tools allow businesses to customize their lead generation approach based on their industry, target audience, and preferred methodologies. This customization ensures that lead generation efforts are tailored to specific business needs, resulting in more relevant and qualified leads.
Innovation: The lead generation landscape is constantly evolving, with new technologies and approaches emerging. Exploring alternatives keeps businesses up-to-date with the latest trends and innovations in business software. This innovation can lead to improved efficiency, higher-quality leads, and better overall results.
Cost Efficiency: D7 Lead Finder alternatives might offer different pricing models and plans. Businesses can choose alternatives that fit within their budget while still meeting their lead generation services. This cost efficiency allows businesses to allocate resources more effectively.
Competitive Edge: Exploring alternatives allows businesses to discover unique features and strategies that competitors might not be using. Implementing these distinctive approaches can give businesses a competitive edge in lead generation and customer acquisition.
Testing and Optimization: Trying out different lead finder tools allows businesses to experiment with various strategies and tactics. This testing and optimization process helps identify the most effective methods of business email for generating high-quality leads.
Risk Mitigation: Depending solely on one tool can pose risks in terms of data accuracy, availability, and performance. Alternatives reduce these risks by providing backup options to ensure consistent lead generation.
Top Alternatives to D7 Lead Finder
LeadFeeder
Leadfeeder is a dynamic and sophisticated sales and marketing tool that capitalizes on users' Google Analytics data to transform website traffic into actionable sales opportunities. This tool seamlessly integrates with users' CRM and email marketing platforms to enhance sales intelligence. It plays a pivotal role in facilitating the exchange of B2B marketing and sales insights among users' teams, validating their marketing strategies.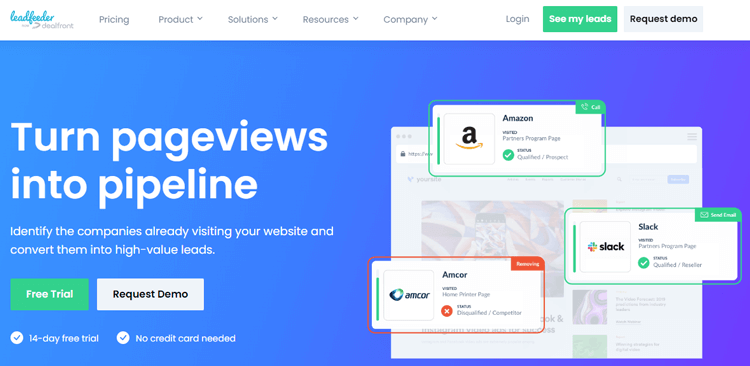 With email notifications, Leadfeeder promptly alerts users when their targeted companies visit their websites. Additionally, the tool automatically updates users' CRM records when a lead revisits. The simplicity of generating sales leads for free is one of the core strengths of this tool, requiring only access to the company's Google Analytics.
Features:
Real Company Identification
CRM and Email Integration
LinkedIn Connection
Automatic Lead Scoring
Leads to CRM
Lead Management
Lead Generation
Versatile Filtering
Price:
Free: $0 (no time limit on free plan)
Paid: $139/month
👉Check Steve AI Review – Features, Performance, and Pricing
AeroLeads
AeroLeads is a robust web-based software for Prospect Generation. It excels not only in identifying pertinent prospects but also in extracting their contact information. All acquired data can be conveniently stored within your account, ready for export or seamless integration with platforms like SalesForce, Zapier, HubSpot, Mailchimp, and more.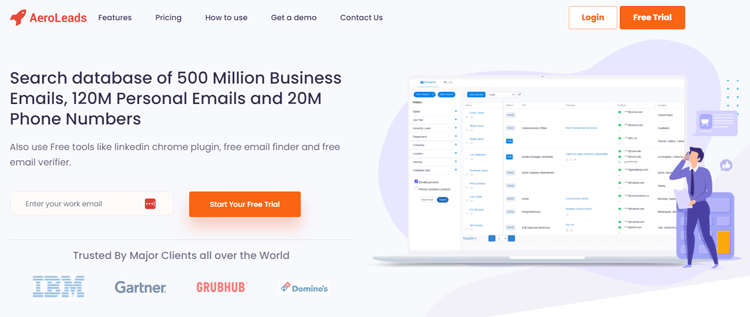 This potent tool functions as both a Prospecting and Sales Artificial Intelligence software. It seamlessly interfaces with platforms such as LinkedIn, Crunchbase, and AngelList while accommodating custom prospect list uploading.
Features:
Chrome extension
Email finder
Email verification
CRM integration
Linkedin URL uploader
Linkedin email finder
Price:
Free: $0/month
Take off: $49/month
Climb: $149/month
Cruise: $499/month
👉Check SocialNowa vs ManyChat: Is ManyChat the Best Alternative to SocialNowa?
Lead Scrape
Lead Scrape is a cutting-edge and effective solution that is ready to change the way firms find B2B leads. It provides consumers with a streamlined way to find and gather priceless information about possible leads across a variety of categories and businesses.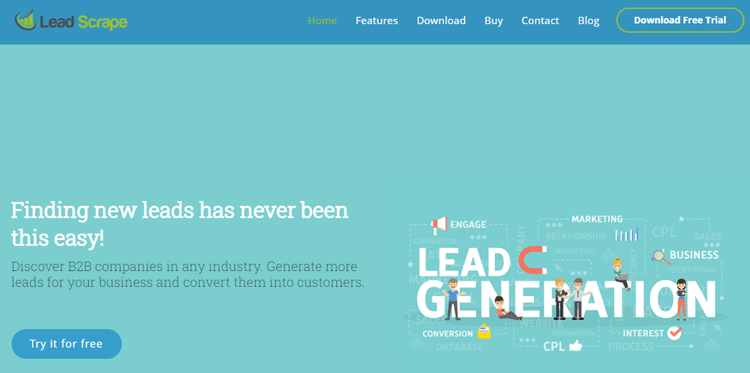 This lead generation tool has the ability to provide a wide range of data for each lead. Users can use its powerful search capabilities to look for leads based on specific job titles. This allows companies to specifically target workers holding relevant roles within the industries they want to work in. Moreover, this tool seamlessly harmonizes with existing lead monitoring software and marketing automation tools.
Key Features:
Contact Database
Data Import/Export
Lead Capture
Lead Database Integration
Prospecting Tools
Price:
Standard: $97 (1 year license)
Business: $247 (1 year license)
👉View Best Free Website Audit Tools Every Website Owner Should Know
Lead Carrot
Lead Carrot acts as a robust B2B lead generation platform, catering to businesses in search of potent sales prospects and growth opportunities. Its artificial intelligence technology enables the seamless creation of new sales leads, contact information, and business references across various industries and locations.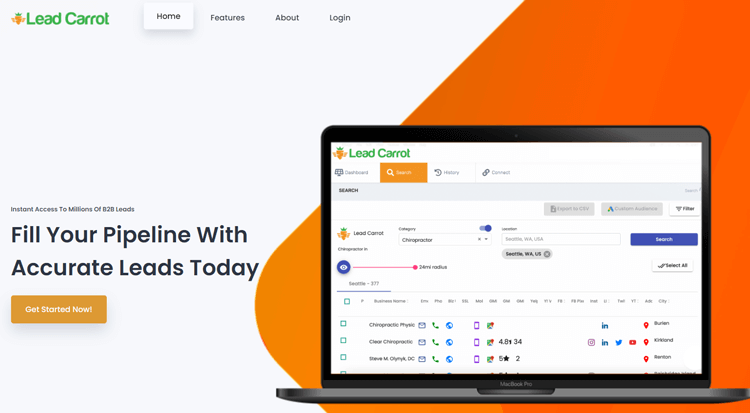 Its dynamic automation tool is tailored to empower sales and marketing teams with a high-quality B2B sales leads marketplace. The platform's user-friendly interface facilitates niche-specific searches, delivering a comprehensive roster of online businesses for immediate integration into CRMs, marketing tools, or email platforms. Through its collection of web-based enterprises, Lead Carrot ensures a profitable online presence, saving time and resources and accelerating interaction.
Features:
Data Import/Export
Lead Nurturing
Pipeline Management
Lead Database Integration
Lead Segmentation
Prospecting Tools
Website URL
Millions of B2B Leads
Google Review Rating
GHL Integration
LinkedIn URL
Price:
Starter: $47/month
Enterprise: $297/month
👉Explore Best Email List Validation Tools: Ensure High-Quality Email Campaigns
UpLead
UpLead is an advanced sales artificial intelligence platform that empowers businesses and digital marketers with a comprehensive suite of tools to locate and engage their ideal clientele. With access to a vast database of over 54 million contacts, users can refine their search criteria using the Prospector tool, yielding high-quality leads and enriched contact information.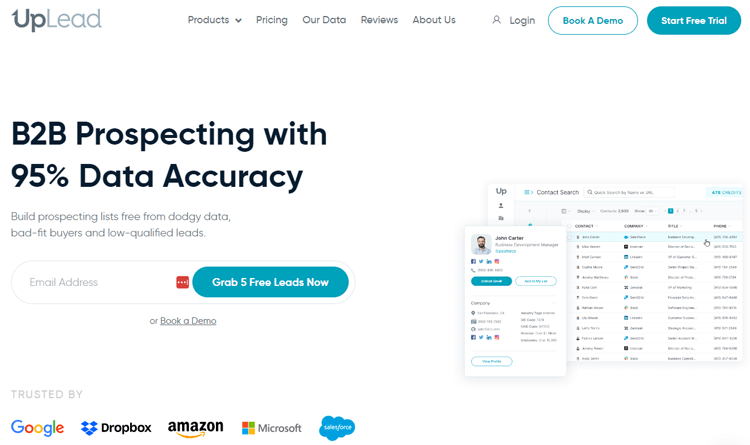 UpLead's Email scraper tool ensures precise contact with a 95% accuracy rate, enabling efficient communication with key figures in target companies. The platform's user-friendly interface, integrated email tools, and data enrichment capabilities work cohesively to streamline lead identification, engagement, and relationship-building processes. This tool is well-positioned to foster meaningful connections for businesses of all sizes and promote sales growth.
Key Features:
Elevate your sales pipeline and finalize a greater number of agreements
Access a repository containing over 54 million B2B contacts
Utilize an instinctive Email Finder tool
Explore leads using an array of criteria
Attain a 95% accuracy or confidence rate for each email address
Discover and compile an extensive roster of perfect clientele on a larger scale
Automatically identify duplicate leads and eliminate redundancies
Transform disjointed lists into avenues for sales success
Price:
Free Trial: $0/month
Essentials: $74/month
Plus: $149/month
Professional: $299/month
👉Read SEOCrawl vs SEMrush: Which SEO Tool is Better for Your Business
Snov.io
Snov.io is a comprehensive platform that streamlines and automates cold outreach while maintaining a personalized touch. With an easy-to-use drag-and-drop email campaign builder, users can effortlessly create custom campaigns enriched with triggers and multiple follow-up sequences. These campaigns can be fine-tuned with timers, delays, and behavior-based triggers to ensure optimal engagement.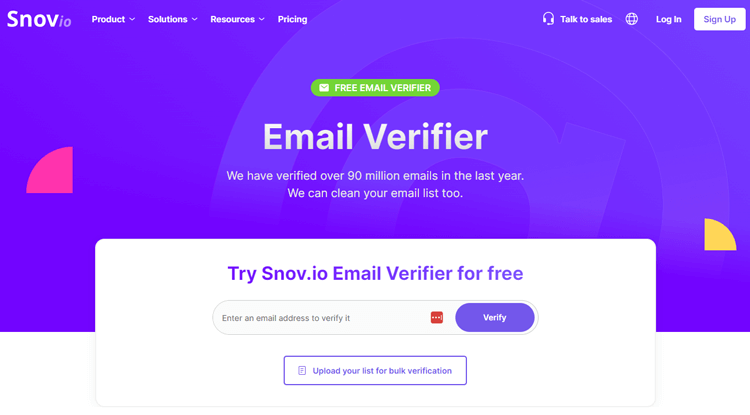 Despite the automation, Snov.io ensures a human-like approach by enabling users to craft emails tailored to individual recipients. The platform also offers professionally curated templates, making it ideal for users without strong writing skills. Real-time tracking and analytics, presented in an intuitive dashboard, allow users to assess campaign performance and make data-driven improvements.
Features:
Sales CRM
Email Finder
REST API
Email Warm-up
Email drip campaigns
Technology Checker
Email Tracker
LI Prospect Finder
chrome extensions
Integrations
Price:
Monthly:
Trial: $0/month
Starter: $39/month
Pro: $99/month
Managed Service: $2999/month
Annual:
Trial: $0/month
Starter: $30/month
Pro: $75/month
Managed Service: $2999/month
👉Check SEOCrawl vs SEMrush: Which SEO Tool is Better for Your Business
Criteria for Evaluating D7 Lead Finder Alternatives
Key features and functionalities
Examine the features and functionalities offered by each alternative. Look for features that are essential for your lead generation strategy, such as advanced search options, data enrichment, integration capabilities, lead tracking, and lead engagement tools.
Assess whether the alternative offers innovative or unique features that could give you a competitive advantage.
User interface and ease of use
Evaluate the user interface's intuitiveness and ease of navigation. A user-friendly interface can streamline your workflow and reduce the learning curve for your team.
Consider if the alternative provides customizable dashboards, intuitive search options, and smooth data visualization.
Data accuracy and quality
Investigate the accuracy of the lead data provided by the alternative. Look for features or processes that ensure data accuracy, such as data validation, real-time updates, and data enrichment.
Check user reviews and testimonials to gauge the reliability of the lead data provided.
Pricing models and affordability
Compare the pricing plans of different alternatives. Look for transparency in pricing and ensure that the chosen plan aligns with your budget and usage requirements.
Consider if the alternative offers various tiers or customizable plans to cater to different business sizes and needs.
Customer support and reliability
Research the quality of customer support offered by each alternative. Look for options such as email, chat, and phone support.
Investigate the responsiveness of the support team and the availability of help resources like knowledge bases, FAQs, and user guides.
Frequently Asked Questions
Can D7 Lead Finder tool be used for B2B lead generation?
Certainly! The D7 Lead Finder tool presents a highly effective solution for B2B lead generation efforts. With its specialized features and capabilities, this tool is tailored to assist businesses in identifying and acquiring potential leads that are essential for B2B growth. Also, using this tool, businesses can streamline their lead generation process.
How can I improve sales lead generation?
Improving sales lead generation is a crucial aspect of enhancing business growth and success. Here are several strategies you can implement to achieve better results:
1. Define Your Ideal Customer Profile
2. Optimize Your Website and Landing Pages
3. Create High-Quality Content
4. Utilize Social Media
5. Email Marketing
6. Implement Marketing Automation
7. Collect and Analyze Data
What is the importance of lead generation for businesses?
Lead generation holds significant importance for businesses across various industries. It serves as a cornerstone of growth and success, offering several key benefits:
1. Business Growth
2. Targeted Audience Engagement
3. Effective Marketing Campaigns
4. Data Collection and Insights
5. Sales Pipeline Management
What are the best ways to attract leads?
Attracting leads is essential for fueling your business growth. Here are some of the best strategies to effectively attract high-quality leads:
1. Create Compelling Content
2. Optimize for Search Engines (SEO)
3. Utilize Social Media
4. Leverage Email Marketing
5. Utilize Paid Advertising
6. Optimize User Experience
How much accurate is this lead data provided by D7 Lead Finder alternatives?
The accuracy of lead data provided by D7 Lead Finder alternatives can vary. Factors like data sources, algorithms, and update frequency influence accuracy. It's advisable to research and read reviews to assess each alternative's data accuracy before making a choice.
Do these Lead Finder tools offer customer support and training resources?
Yes, Lead Finder tools typically provide customer support through channels like email, live chat, and sometimes phone. They also offer training resources such as documentation, video tutorials, and webinars to assist users in effectively utilizing the tools. However, the extent of these offerings varies between different tools.
Are D7 Lead Finder alternatives GDPR compliant?
The GDPR compliance of D7 Lead Finder alternatives depends on each specific tool's policies and practices. It's recommended to review their privacy policies, data handling procedures, and legal documentation to ensure they align with GDPR regulations before using them for lead generation.
Conclusion of top D7 Lead Finder alternatives
Exploring the top D7 Lead Finder alternatives can open doors to diverse options that cater to various business needs. While each alternative has its strengths, businesses should consider their specific goals, target audience, and preferred features when selecting the most suitable lead-finder tool.
Thorough research, trial periods, and assessing GDPR compliance can help make an informed decision. Ultimately, the right alternative lead finder tool can empower businesses to streamline lead generation, optimize sales efforts, and achieve growth in a competitive market landscape.