In the digital era, B2B lead generation has evolved, and traditional methods may no longer be sufficient. That's where B2B lead scraper tools come into play, offering a way to automate the process and gather valuable information with ease.
In this blog post, we will introduce you to the top 6 B2B lead scraper tools that have gained recognition for their efficiency and effectiveness. Whether you're a sales professional, marketer, or business owner, these tools can help you identify high-quality leads, enhance your targeting capabilities, and boost your conversion rates. Get ready to discover the tools that can transform your lead generation efforts.
What is Lead Scraping?
Lead scraping refers to the process of extracting or gathering data about potential leads or customers from various online sources. It involves using specialized tools or software to automatically search websites, directories, social media platforms, and other online resources for relevant information.
It gathers valuable information on people or businesses who have expressed interest in a specific good or service. Contact information, including phone numbers, social media profiles, email addresses, job titles, company names, and more, are frequently included in this information.
Lead scraping tools utilize web crawling and data extraction techniques to navigate through web pages and extract relevant information based on specified criteria or keywords. It also compiles the information into a structured format for further analysis or use in marketing campaigns.
Importance of using Lead Scraper tools for B2B Marketing
Expand Your Market: Lead scraper tools allow you to discover new prospects beyond your initial target audience. By analyzing engagement data, you can identify companies and job roles not previously included in your marketing campaigns and expand into new markets.
Grow Your Following: Through content creation and communication, lead reaper tools help position your brand as a thought leader. Sharing valuable content builds a community of professionals who follow and engage with your brand, potentially turning into customers and advocates.
Boost Your Revenue: Effective lead reaper tools enable you to reach and engage with your target prospects. By tailoring your messaging, offers, and content to their specific interests and pain points, you increase the likelihood of capturing the attention of qualified leads and driving revenue growth.
Generate Business Opportunities: These tools can lead to partnerships and collaborations with non-competing brands. By leveraging each other's audiences, you can gain access to new leads and create mutually beneficial business opportunities.
Improve Lead Quality: Taking a targeted approach to content creation enhances the quality of leads. Creating content that resonates with specific audience segments attracts more qualified leads, leading to higher conversion rates and sales.
Build Visibility and Awareness: It helps to create visibility and awareness for your brand. By creating content that aligns with your audience's interests and sharing it on the platforms they frequent, you can increase brand recognition and attract attention.
Automate Lead Management: The availability of software tools allows for the automation of lead generation and management processes. These tools facilitate lead capture, nurturing campaigns, communication tracking and provide valuable insights for improving marketing and sales campaigns.
Overview of the top 6 B2B Lead Scraper Tools
useArtemis
useArtemis is an advanced lead generation tool that offers comprehensive automation for your cold outreach efforts, including email and LinkedIn. It empowers you to automate your outreach, find accurate contact details like email addresses and phone numbers, and streamline your prospecting process.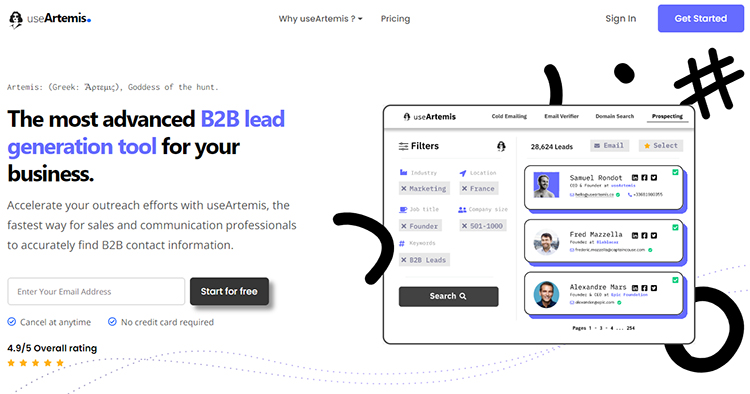 With useArtemis, you can leverage its built-in prospecting platform to easily identify potential prospects. Additionally, the Chrome extension enables you to uncover contact details while browsing LinkedIn, making it convenient to gather information on the platform. 
Furthermore, it offers powerful outreach automation tools. The LinkedIn Bot empowers you to perform various actions, such as visiting profiles, sending messages, and sending connection requests, all targeted toward a specific list of prospects.
Key Features:
Access to 500M+ database of B2B contact details
Find particular leads quickly by searching for them using parameters.
Access the LinkedIn Chrome extension.
Storage of contact information in list
Export of found data to a CSV file
Access to the prospecting platform
Access domain search
Access email verifier
Access to bulk enrichment
Premium support
Benefits:
Accurate and Reliable Information: This B2B lead scraper software boasts exceptional accuracy, with a 99% accuracy rate. By sourcing data from a wide range of credible sources and employing rigorous verification processes, useArtemis ensures that the information you access is reliable and up-to-date.
Extensive Coverage: With over 30 million organizations indexed in its database, this tool offers comprehensive coverage. Whether you are searching for specific companies or exploring new leads, the chances are high that useArtemis has the information you need.
Time and Cost Efficiency: By leveraging useArtemis' vast database and advanced technology, you can save valuable time and resources. Instead of manually searching for corporate contacts or relying on incomplete and outdated sources, it provides you with a centralized and reliable platform to access the information you require. 
Global Compliance and Data Privacy: This prioritizes data privacy and complies with all relevant data protection regulations, including GDPR and CCPA. This ensures that your sensitive information and that of your contacts are handled with the utmost care and in compliance with legal requirements.
Continuous Updates and Improvements: useArtemis is committed to constantly updating and improving its database. By regularly sourcing new data from various reliable sources and incorporating feedback from its extensive contributor network, this B2B lead Scraper tool ensures that its database remains current and relevant.
Pricing plan:
Monthly:
Starter: $49 /month
Plus: $99 /month
Pro: $129 /month
Enterprise: $259 /month
Annually:
Starter: $39 /month
Plus: $79 /month
Pro: $109 /month
Enterprise: $259 /month
👉 View Support Genix Review- Features, Price, Pros, and cons
Lead Scrape
Lead Scrape is an innovative and powerful tool to revolutionize the way businesses find B2B leads. With its comprehensive capabilities, it enables users to effortlessly identify and acquire valuable information about potential leads in any category or industry.
One of the key strengths of Lead Scrape lies in its ability to provide a wide range of data for each lead. With its search functionality, users can search for leads based on specific job titles, allowing them to target professionals in relevant positions within their desired industries.
This tool also seamlessly integrates with existing lead tracking software and marketing automation tools. The data obtained from Lead Scrape is conveniently delivered in CSV format, ensuring compatibility with a wide range of software platforms.
Key Features:
Contact Database
Data Import/Export
Lead Capture
Lead Database Integration
Prospecting Tools
Benefits:
Identify your target audience: Lead scrape provides a valuable means of accessing information, allowing you to devise a targeted lead generation strategy and enabling your sales team to initiate the sales pipeline promptly.
Focus on high-quality leads: The goal of lead scraping is to obtain high-quality leads who are genuinely interested in purchasing your product. By prioritizing lead quality, you increase the likelihood of converting leads into customers. A B2B lead scraper tool assists you in acquiring relevant, accurate, and high-quality leads with precision.
Enhance your understanding of the customer base: Lead scraping tools not only enable lead generation but also provides valuable insights into your customer base. It allows you to track industry trends, monitor competitors, gain knowledge about customer preferences, conduct market research, stay informed about market trends, and much more using valid and reliable sales leads data.
Time-saving advantages: Lead scrape empowers you to obtain thousands of contacts within a matter of hours or even minutes when utilizing it. This tool enables businesses to avoid wasting time on leads that are unlikely to convert into sales, saving valuable time and resources.
Accurate and error-free scraping: A B2B lead scraper tool can efficiently process web pages based on specific keywords to extract appropriate leads. It allows you to better understand your target audience during the marketing stage.
Pricing plans:
Standard: $97 (1 year license)
Business: $247 (1 year license)
👉 Check CRM Lifetime deals – The Best 5 Deals With Exclusive Offers
Clodura.AI
Clodura.AI is an innovative AI-powered B2B lead generation software that revolutionizes the way businesses generate sales leads and accelerate revenue growth. With its highly targeted approach, Clodura.AI enables users to access a vast and constantly updated database of over 600 million B2B prospect contacts and 18 million companies.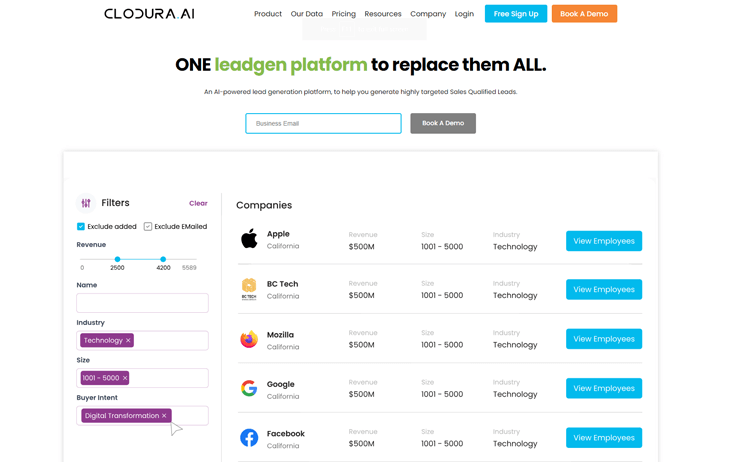 Its Org Chart feature, which allows sales and marketing teams to accurately identify and target key decision-makers within organizations. Additionally, Clodura.AI provides a comprehensive calling feature that seamlessly integrates with users' CRM systems.
This platform also offers actionable sales intelligence triggers and automated sales cadence, further enhancing the efficiency and effectiveness of sales processes. Moreover, the platform provides technographic information about companies, including intelligence on thousands of technologies, enabling users to align their offerings with customers' tech landscape.
Key Features:
Accurate Data
Sales Intelligence
Integrated Data
Tech Stack Data
Sales Sequences
Org Chart
Integrated Calling
Benefits:
Highly Targeted Leads: Clodura.AI provides access to a vast database of over 600 million B2B prospect contacts and 18 million companies. This ensures that sales teams can generate highly targeted leads.
Improved Sales Efficiency: With this platform, sales teams can leverage features such as direct dial numbers, comprehensive calling capabilities, and automated sales cadence.
Actionable Insights: It provides actionable sales intelligence triggers that help sales teams identify key opportunities and prioritize their efforts. Leveraging these insights leads to more effective sales strategies and higher conversion rates.
Org Chart Feature: Clodura.AI's Org Chart feature allows sales and marketers to identify and target key decision-makers within organizations accurately. This feature enables teams to create focused and personalized campaigns tailored to the specific needs and preferences of the prospects.
Technographic Information: This tool provides technographic information about companies, including intelligence on over 15,000 technologies. This data empowers sales teams to align their offerings with customers' technology landscapes, ensuring a more targeted and relevant sales approach.
Pricing Plan:
Monthly:
Free Forever: $0 / month
Starter: $49 / month
Enterprise: $99 / month
Yearly:
Free Forever: $0 / month
Starter: $45 / month
Enterprise: $90 / month
👉 Check Steve AI alternatives: the top 6 Video generating AI tools
Nymblr
Nymblr is a game-changing platform that revolutionizes B2B lead generation and outreach campaigns. With access to millions of qualified B2B leads, complete with verified contact information, it enables businesses to streamline their marketing efforts.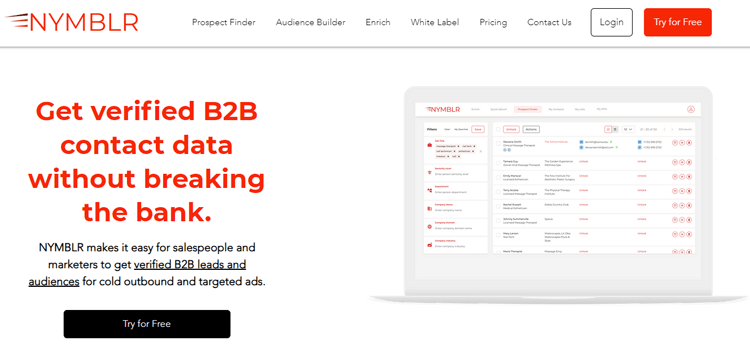 Nymblr empowers users with access to an extensive database containing over 70 million US-based business contacts, enabling them to discover top-quality leads that perfectly match their ideal customer profile and marketing objectives. With a reliable B2B contact database, instant email validation, and the option to create personalized contact lists and audiences, Nymblr guarantees precision and efficiency in every outreach campaign.
The platform also simplifies the management of contact and company information, allowing users to update and maintain up to 50 contact points in real time. With its all-in-one solution, this tool not only saves time and effort but also enables seamless collaboration with unlimited user access.
Key Features:
Prospect finder
Work and personal emails
Mobile numbers
Social media profiles
Real-time email validation
Contact and company enrichment
Developer APIs
Up to 50 data points per lead
Audience Builder
Benefits:
Access to Qualified B2B Leads: With Nymblr, you gain access to millions of qualified B2B leads with verified contact information.
Streamlined Outreach Campaigns: It helps streamline your outreach campaigns by providing you with the best-verified B2B leads that match your ideal customer profile and marketing goals. This saves you time and effort in finding and qualifying leads.
Real-time Email Validation: This tool allows you to validate emails in real-time at no extra cost. This feature ensures that you never waste resources on bad data, helping you maintain a high level of accuracy in your contact information and email scraper.
Targeted Advertising: Nymblr assists you in building custom contact lists and audiences for targeted ads. By leveraging this feature, you can go beyond the native audience filters of social media platforms and create personalized campaigns across channels like Facebook, Google, LinkedIn, and email.
CRM Integration: It allows you to seamlessly add new contact and company information to your CRM. This eliminates the hassle of sorting through outdated documentation and ensures that your CRM is always up to date with accurate and relevant data.
Team Collaboration and White-labeling: Nymblr lets you add unlimited users to the platform at no extra cost, facilitating seamless collaboration within your sales and marketing team. Additionally, the powerful white-labeling features enable you to customize the platform with your own branding, providing a consistent and professional experience for your team and clients.
Pricing plans:
Pricing Plan for Nymblr starts at $250 per month.
👉 Get 6 Best SERP Rank Tracker Tools: Save Time and Increase Productivity
LeadRocks – Plus exclusive
LeadRocks – Plus Exclusive is an impressive platform with an array of exclusive features tailored to optimize B2B lead scraper and outreach efforts. This premium package offers businesses an expanded database of contacts, providing a wider pool of potential leads to tap into and explore.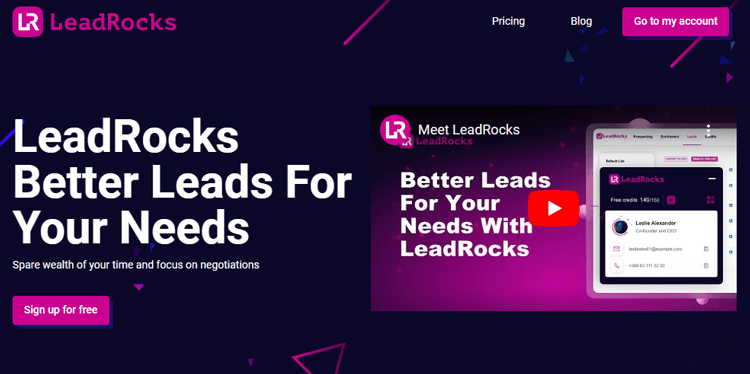 With advanced filtering options, users can refine their searches based on specific criteria, ensuring laser-focused targeting of prospects. The data enrichment capabilities of LeadRocks – Plus Exclusive allows users to extract valuable information like emails and phone numbers from LinkedIn profiles, providing a comprehensive view of their leads.
Key Features:
Get access to 100M+ Records with LeadRocks
Seamless Data Enrichment & Scraping
Export LinkedIn Profiles Data
Time-Saving Tool for Lead Generation
Target the Right Customers
Benefits:
Hyper-Targeted Outreach: With LeadRocks, you can effortlessly access to a vast database of over 100 million B2B contacts for conducting hyper-targeted outreach.
Fast and Efficient: Experience the speed and efficiency of LeadRocks as it empowers you to effortlessly discover and connect with high-quality B2B leads in a matter of clicks.
Easy Collaboration: Simplify team collaboration with LeadRocks, which offers convenient features like contact information storage in lists and seamless data export to CSV format.
Advanced Enrichment: This advanced platform enriches LinkedIn URLs by providing additional information such as emails, phone numbers, and other relevant data.
Secure and Reliable: With a focus on security and reliability, LeadRocks ensures the safety of your data at all times.
Extensive Database: With data scraping at your fingertips, you gain countless opportunities to discover high-quality leads that align with your target audience.
Pricing plans:
Free: $0 / month
Starter: $29 / month
Growth: $145 / month
Professional: $290 / month
Enterprise: $580 / month
👉 View Top AI Writer Lifetime Deals: Boost Your Content Creation Skills
UpLead
UpLead is a powerful sales intelligence platform that empowers businesses and digital marketers to effectively find and connect with their ideal customers. This platform offers various features to streamline the lead generation process, including the Prospector tool for targeted searches and the Bulk Lookup tool for efficient list building.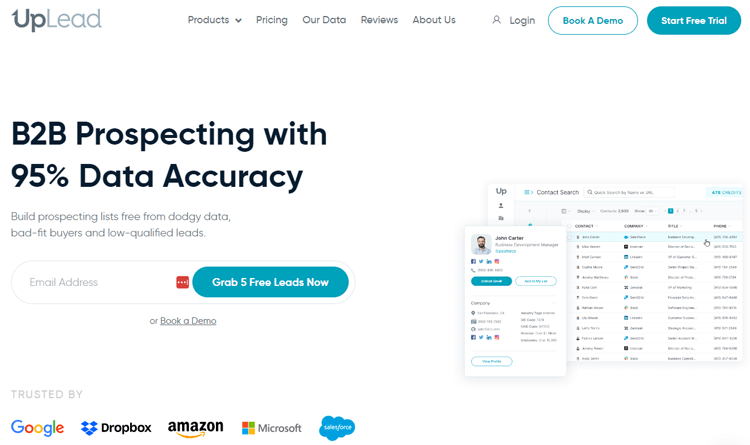 UpLead also helps users save time and resources by automatically detecting and removing duplicate leads. With this intuitive Email Finder tool, users can locate the right email addresses for key decision-makers, ensuring effective communication. Furthermore, UpLead offers a built-in email tool and integrates with CRMs, allowing users to reach out to prospects and nurture relationships seamlessly.
Key Features:
Boost your sales pipeline and close more deals
A database of over 54 million B2B contacts
An intuitive Email Finder tool
Search leads using a variety of criteria
95% accuracy or confidence rate for every email address
Find and build a list of ideal customers in mass
Automatically detect duplicate leads and remove them
Turn fragmented lists into sales opportunities
Benefits:
Efficient Prospect Discovery: UpLead enables you to quickly and effectively search for new prospects, saving you valuable time and effort.
Access to Direct Contact Information: With this B2B lead scraper tool, you gain access to direct contact information such as email addresses and phone numbers, allowing you to reach out to prospects directly.
Real-Time Email Verification: UpLead stands out with its real-time email verification feature. When you download or export a list of contacts from it, their email addresses are instantly verified.
Advanced Search Criteria: It offers a robust set of search criteria, allowing you to refine your prospecting efforts and build highly targeted lists.
Integration with Productivity Tools and CRMs: UpLead integrates seamlessly with popular productivity tools and customer relationship management (CRM) platforms.
Cost-Effective Solution: UpLead offers competitive pricing plans, making it a cost-effective solution for acquiring high-quality contact data.
Pricing plans:
Free Trial: $0 / month
Essentials: $74 / month
Plus: $149 / month
Professional: $299 / month
👉 Find Best Email List Validation Tools: Ensure High-Quality Email Campaigns
Frequently Asked Questions
Can B2B lead scraper tools extract contact information accurately?
B2B lead scraper tools have the capability to extract contact information from various sources, such as websites, directories, and social media platforms. However, the accuracy of the extracted information may vary depending on source quality, data validation and data integrity.
Are B2B lead scraper tools suitable for businesses of all sizes?
B2B lead scraper tools can be useful for businesses of various sizes, but their suitability depends on specific factors and considerations: Scale of Operations, Resource Availability, Data Privacy & Compliance, Industry & Target Market and Budget Considerations.
What is the most important part of lead optimization?
The most important part of lead optimization is understanding and aligning with the needs and preferences of your target audience. Effective lead optimization involves adjusting your marketing tactics, messaging, and overall strategy to draw in the right customers by engaging and attracting the right prospects.
What is the most preferred method you use to generate B2B leads in the market?
The methods to generate B2B leads in the market can vary depending on various factors such as industry, target audience, and business goals. Here are the most preferred and effective methods:
1. Content Marketing
2. Email Marketing
3. Search Engine Optimization
4. Social Media Marketing
5. Webinars and Events
6. Referral Programs
What makes B2B content successful?
Here is a guide to get you successful if you're ready to build an efficient B2B content successful:
1. Identify Your Audience and Their Needs
2. Use Micro-Targeting to Narrow Down Your Focus
3. Research Competitors in Your Niche
4. Define Your Goals
5. Create Multi-Layered Content
6. Measure Your Results
7. Prioritize Link Building and Collaboration
8. Promote Your Content Across Different Platforms
Final thoughts on B2B lead scraper in the digital era.
B2B lead generation plays a crucial role in the success of a business, impacting both sales and marketing teams. We have discussed the 6 prominent B2B lead scraper tools that your business should consider exploring in the digital era. You can gather precise and pertinent information about prospective customers by implementing an effective lead capture process. This valuable data can help you to guide ideal customers through the various stages of your sales funnel.