In today's digital age, email campaigns are a crucial component of any successful marketing strategy. However, sending out email messages to an unverified list can have a significantly negative impact on the deliverability and overall effectiveness of your campaign. That's where email list validation tools come in. These tools are designed to ensure that your email lists are high-quality and consist of only valid active email addresses.
What are email list validation tools?
Email list validation tools are software or online service designed to verify the validity and deliverability of email addresses. Its primary function is to determine whether an email address is active, correctly formatted, and capable of receiving emails.
Email list validation tools typically verify the syntax and format of an email address, ensuring it follows the correct structure. These tools also have email domain verification that checks its DNS (Domain Name System) records. Additionally, email list validation tools may connect to the mail server associated with the email address and perform a series of tests to determine its deliverability.
By using an email validation tool, businesses can improve the quality of their email lists, reduce bounce rates and prevent sending emails to invalid or non-existent addresses. This helps maintain a good sender reputation, increases the chances of successful email campaigns, and ensures messages reach the intended recipients effectively.
Overview of email list validation tools and their role in ensuring high-quality campaigns
Email List Validation
Email List Validation is a comprehensive tool designed to ensure the accuracy and deliverability of email lists. It offers a range of features and verification checks to help users clean up their lists, minimize bounce rates, and improve the success of their email marketing campaigns. It verifies the validity of email addresses. It also performs a thorough analysis, checking the syntax and format of each address to ensure they adhere to standard email address conventions.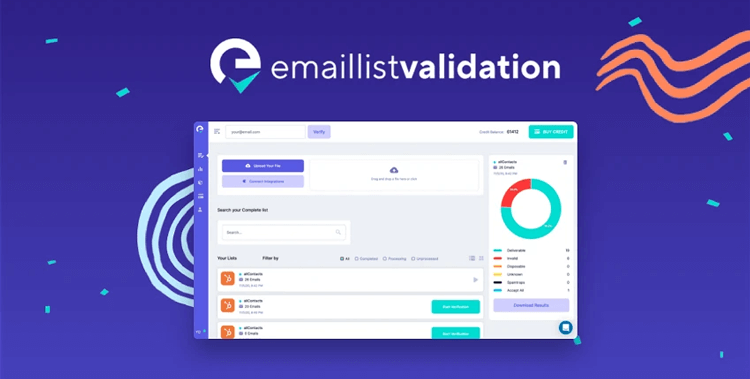 Another crucial aspect of Email List Validation is domain verification. It also offers mailbox verification that detects inactive or non-functioning mailboxes. This tool helps prevent bounced emails and improves overall deliverability rates. Additionally, Email List Validation includes advanced features to identify disposable email addresses and role-based accounts.
Features:
Unlimited subaccounts
Instant email finder
Real-time API
Email list cleaning
Automate
Price:
Email List Validation has 2 different pricing plans:
Pay As you Go:
Start with $19 for 2500 emails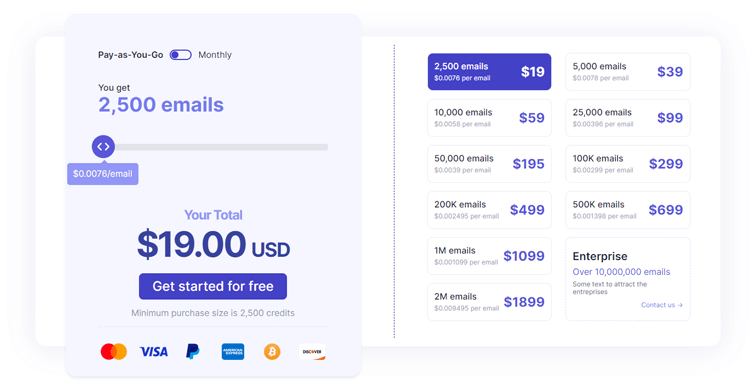 Monthly Plan:
Start with $14 for 2500 emails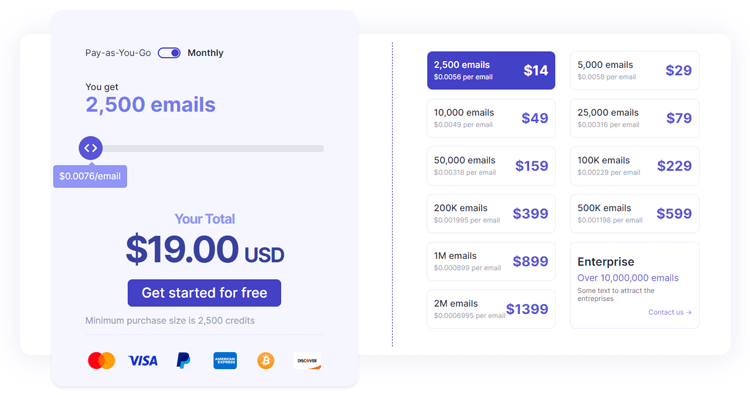 👉 Check Omnisend vs TinyEmail: Which One Should You Try?
Reoon Email Verifier
Reoon Email Verifier is a reliable and efficient tool designed to verify the accuracy and deliverability of email addresses. With its comprehensive features, it helps users maintain clean and effective email lists, enhance email deliverability rates, and improve overall marketing campaign success. Its email validation process ensures the validity and quality of each email address.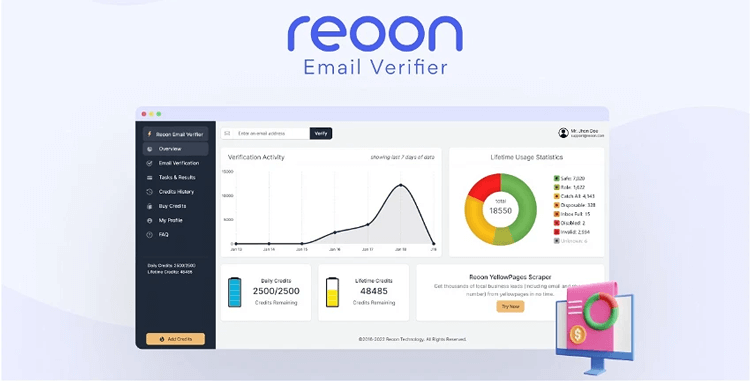 It also verifies the domain associated with each email address, ensuring its existence and authenticity. In addition to syntax and domain validation, Reoon Email Verifier performs mailbox validation. It connects to the mail server to check the actual existence of the email address.
Reoon Email Verifier also includes advanced features such as disposable email address detection and role-based account identification. Disposable email addresses are temporary addresses often used for spam or fraudulent activities. The verification process with this tool is flexible and convenient. Users have two options for verifying their email lists: direct submission and file upload.
Features:
Single and bulk email verification
Verify Gmail, Yahoo, Outlook, and other custom domain email addresses
Achieving Optimal Accuracy in Dynamic Temporary Email DetectionRapid API Email
Rapid API Email Validation: Verify an Email Address in Less Than 0.5 Seconds
Price:
Free Tier: $0 /month
Daily Credits: $9 /month
Lifetime Credits: $12 /lifetime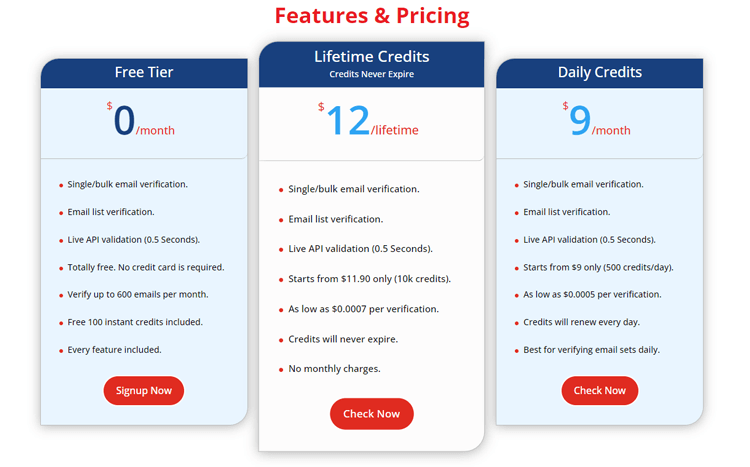 👉 Read Mailchimp vs TinyEmail: Which Email Marketing Platform is Right for You?
ZeroBounce
ZeroBounce is an advanced email validation system designed to ensure the deliverability of your email marketing campaigns. By removing spam, bounces, bots, and other undesirable elements from your email list, ensures that your messages reach the right audience. With its user-friendly email verification API, you can validate your email list in real time. This powerful feature helps prevent the inclusion of email addresses.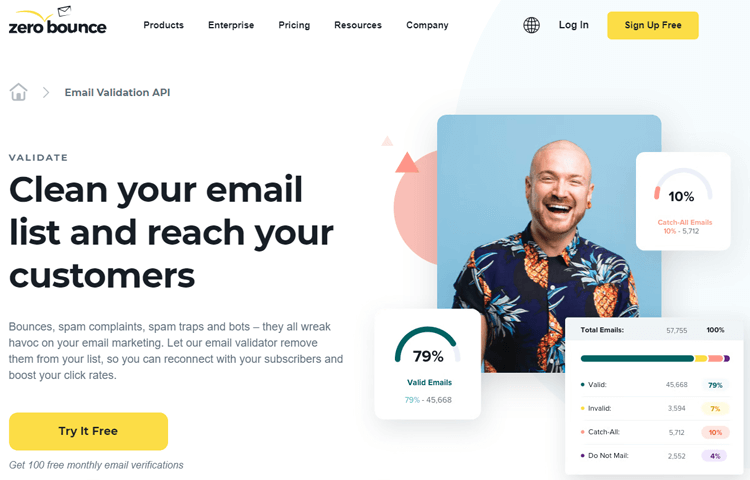 The catch-all email check feature enables you to identify catch-all domains and separate them from your list. It goes beyond verification and provides additional details about the individuals on your email list. For those who frequently validate new email addresses, ZeroBounce offers a bulk email verification API that automates the process.
ZeroBounce also offers a bulk AI email scoring API, which automatically scores your email list. The catch-all email check feature enables you to identify catch-all domains and separate them from your list. Integrating with popular platforms, ZeroBounce seamlessly fits into your existing workflow.
Features:
Email validator that removes bounces, spam complaints, and bots from your email list
High-speed email validation with API that validates an email address in under 3 seconds
Bulk email verification API for automated email list cleaning
Email scoring API that rates the quality of contacts
Email server test to diagnose deliverability issues
Secure data encryption and CDN
Blacklist monitor with IP, domain, and email server alerts
24/7 customer service through chat, phone, or email
Price:
Email List Validation tool of Zero Bounce has 2 different pricing plans:
Pay As you Go: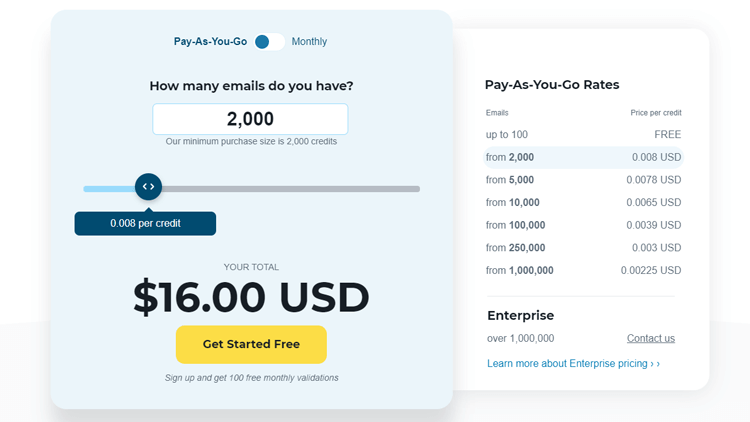 Start with $16 for 2000 emails
Monthly Plan:
Start with $15 for 2500 emails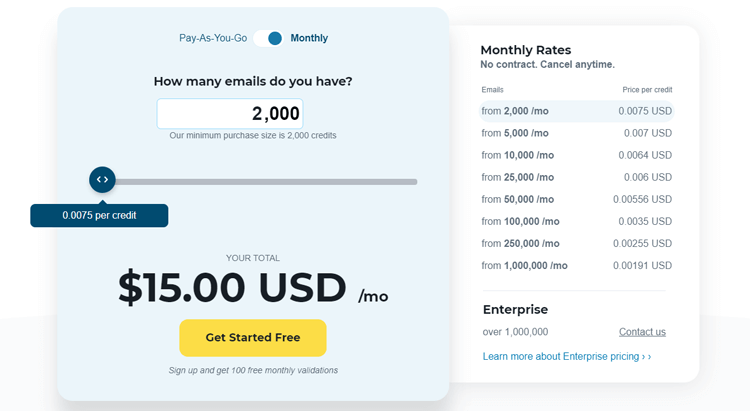 👉 Check Klaviyo vs TinyEmail: Choose the Best email marketing tool
Snov.io
Snov.io is a renowned platform that specializes in providing efficient and reliable email verifier tools. With its advanced technology and robust features, it empowers individuals and businesses to ensure the validity and accuracy of their email addresses.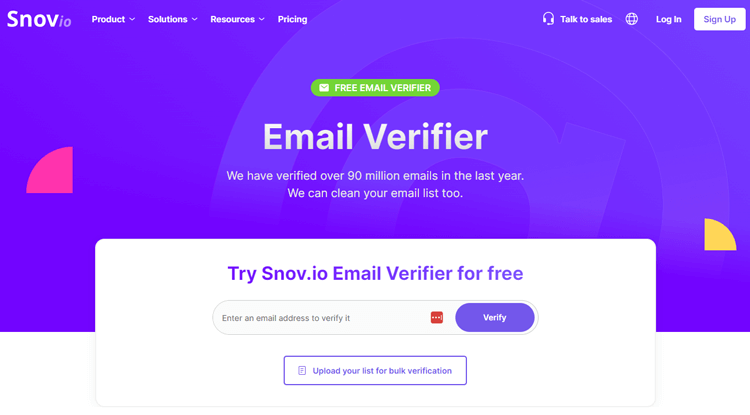 This Email Verifier tool allows users to verify individual email addresses effortlessly. Users can simply navigate to the dedicated Individual Email Verification page and enter the email address into the provided form. As a result, they can quickly determine whether the email is valid and active.
By integrating Snov.io's API into your systems, you gain the ability to validate and verify email addresses automatically. For those with a larger volume of emails to verify, Snov.io offers the Bulk Email Verifier tool. This powerful tool enables users to upload and verify up to 100,000 emails in a single batch. By using this, users can streamline the verification process and obtain accurate results efficiently.
This platform also recognizes the importance of verifying emails within prospect lists. With their prospect list interface, users can seamlessly verify the email addresses they have gathered through Snov.io's email finder tools.
Features:
Sales CRM
Email Finder
REST API
Email Warm-up
Email drip campaigns
Technology Checker
Email Tracker
Email Verifier
LI Prospect Finder
chrome extensions
Integrations
Price:
Monthly:
Trial: $0/month
Starter: $39/month
Pro: $99/month
Managed service: $2999/month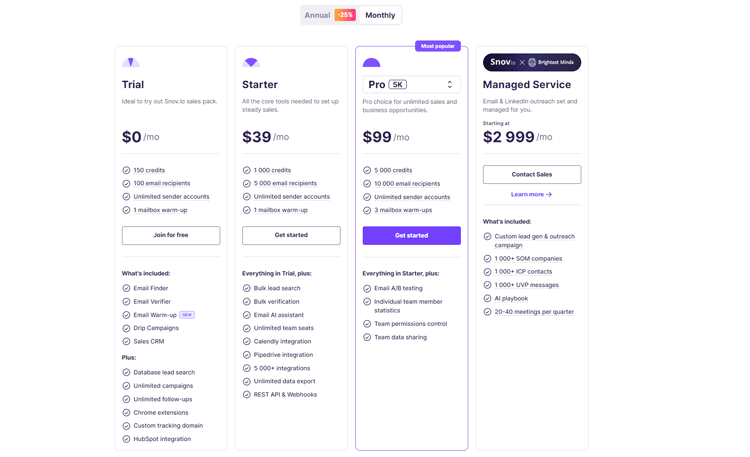 Annual:
Trial: $0/month
Starter: $30/month
Pro: $75/month
Managed service: $2999/month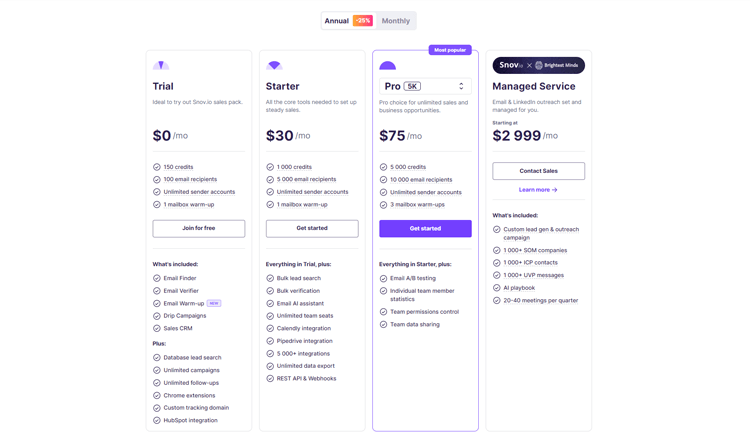 👉 Read Support Genix Review- Features, Price, Pros, and cons
UpLead
UpLead is a comprehensive platform designed to enhance your outreach efforts by providing powerful tools for email finding, validation, and verification. With a focus on accuracy, efficiency, and data quality, this platform equips you with the necessary features and ensures the deliverability of your messages.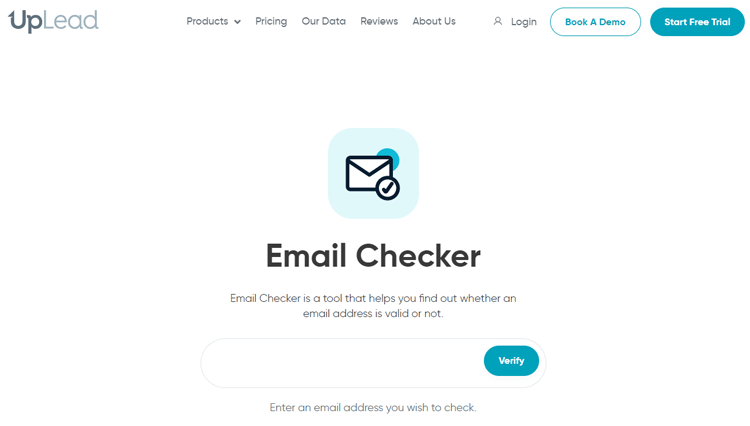 Its Email Checker feature allows you to find relevant email addresses effortlessly. Whether you are looking for contacts within specific companies or searching by domain, UpLead's advanced algorithms swiftly identify accurate email addresses associated with your target leads. With a simple search query, you can access valuable contact information, enabling you to reach out to the right people at the right time.
To ensure the validity and deliverability of your email addresses, UpLead offers robust Email Validation capabilities. This feature verifies the authenticity of your email addresses in real-time, checking for potential issues such as invalid or mistyped addresses, inactive domains, and risky email addresses.
This Email Verification feature allows you to verify email addresses on the fly. With a simple click, you can instantly verify the Validation of an email address. This real-time verification capability ensures that you only engage with active and deliverable email addresses, maximizing the impact of your communication efforts.
Features:
Boost your sales pipeline and close more deals
A database of over 54 million B2B contacts
An intuitive Email Finder tool
Search leads using a variety of criteria
95% accuracy or confidence rate for every email address
Find and build a list of ideal customers in mass
Automatically detect duplicate leads and remove them
Turn fragmented lists into sales opportunities
Price:
Monthly:
Free Trial: $0/month
Essentials: $99/month
Plus: $199/month
Professional: $399/month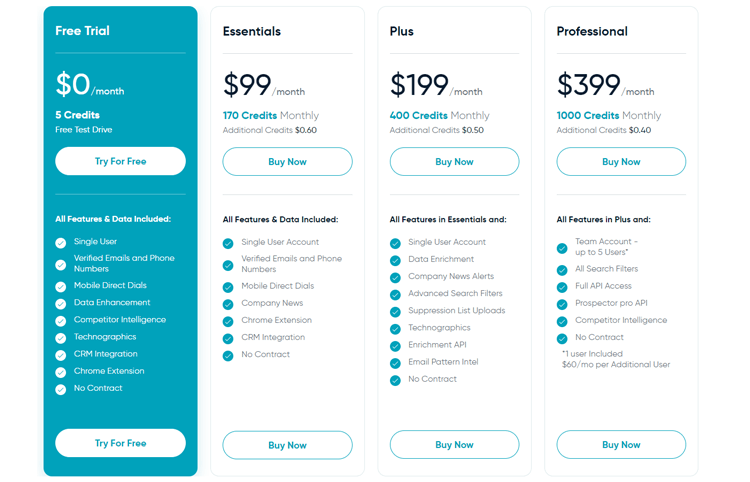 Yearly:
Free Trial: $0/month
Essentials: $74/month
Plus: $149/month
Professional: $299/month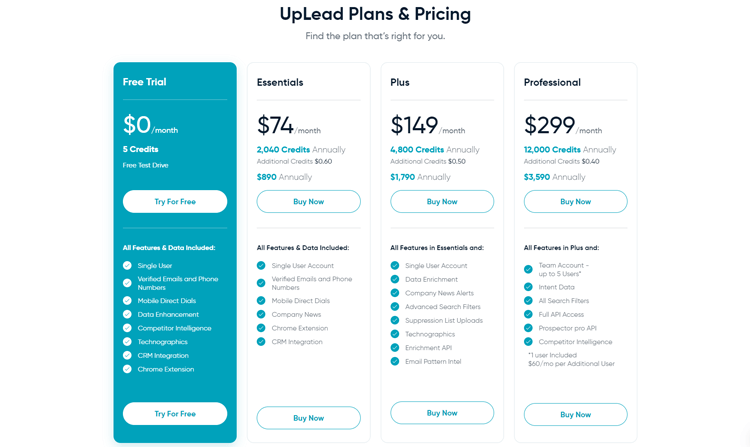 👉 Get Best Lifetime Software Deals: Save Hundreds of Dollars on the Top Software Programs
Tips on Choosing the Right Email Validation Tool for You
There are important considerations when choosing an exact email validation tool. Some of the most important tips are as follows:
Accuracy: Get an email validation tool with a track record of high accuracy rates. It should effectively identify invalid, catch-all, and disposable email addresses.
Speed: Efficiency matters. Choose a tool that can swiftly validate email addresses in real time or within minutes. This tool should ensure a seamless user experience.
Integration: Seamless integration is essential. Look for a tool that easily integrates with your existing email marketing platform or CRM, minimizing disruptions to your workflow.
Price: Consider the pricing structure and how it aligns with your budget. Some email verification tools offer flexible pay-as-you-go options, while others provide monthly or yearly subscriptions. The evaluation model best suits your needs.
Software requirements and compatibility: Before making a purchase, ensure that the email verification tool is compatible with multiple devices. Having compatibility across various devices makes it easier to use and provides added convenience.
Verification Methods to Consider: When choosing an email verification service, it's crucial to consider your specific requirements. You can select from different verification processes, including quick, real-time, email domain verification, or bulk confirmation.
Frequently Asked Questions
Why are email list validation tools needed?
There are several benefits of using email list validation tools, and they are given below:
Reduces bounce rate
Provides accurate insights
Gets better ROI
Reduces efforts in fixing bounces
Reduce spam complaints
Increase engagement rates
Avoid emailing risky email accounts.
Identify catch-all mail servers.
Detects temporary accounts
What is the standard email validation?
Standard email validation is a crucial procedure that ensures the suitability of an analytical method for a particular test. It involves confirming the quality, reliability, and consistency of the obtained analytical results. It serves as an essential component of sound analytical practices, providing confidence in the accuracy and appropriateness of the testing process of email domain verification.
What are some common features of email list validation tools?
Some common features of email list validation tools are:
Email Syntax Check
Domain Verification
Disposable Email Detection
Role Account Identification
SMTP Validation
Spam Trap Detection
Bulk Email Verification
API Integration
Reporting and Analytics
Data Privacy and Security
Why Building an Email List is Important?
Building an email list can provide several benefits, such as:
Easy to reach a large number of customers
Personalized communication solution
Complete control over the list
Ability to build trust
Are there any drawbacks to using an email validation tool?
Yes, there are certain drawbacks you can face while using email list validation tools. Not all email list validation tools support bulk verification, which can be time-consuming if you have a large email list. This means you may need to validate each email address individually, resulting in additional effort and time investment.
Some email verification tools may not offer real-time verification capabilities. This means that the tool may not be able to instantly validate email addresses via an API call, which can be a limitation for certain applications that require immediate verification.
Final Thoughts
When it comes to email list validation tools, these listed tools are both time saving and cost-effective. They play a vital role in safeguarding your sender's reputation, which is crucial for successful email campaigns. With a wide range of options to choose from, you can select the one that best fits your requirements.
Furthermore, many of these services offer free trials, enabling you to test multiple tools and find the perfect solution to ensure high-quality email campaigns. The free email list validation tools ensures that you can make an informed decision and achieve optimal results.