A premium royalty-free music and SFX site that offers over 300K high-quality tracks and sound effects.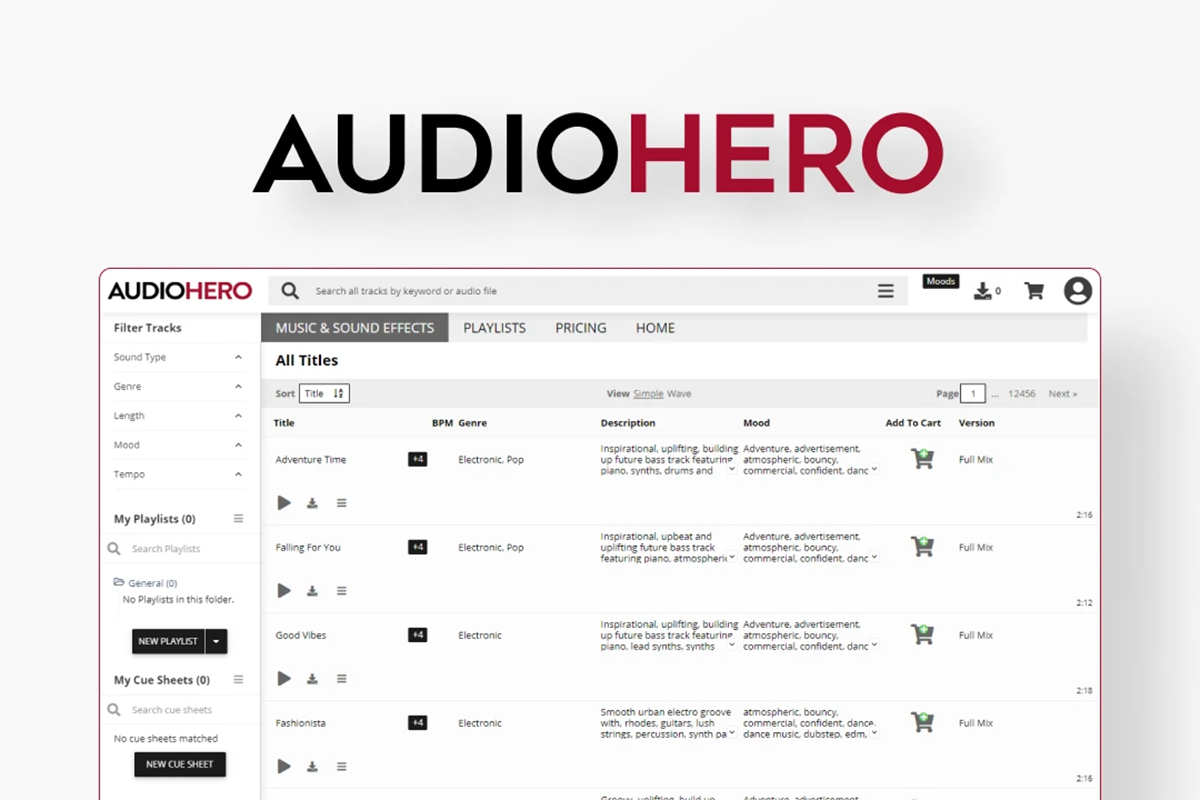 Whether looking for background music for a video or a sound effect for a game, AudioHero has what you need. And with new tracks added daily, it is constantly expanding its selection to keep up with the latest trends.
AudioHero is your one-stop shop for premium royalty-free music and sound effects. With over 300K+ premium tracks, this tool has the quality sound for any project. It's extensive catalog has something for everyone, whether you're looking for upbeat rock music or calm piano vibes.
It has something to fit every need and search by genre, mood, instruments, and more. It also offers simple licensing options for film, YouTube videos, worldwide broadcasts, etc.
Even with its quantity, AudioHero is focused on providing quality sounds that top professionals in the industry have recorded. All the audio tracks and SFX have been meticulously curated to ensure they meet the highest standards.
This tool makes it easy for filmmakers and businesses to use the audio tracks and SFX in their projects. It's no wonder that AudioHero is one of the most popular sound libraries on the web.
Meet AudioHero
TL;DR
Explore 300,000+ royalty-free songs and effects in an audio mine.
Alternatives to: Uppbeat, Icons8, Music Maker.
Use a straightforward search or an audio-based search to find the perfect song.
Constantly updating its library with new sounds, so you'll always have the latest and most excellent sounds at your fingertips.
Key Features AudioHero
Customer Support
Royalty Free License
Outstanding sound effects
Easy access
Mindful Audio
Pole Position Production
SoundBits
Features included in All Plans
Royalty-free sound effects & music
A choice of over 250,000 tracks and sound effects
Unlimited use for each download
All future audio updates from the Hero Plan included
Music and Sound Effects Cleared for All Social Media
Playlist Maker included