Autowriterpro 50+ Copywriting Tools
An all-in-one content creation platform provides copywriting tools to help users enhance their online presence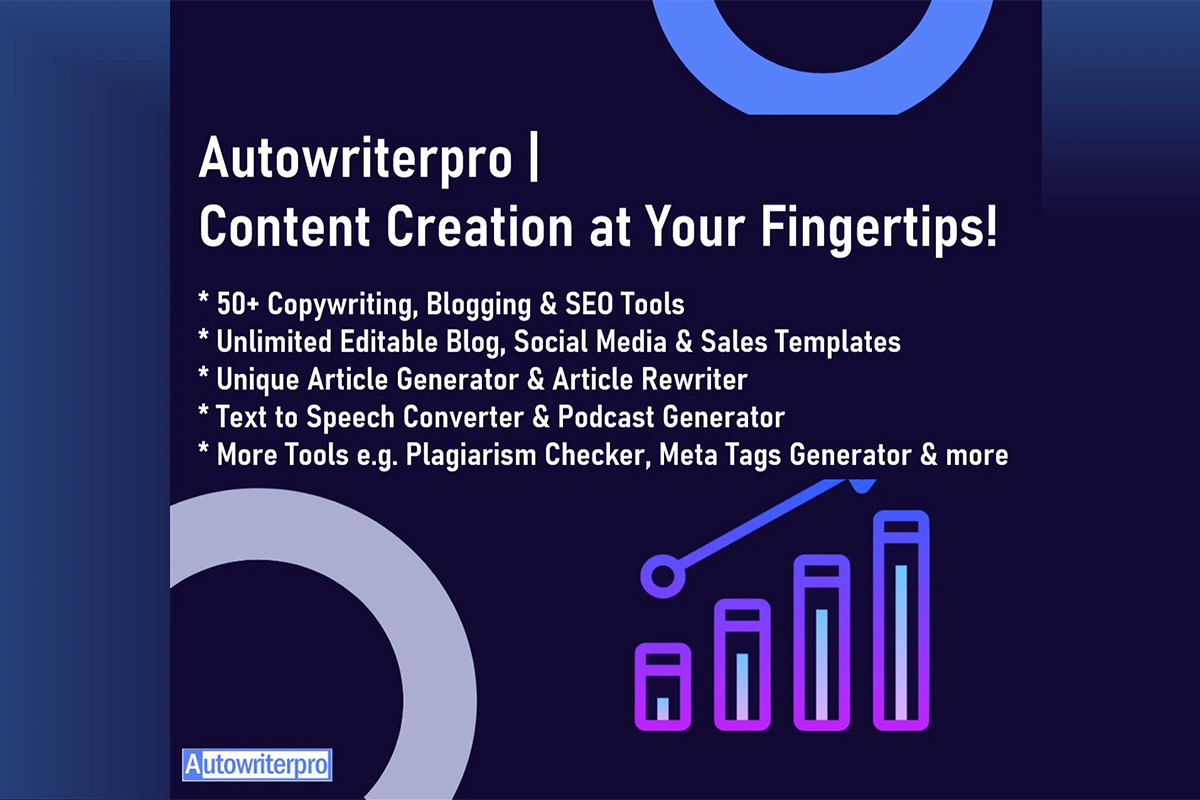 Autowriterpro is a copywriting tool that uses A.I. to help you write better, more SEO-focused content. The tool provides a range of templates that you can use to grow your online presence. In addition, it offers a range of tutorials and tips to help you get the most out of the tool.
The Autowriterpro 50+ Copywriting Tools is designed to support you save time and improve your writing quality, making it a necessary tool for any online marketer or business owner. So whether you're looking to enhance your blog posts, social media posts, or website content, this can help you get the desired results.
It also includes a royalty-free library of editable templates to create your content without worrying about copyright infringement. This A.I tool can help you improve your writing by providing feedback and suggestions on improving your style, grammar, and vocabulary.
In addition, Autowriterpro comes with a built-in thesaurus, so you can easily find synonyms for words you're struggling to remember. Finally, tons of integrated features and royalty-free editable templates help you create online content quickly and efficiently.
Meet Autowriterpro
TL;DR
You can easily create copywriting, blogging, website, and product content in one place.
Alternatives to: Content AI, Mieux.ai
It makes it easy for businesses to see who's responsible for each conversion and how many leads have been generated.
Best for: Content creators.
Key Features of Autowriterpro
Scheduler & Calendar
Website Research Tools
Content Management
SEO Management
Reporting/Analytics
A.I. Article Generator
Features included in All Plans
A.I. Article Rewriter Tool
Royalty-Free Blog Posts
Intelligent Creative Content
Latest Text-to-Speech Converter
Advanced Business Templates