Browse AI
Train a robot to Scrape, and monitor any website with no code in 2 minutes.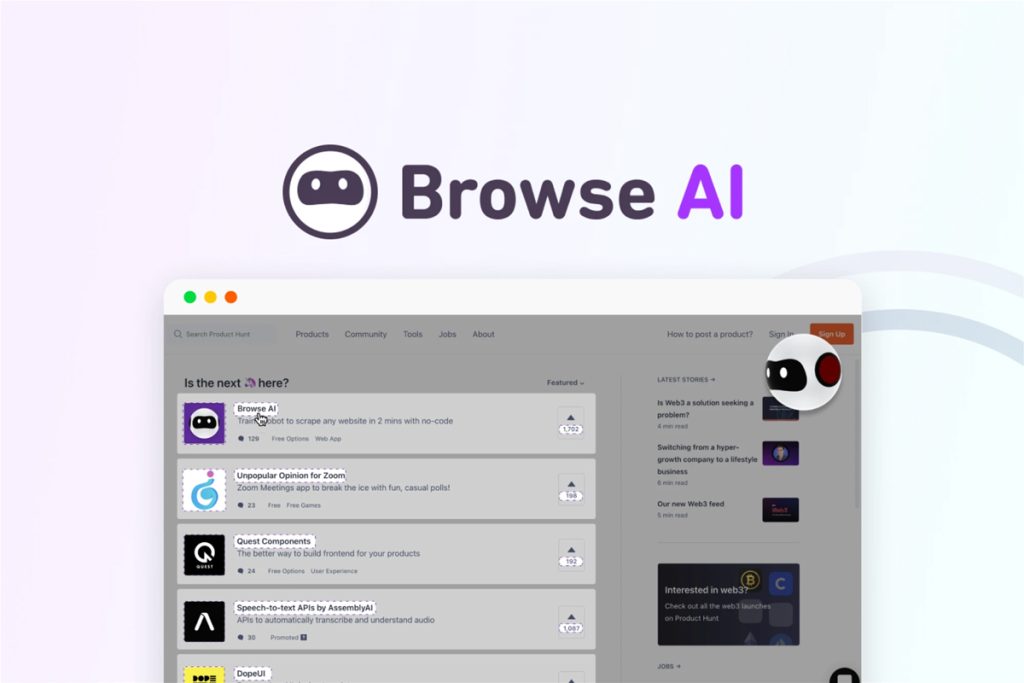 Browse AI is an excellent tool for online businesses looking to automate their web processes. It is the only web scraping platform that requires no code. As a result, you can get started in minutes without the need for a credit card required.
It allows you to monitor websites for changes and automate web scraping tasks. It is the most user-friendly web scraping platform on the market and is perfect for anyone. All you need is a URL, and Browse AI will do the rest.
Browse AI can scrape websites of any size, and automatically extract data from multiple pages with a few clicks. It also constantly monitors websites for changes and can automatically update your scraped data when new information becomes available.
Additionally, It offers a wide range of options for customization, so you can get exactly the data you need. With Browse AI, you can achieve unprecedented efficiency and productivity by automating your most repetitive and tedious tasks.
So, whether you're looking to scrape a single website or thousands of websites, Browse AI is the perfect solution.
Meet Browse AI
TL;DR
Provides users with the ability to custom functions and variables, making it a potent tool for web automation.
Alternatives to: Apify, Import.io, Zyte
You can record your actions on any website and then have those actions run in the cloud without writing any code.
Best for: E-commerce, Marketers, Marketing agencies, and Small businesses
Key Features of Browse AI
API
Auto Extraction
Batch Processing
Data Connectors
Data Import/Export
Data Mapping
Data Verification
IP Rotation
Image Extraction
Job Scheduling
Multiple Data Sources
Pricing Extraction
Version Control
Web Data Extraction
Features included in All Plans
No Coding Required
2-Minute Setup
Zero Maintenance
Emulates User Actions
Solves Captchas
GeoLocation Based Data
API, Google Sheets, Zapier
Extract Data Behind Login
AI/Machine Learning
Access Controls/Permissions
Data Aggregation and Publishing
Email Address Extraction
Third-Party Integrations
Phone Number Extraction