Rumble Studio
Instantly conduct remote interviews and create podcasts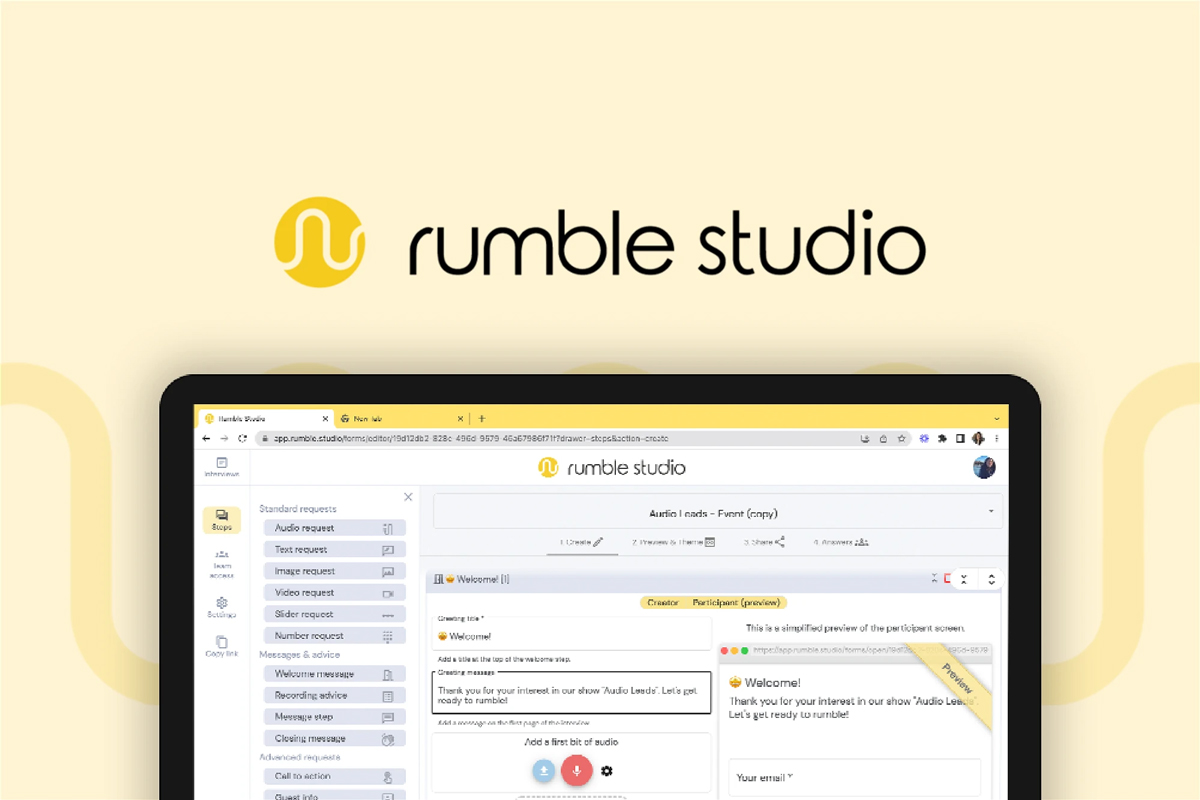 Rumble Studio is the easiest way to record and publish audio with unique conversational AI. With this tool, you can record high-quality audio without any prior experience or knowledge of recording techniques.
Interview creators can easily connect with guests and interview them remotely without coordinating schedules or being in the same place. It lets you record high-quality content and edit your recordings with the easy-to-use editor and blog with just a few clicks. It simply connects a microphone and starts recording. And it uses Rumble Studio to record podcast episodes and creates audiobooks.
With this tool, you can easily prepare and record interviews asynchronously, build an interview landing page, and automatically transcribe unlimited audio clips. Rumble Studio also gives you different ways to share your interviews, including sharing via email, social media, or embedding on your website.
It provides many features to help you get the most out of your recordings. It also offers a variety of plans to suit your needs, so you can keep your audio content up-to-date and consistent over the long term.
Additionally, Rumble Studio offers advanced group permissions to allow you to collaborate on interviews with team members and review work with stakeholders.
Finally, Rumble Studio makes it easy to craft a branded experience for your guests and clients by creating branding kits with custom logos, color schemes, fonts, and layouts. Overall, Rumble Studio is essential for anyone looking to streamline the interview process.
Meet Rumble Studio
TL;DR
You can easily add music, sound effects, and background noise to your recordings, giving your audio content a professional edge.
Alternatives to: Podcastle, Riverside.FM, VideoAsk
With this feature, you can record your part of the conversation separately from your guests.
Best for: Content creators, Marketing agencies, Podcasters.
Key Features of Rumble Studio
Audience Engagement
Audio Recording
Audio/video File Upload
Hosting
Live Streaming Software
Multi-Channel Distribution
Promotions Management
Publishing/Sharing
Session Recording
Features included in All Plans
Take-turns audio recorder
Interview creator
Interview templates
Rumble invitation links
Unlimited audio recording and preview
High-quality audio exports in WAV and MP3
Bulk export and download
Advanced export mix tool
Magic sparkles audio enhancement
Royalty-free jingles and sound packs
Unlimited transcriptions
Text, image, and video capture
Training resources