Crove
A document automation tool can help streamline your workflow, creating repetitive business documents.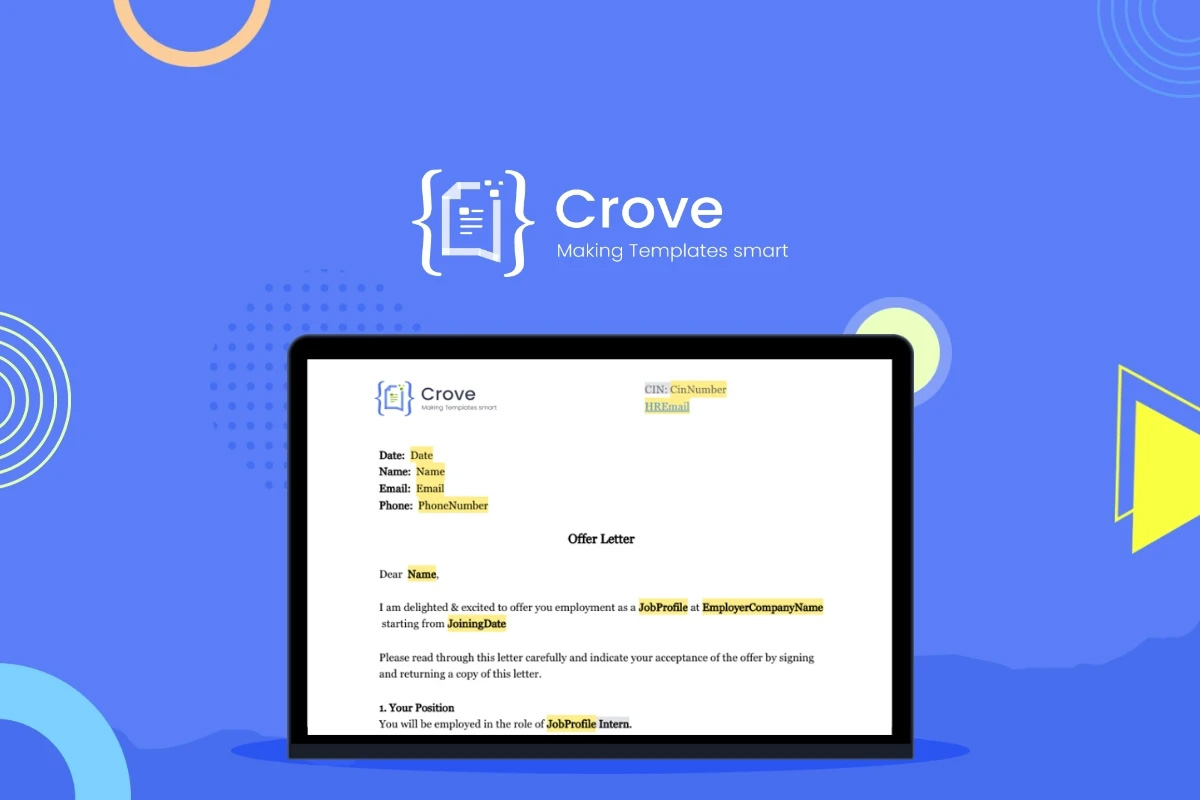 Crove is an online document generator that makes it easy to create and manage all the documents you need for your business. In addition, it automates creating repetitive documents, so you can focus on running your business. With this tool, you can select a document template and fill in the required information. It will then populate the template with your data and generate a finished document.
Crove's document automation tool allows you to add variables and conditional logic to your PDF and DOCX templates, making them smarter and more efficient. With its template editor, you can create a new template from scratch by dragging and dropping variables and conditions directly onto the document.
Alternatively, you can upload an existing PDF or DOCX template, then insert it's variables and conditional logic to make it intelligent. In addition, It gives you access to pre-made templates in the template gallery. These templates can be edited to fit your own needs, and saved to your own template library for easy access. It also allows you to create multistep forms with branching logic by dragging and dropping fields to the appropriate section.
By default, Crove can generate a document as defined in your template whenever the form is filled. However, you have the option to review and edit the generated document before it is finalized. With Crove, you'll be able to create smarter, more efficient PDF and DOCX templates with ease.
Crove's lifetime deal through Appsumo is an incredible opportunity to get all this for a one-time purchase of just $89. This is an excellent value, and it is an essential tool for those who want to stay on top of the latest trends. So don't miss out on this great opportunity.
Meet Crove
TL;DR
With Crove, you can easily automate your workflow by creating templates that can be reused.
Alternatives to: Docxpresso, Bitrix24, DocuSign.
It offers a variety of other features, including the ability to create custom fields, track changes, and merge documents.
Best for: Real estate, Recruiters, Small businesses.
Key Features of Crove
Activity Dashboard
Alerts/Notifications
Conditional Logic
Document Generation
Document Management
Customizable Forms
Document Storage
Document Templates
Drag & Drop
Email Templates
Forms Management
Multi-Language
Offline Access
Features included in All Plans
Collaboration Tools
Electronic Signature
Sign a document within the system
Customizable Templates
Electronic Signature
Document Automation
Offline Access
Pre-built Templates
Workflow Management
Contract Drafting
Customizable Fields