SMS-iT Video Ads
Increase lead generation and eCommerce sales by utilizing interactive videos and SMS marketing.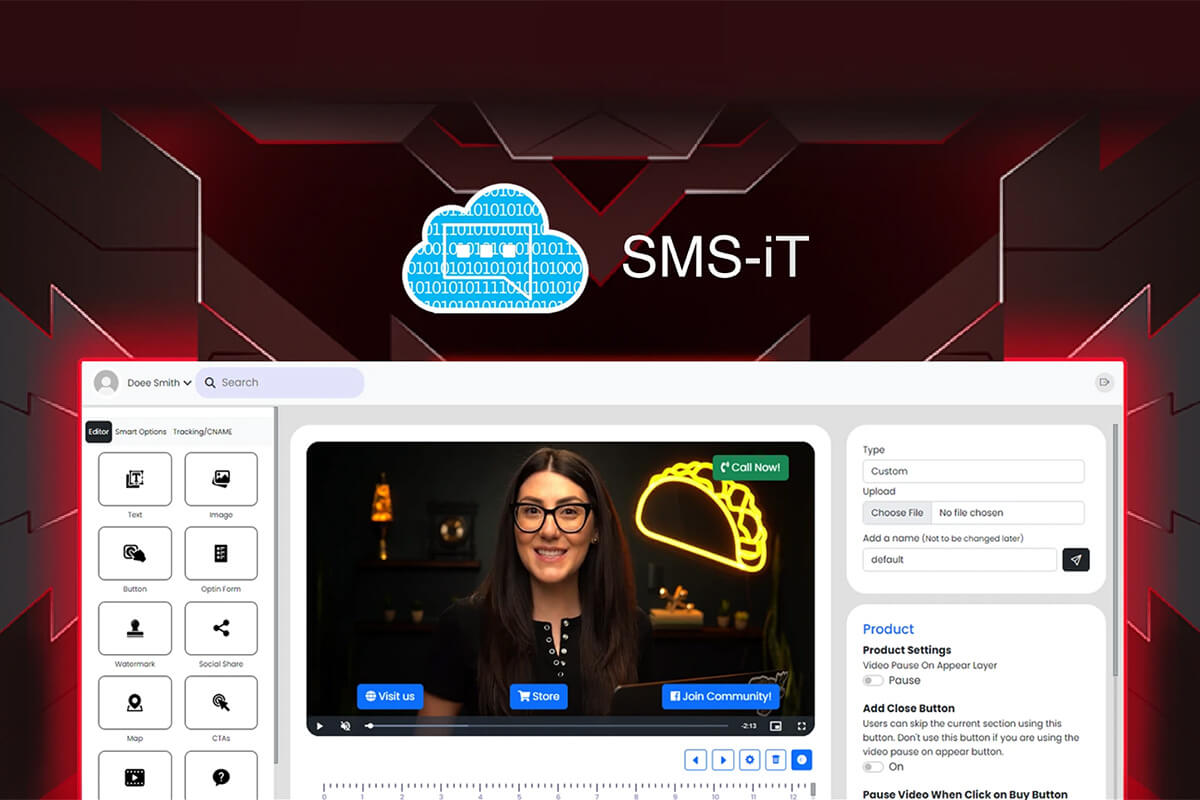 SMS-iT Video Ads is an all-in-one marketing platform that utilizes interactive videos, lead generation, and two-way messaging to enhance eCommerce sales. This tool enables you to create interactive videos that can be used for lead generation, customer retention, and eCommerce sales.
With SMS-iT Video Ads, you can create videos that drive conversions and take your marketing efforts to the next level. It also provides real-time information on browser utilization, device usage, and audience behavior. The data will help you to track campaign performance and identify which videos are driving the most conversions. 
Also, you can customize each video in your funnel by adding elements like text, images, buttons, opt-in forms, and watermarks. Plus, you can embed calls to action, quizzes, and surveys to collect data from viewers and even gamify your content to make it more engaging. 
This platform also integrates with popular eCommerce tools such as WooCommerce, Shopify, and Mailchimp, making it easier to manage product inventory, transactions, and billing. You can even sell products directly from your videos and connect with customers using email or SMS marketing.
With SMS-iT Leads Section, managing your subscriber base and optimizing lead generation becomes hassle-free. You can target different segments with SMS marketing to engage and build relationships with prospects. 
By using it, you can create videos that are both informative and engaging, ultimately leading to more clicks and conversions. If you want to boost your video marketing initiatives, checking out this tool is worthwhile. Take advantage of SMS-iT Video Ads at $59 on Appsumo. Don't skip this fantastic offer.
Meet SMS-iT Video Ads
TL;DR
Enhance your video content with interactive elements such as calls to action, opt-in forms, and surveys.
Alternatives to: Thinglink, Wirewax.
Automate your marketing efforts with SMS, email, and voice callback notifications.
Best for: eCommerce, Marketers, Small businesses.
Key Features of SMS-iT Video Ads
Call-To-Action
TEXT/VOICE/EMAIL MESSAGING
SMART GATES
Lead Generation
Marketing Campaigns
Embed Anywhere
Features included in All Plans
Insert click-to-action buttons
Interactive leads building features
Integrated with SMS-iT for email messaging/text/voice and marketing automation
Generate iFrame and embed your videos anywhere
CNAME – use thumbnails, custom website links, and descriptions
Smart analytics
Payment gateway integration: Stripe, PayPal,and all future payment integrations
Outgoing SMTP
Hybrid and cloud hosting
Data migration from YouTube, Wistia, Vimeo, and more.
Remarketing intelligence
Video funnel
Quizzes and watch-and-win contests
eCommerce suite