Easyflow.io
No-Code solution to connect apps, analyse data, and create automations and memorable KPI dashboards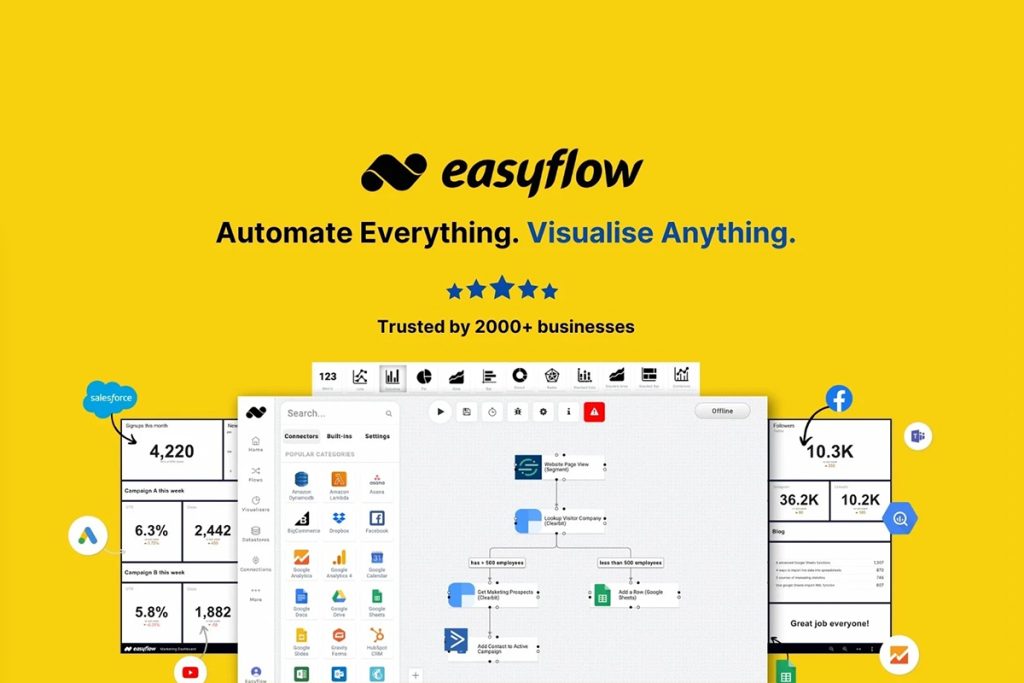 Easyflow.io is a powerful, easy-to-use solution that helps you connect apps, analyze data, and create automated processes and memorable KPI dashboards that work exactly how you want.
Easyflow.io requires no development skills and is easy to use with its drag-and-drop interface. It is perfect for small businesses that want to save time and automate their business processes without spending much money on expensive software or hiring a developer.
This makes connecting to any data source easy, automating repetitive tasks, and visualizing your data in beautiful charts and graphs.
It also offers a variety of products that allow businesses to automate their sales, marketing, accounting, and other critical business functions. Easyflow.io's products are designed to help enterprises to save time and money. It also improve their overall efficiency.
The company's commitment to customer success is evident in its dedication to providing world-class support and training. Easyflow.io's team of experts is always on hand to help users get the most out of the platform, ensuring that they can make better decisions faster.
With this Easyflow Lifetime Deal, you get all the features in our platform for one time payment. You also have a 60-day money-back guarantee with this Easyflow Appsumo deal. In addition, it offers a free 14-day trial with no credit card required. So, don't waste your time.
Meet Easyflow.io
TL;DR
Automation: Alternative to Zapier, Tray.io and Integromat
Visualisation: Alternative to databox, geckoboard and whatagraph
You can use Easyflow to set up a data pipeline for any data source, including databases, CRMs, ERPs, web applications, and more.
Data Automation: Alternative to Parabolla.io, Supermetrics, funnel.io and Hevodata
Key Features of Easyflow.io
Activity Dashboard
Collaboration Tools
Dashboard Software
Data Connectors
Drag & Drop
Performance Metrics
Publishing/Sharing
Reporting/Analytics
Visual Analytics
Metadata Management
Features included in All Plans
Unlimited Flows
Unlimited Dashboards
Unlimited Visual Cards
Instant Web-hook
2 Minute Refresh Time
2 Team Members
Access to All Apps (Including Premium)