Nifty
Utilize a single platform to manage your projects, collaborate, and communicate.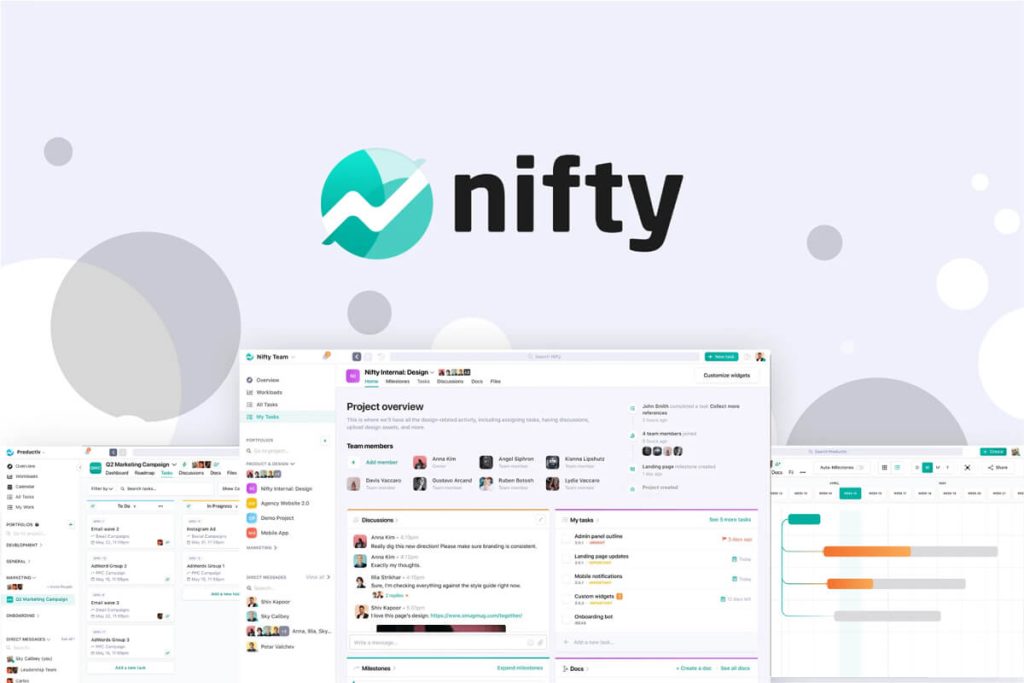 Nifty provides a centralized platform where you can easily access your projects, goals, and communications in one place. It is an excellent tool for team members working remotely or on different schedules.
With Nifty, you can manage your projects, tasks, and communications with ease. Nifty makes remote work more fun and more efficient.
Nifty is a project management tool that allows you to centralize your projects, objectives, and communications to simplify and streamline your workflow. With this system, you can easily keep track of task assignments, activities, and time logs across all of your projects with an engaging and interactive dashboard.
In addition, you can quickly and effortlessly determine the progress of any project by filtering tasks based on milestones, due dates, or task assignees. The set of features helps to ensure that all members responsible for a given project know exactly what needs to be completed and when it needs to happen.
It empowers businesses to robotize their project reporting and status updates based on task completion. This tool not only increases accuracy but also eliminates extra administrative work for teams. It's real-time messaging makes it easy to maintain communication internally, with clients, and other stakeholders, exchanging ideas and eliciting feedback in a streamlined manner.
Nifty also takes collaboration one step further by being able to convert any message into a task with click of a button – from discussion to action. To maximize efficiency, it integrates with Zoom so teams can escalate their chats into an audio or video meeting without the need for manual setup. It's automation capabilities, businesses are no longer held back by traditional communication cycles.
Nifty also enables you to stay organized and connected with your team no matter where you are. Nifty makes it easy to find and use the tools you need to get work done and also includes features that make working from home more fun, such as video conferencing and chat.
Meet Nifty
TL;DR
A sleek and easy-to-use interface that makes online collaboration simple and efficient.
Alternative: Asana, Jira, and ClickUp
Powerful search capabilities make it easy to find the correct information fast.
It is best for small businesses just starting to remote-collaborate, as it is simple and relatively inexpensive.
Features of Nifty included in All Plans
Unlimited dynamic projects
Workflow with high technology
Discussions and team chat
money-back guarantee
risk-free
Portfolios and Overviews
Task and milestone dependencies
Time tracking and reporting
Custom fields
Budget tracking
Cross-project overviews
Custom roles and permissions
Unlimited storage and bandwidth
24/7 customer support
world-class hosting